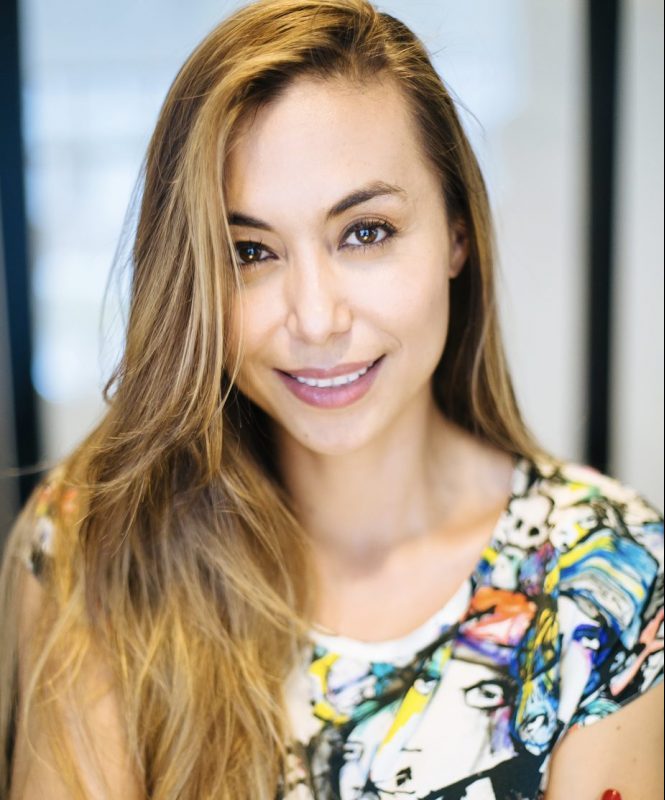 When Renata Black was living in India after the 2008 Tsunami, thinking about ways to help, a woman told her, "I don't want your money, I want you to teach me how to make it." Black's path was forever changed after that encounter. She studied Microfinance under Nobel Peace Prize winner Muhammad Yunus and went on to found her company, EBY, seamless comfortable underwear for every body type. The mission to uplift other women out of poverty remained central to Black's business and the booming apparel line directs 10% of all sales towards this goal through microfiance – small loans to women who would traditionally lack access to financial services enabling them to start their own businesses and break the cycle of poverty. Today the New York City-based entrepreneur counts numerous celebrities and influencers among EBY's fan base and has empowered an incredible 15,000 women and girls to take charge of their financial freedom.
Black' story, as told to The Story Exchange 1,000+ Stories Project:
What was your reason for starting your business?
After losing my parents at a young age, I was fortunate to have been adopted and grew up knowing that I was lucky to have the start I had. I grew up with a deep craving to make my life count and this has manifested into every facet of my life. When I was living in India after the Tsunami, I connected with a community there and fell in love with the people. I knew I wanted to dedicate my life's work to empowering women and to equip them with tools to break the cycle of poverty and help them start businesses of their own via microfinance. These opportunities gave women more power and enabled them to believe in themselves. I did not want to go into charity to fuel microfiance because I never felt hope was a strategy or that relying on people's generosity was the most effective way of having an impact. While living in India I also learned about the power of seduction and how we as women have the ability to decide what we want to do with that power. This led me to create a best-in-class product that not only solved women's need for comfortable, functional yet sexy underwear but also enabled them to have an impact that stretched beyond the decision of the underwear they wear: because with choosing EBY women are choosing to empower other women — 10% of all of EBY's proceeds go to help women out of poverty and into business via microfinance.
How do you define success?
The nutty thing about success is that it is an ever-changing goal. If you were to ask my 15-year-old self if I would consider where I am now as successful, she would say, "Hell Yeah!" But professionally, you are constantly pushing yourself to the next major milestone. With this it's difficult to knowingly grasp your success while keeping yourself incredibly motivated. I would say that I would want to acknowledge my success milestones with more "jumping up and down on my bed" moments. Nonetheless, the culmination of all those milestones leads up to the world being a better place, because I was here. While I can say that I think it definitely is, I do still feel like there is so much more to be done.
Tell us about your biggest success to date
There are so many major successes that have lead up to the one thing that I am most proud of: which is impacting the lives of over 15,000 women and children and helping them out of poverty and into businesses through the sale of EBY products. This place of success came as a result of so many decisions which included: signing Sofia Vergara as EBY's Co-Founder, marrying a supportive husband who was open to freezing our embryo's while we take EBY to the next level, and having a team that wakes up and kicks ass every day. It is the circumstances of all these events that have enabled me to have completely altered the path of thousands of women and young girls and to change the trajectory of their future.
What is your top challenge and how have you addressed it?
The digital arena is an ever-evolving industry. The challenge is to be ten steps ahead of the next technique or method of creating a deeper connection with your audience. The way I solve this is by being in touch with consumer behavior and by observing how everyday people are consuming content. I focus a lot of my attention on developing different tactics for how to best develop a meaningful relationship with our membership and customer base.
Have you experienced any significant personal situations that have affected your business decisions?
Having a start-up requires putting everything in your life on standby and making the business the number one priority. This is very tough on personal relationships and family. At times, the emotional turmoil that comes with having a start-up consumes all your energy so that you have nothing left to give to anyone else. This is what has impacted me most. I have a lot of admiration for those who have work-life balance. It is just not something I have ever achieved and that is okay. There will be a time for that.
What is your biggest tip for other startup entrepreneurs?
Not everyone is destined to be an entrepreneur. You better be obsessed with your vision and okay with sacrificing your personal life to make that vision come to life. If not, that is okay. There is a lot of power in extending the reach and impact of an existing organization.
How do you find inspiration on your darkest days?
I read my diaries or I work out.
Who is your most important role model?
The women who make a dollar a day and smile back at life. Fierceness is always welcome.
Check out our Advice + Tips for entrepreneurs starting-up
Watch our latest videos
Subscribe to our podcast