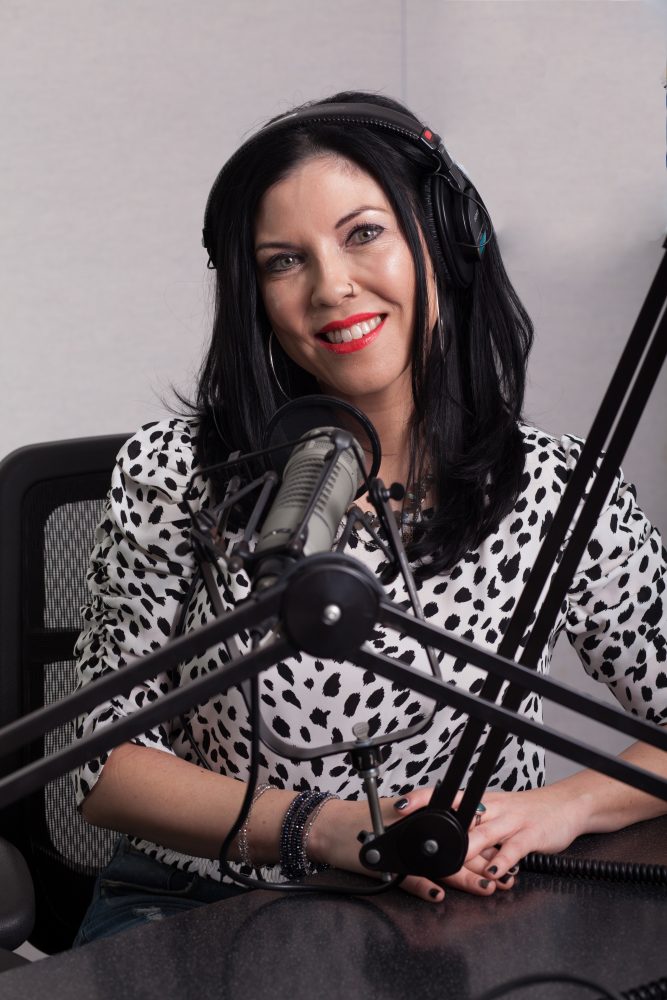 Four years ago Sakura Sutter was diagnosed with a rare auto immune disorder that left her covered in painful rashes and kept her homebound. The single-mother and entrepreneur was forced to close her spa business and began to devote all her energy to healing herself. During her recovery Sutter found alternative healing modalities to be incredibly powerful and when she was finally able to re-enter the world, she knew it was her mission to help others on their own paths to health and wellbeing through self-love. Today Sutter is the host of Seattle radio show, Love From The Hyp, where she interviews psychologists, doctors, authors, intuitive mediums, healers and astrologers, about healing mental, physical and emotional pain. Sutter's work as an esthetician has taken a tough hit due to the Pandemic, but the setbacks she experienced during her previous illness have prepared her for the challenges.
Sutter's story, as told to The Story Exchange 1,000+ Stories Project:
A few years ago, I was on the brink of death with a rare auto immune disorder. It forced me into quarantine, I had to close my business, isolate from people, take bleach baths, wear vaseline from head to toe, use a wheel chair, sleep on ice packs and have family take care of me. I did not have any quality of life. Still, I did not give up despite being unsure if I was going to even survive. At the time, because it was so rare, I felt all alone. After, surrendering to the illness, working through a lot of emotional trauma, including being able to love myself, changing my diet, and my outlook on life, I was able to heal myself. When I came back into the world, I made it my mission to help others who are also struggling with whatever issue they have, to heal and fully love themselves. I wanted to help people get better not bitter. So I created a radio show to provide a platform for resources to do just that!
I have had a long work history having started at the age of 13 running food in a busy downtown Chicago restaurant, working as a manager at Starbucks for ten years, the spa industry for almost 20, and bartending. I have had and experienced my fair share of sexual harassment in the workplace, as well as age and sex discrimination, which kept me from being promoted many times. I have also had to juggle being a single mother for 17 years now while trying to work for other companies and run my own businesses. Deciding to be an entrepreneur was the best fit for raising my daughter, because it allowed me extra time with her and more flexibility to bring her to work with me. I also went through a heated divorce and more recently the severe illness which caused me to close my spa doors for awhile in 2017. It has been a journey, but I certainly have learned so much along the way!
[Related: These College Grads Are Showing Us How to Navigate a Pandemic Job Market]
I have three radio shows, mostly live (but also available as podcasts): Love From The Hyp, Love From The Hyp presents Go Beyond The Veil, and Love From The Hyp presents The Conscious Coaching Hour, on one of the largest privately owned Radio Networks, Hubbard Radio. The title, "Love From The Hyp" comes from Hypnotherapist, which I have been for the last eight years.
On "Love From The Hyp" I interview amazing people from around the globe who are making a difference by helping others in their own way, many of which, have gone through their own trauma. It is a bit of a variety show from psychologists, doctors, and authors to intuitive mediums, healers, numerologists, astrologers and more! Not only do they share their own personal story of healing but they also offer advice, wisdom, and techniques to help people through their own obstacles, whether mental, physical, emotional, or even spiritual. The purpose of my radio show is to help others to love and be themselves. There is so much healing in love. I did not love myself fully and wasn't living authentically, which is why I believe I got so sick. People should not have to get sick in order to love and be themselves.
COVID 19 has been an interesting time for me and my businesses. They always say the universe sets you up for success, although you may not view it that way when you are in the fit of it, or it may be a lot harder than you imagined. The illness that I overcame, Pemphigus Vulgaris, four years ago, already had me quarantining at home because I could not go outside for risk of infection. It also had me closing my business doors. So this time around with COVID 19, I was already mentally and emotionally prepared somewhat. I knew I had to ultimately do what I did before and that was trust that everything was not only going to be OK, but also, turn out the way it was supposed to.

As a master esthetician, COVID-19 severely impacted my spa business. My spa was mandated to close its doors in March of 2020, without any monetary relief right away. They slowly opened us in June, but even being open, a lot of people are still too fearful to come in and be in that intimate of a space for me to care for their skin. So my business did pivot more. I started getting busier with hypnotherapy, energy healing and intuitive mediumship readings which I can do remotely. Plus many people were requiring emotional and mental healing more than skin repair. Many of my clients lost loved ones during this time and wanted to know that they were ok 'on the other side'. I provided that channel and that space for them to heal.
[Related: A Brooklyn Business — and Its Founder — Get a Pandemic Makeover]
Success is not measured by a dollar sign, but rather by intention. What are your intentions behind what it is you do? And is what you are doing serving a purpose? More so, is it serving others. Success is the impression you leave on others, and this world. It is the growth and passion you bring out of others and yourself. So far my greatest success to date is surviving a rare illness so that I can share my story with others who are also suffering.
Balancing work and life had always seemed to be a challenge especially growing up in a family with a very strong work ethic. I was taught all work and no play and had to learn to get over the guilt I felt when I took a break. After all you are not here to work and die. You are here to live and die. Work is just a means to provide a form of exchange for some of the living. But it's not work when you are living out your passion. Then it is just a passion.
Joseph Campbell was an extremely influential role model for me, but not as an entrepreneur but more so as a philosopher. As a child I always felt different, not from just being ethnically mixed but also from being authentically me. I always marched to the beat of my own drum and tried to follow my own bliss. Campbell encouraged people to follow their bliss while pointing out that we are so much alike as a people, a conscious collective, if you will. When you strip away all "the gold" we are all the same. No one person is better than another, yet we are all so individually unique with our own journey to awaken our inner being. Even much later as an adult, the illness that I went through and survived reminded me of Campbell's "Hero's Journey" and helped me to understand myself even more.
Check out our Advice + Tips for entrepreneurs starting-up
Watch our latest videos
Subscribe to our podcast