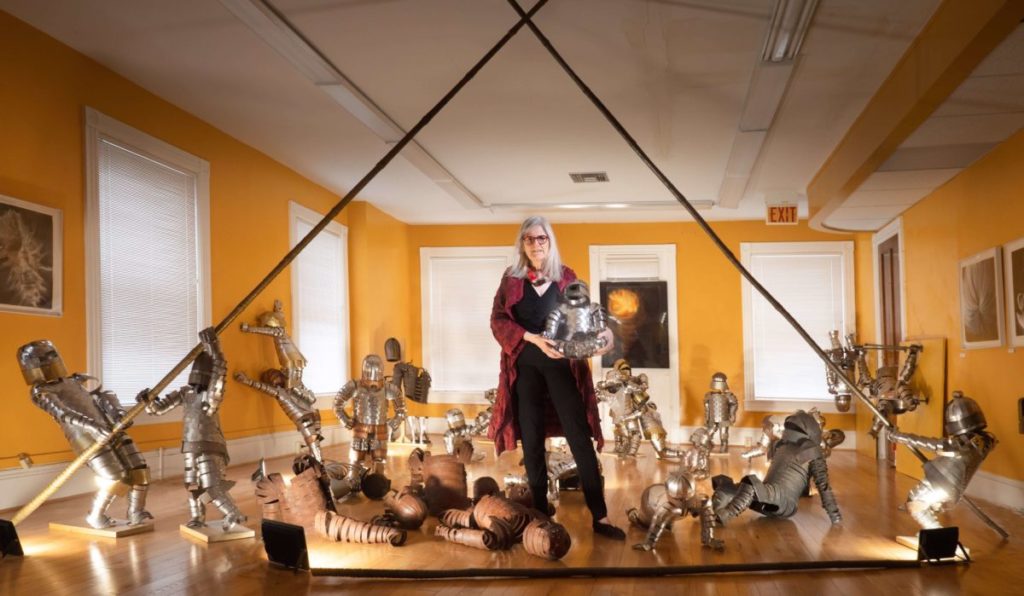 (Editor's note: We are sharing this story again in light of Monday's school shooting in Nashville.)
Long before gun violence in schools was a common occurrence, artist Kate Taverna turned her devastation and frustration into art.  
Back in 1987, the New York artist and filmmaker was horrified by news reports about Lisa Steinberg, a 6-year-old girl beaten to death by the man who had illegally adopted her. "She was going to school and was filled with bruises," Taverna remembers. "He hit her over the head with a sledgehammer." Using surplus metal, Taverna began weaving a miniature suit of armor, turning it into a child-sized figure that – in her words – suggested protection and evoked vulnerability.
Before long, driven by hearing more stories of violence against children, Taverna began making more and more mini metal sculptures, using riveted strips of stainless steel, copper and brass. A full nine years before the massacre at Columbine High School shocked the world, Taverna was exhibiting "The Kids" in Brooklyn and in Grand Central Station's main windows during the UN World Summit for Children. Various pieces made their way to Brazil, Japan and Canada.
Then, with other news and other projects happening, Taverna set it all aside.
Until last summer. After nearly two decades and a torrent of horrifying school shootings, Taverna decided to bring "The Kids" back. She exhibited 27 armor-clad child sculptures at Jeff Tufano Gallery in Cobleskill, New York, from July until September, as a statement on school massacres, including the murder of 19 children and two teachers killed last May in Uvalde, Texas.
"I am sickened," she says. " I don't understand why nothing is happening."
At the upstate gallery, the sculptures were set up in a room and appeared to be fighting, competing, climbing the walls and playing aggressive games and bullying, portraying an eerily violent small-scale world. The dramatic exhibit was featured in local news outlets and the ABC-affiliate in Albany.
Those who stopped by to see the exhibit seemed to find it equal parts powerful, confusing and disturbing, Taverna says. "Mostly you're stunned by what looks like a playground from hell," she says. "They're all armored and they're playing."
Taverna says she wanted the installation to reflect aggressive behavior on the part of the children themselves, for a number of reasons. "Violence begets violence," she says. In many cases, especially in school shootings, it's troubled kids – not necessarily adults – who are causing the harm. And they're getting younger.
Since 1999, seven in 10 school shooters have been under the age of 18, according to the Washington Post. Most recently, a 6-year-old boy in Virginia brought his family's gun into his elementary school and shot his 25-year-old teacher. The age of assailants in mass shootings beyond schools has dropped significantly from earlier decades, the New York Times recently found, with six of the nine deadliest shootings since 1998 committed by men (and it's nearly always men) under the age of 21.
Taverna is currently working with even smaller pieces of metal, which she says is painstaking. "I've been weaving it into baby armor," she says, only about 12 inches high. "I am going smaller and smaller."
And she hopes to show "The Kids" again this year, or perhaps take the pieces on tour. "Nobody got it 30 years ago," she says. "Now it's so on the mark that it should be seen." ◼️
The post has been updated to include where pieces have been shown or collected.