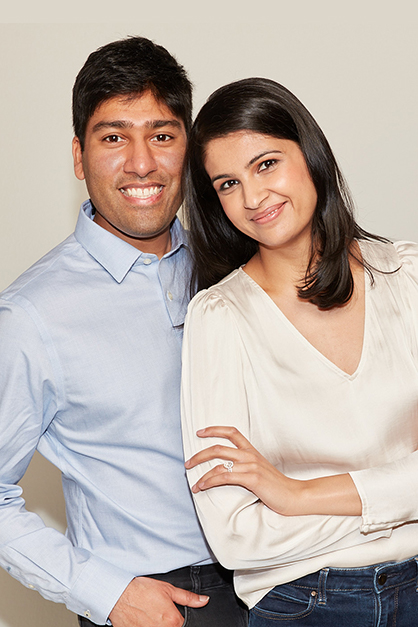 When Slisha Kankariya was getting engaged, she and her soon-to-be husband were surprised that the only way to try on a ring was to go to a store, in-person. Online shopping, meanwhile, seemed too risky – she was hesitant to spend so much money on a ring when she wasn't sure how it would look. Kankariya decided there had to be a better way. So she launched her business, With Clarity, an innovative maker and seller of engagement rings that gives customers a way to test drive designs. Clients can order 3D-printed versions of the rings they're interested in and test out different styles at home – free of charge. Then they purchase the real version, once they've found a design they love. Kankariya, based in New York City, says she is proud to have built a unique jewelry business whose diamonds are conflict-free, ethically sourced, or lab grown. 
Here's our lightly edited Q&A, from The Story Exchange 1,000+ Stories Project.
Tell us about your biggest success so far.
Our biggest success is the number of positive reviews and testimonials we have received from couples around the country. We are thrilled to be a part of one of the most special moments of our customers' lives.
What is your top challenge and how have you addressed it?
Our biggest challenge has been to manage different stages of the business as it scales. As the business evolves, more is needed on the resource and strategy sides to ensure we are equipped to meet customer demands.
Have you experienced any significant personal situations that have affected your business decisions?
Evolving life stages over the past 10 years – like getting married, having a child, and moving homes – have all impacted how we approach work-life balance achievement.
What is your biggest tip for other startup entrepreneurs?
It's important to not sit and dwell on failure – and it's important to understand that there are many ways to get to success. Be open to trying out lots of ideas – gather the data, and experiment – to find the one that will stick.
How do you find inspiration on your darkest days?
We look at the positive impact our product is having on the consumer's shopping experience, and the role our company plays in a huge, celebratory moment in people's lives.
What is your go to song to get motivated on tough days?
"Eye of the Tiger" by Survivor.
Who is your most important role model?
The most important role model we have is our daughter. It's unconventional, but children are a great reminder to approach everything with unbridled enthusiasm and curiosity, and to consistently push the envelope and break the mold. This is what inspires us to keep a creative start-up mindset. ◼
Instagram: @withclarity
Facebook: @MyWithClarity
Twitter: @MyWithClarity
TikTok: @MyWithClarity
YouTube: @WithClarity
Check out our Advice + Tips for entrepreneurs starting-up
Watch our latest videos
Subscribe to our podcast