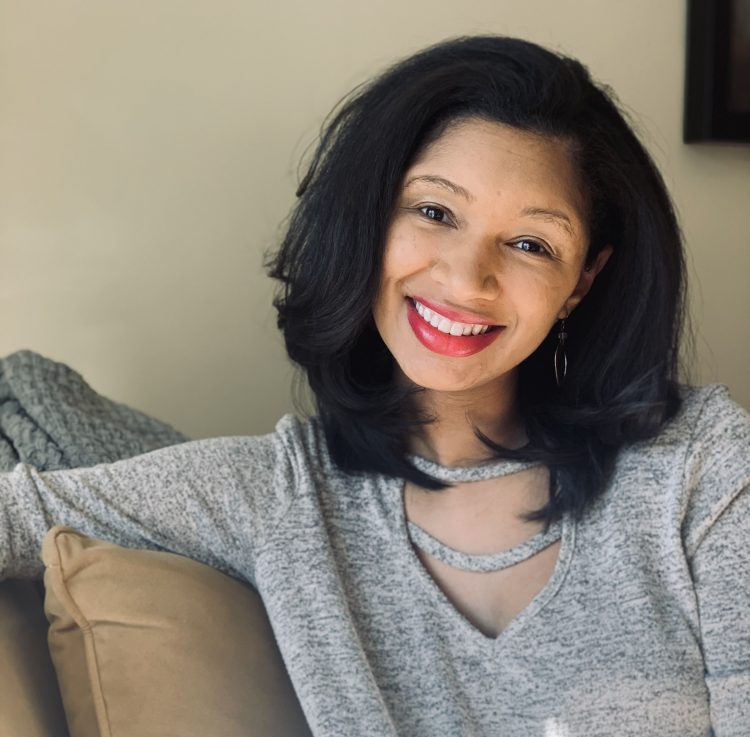 Stephanie Snyder wanted to create a book club for the youngest readers out there, and well, the caretakers who read to them. Thus Littlebit Book Club was born. The book club revolves around her own original board book series for 'Littlebit' members and their grown-ups. All the books are told from the perspective of the pint-sized protagonist of color, Lucy Littlebit, who demonstrates the uniqueness of interracial families as well as the adventures in ordinary everyday activities. Today the Ocean, New Jersey-entrepreneur counts her three-year-old daughter, Lucy, as both her muse and her role model. And while a tough second pregnancy coupled with a global pandemic hasn't made her entrepreneurial journey any easier, it has helped her to focus in on what is important for her, her family and her budding business.
Snyder's story, as told to The Story Exchange 1,000+ Stories Project:
Having been a language arts teacher, I knew the importance of reading early and often. I began reading books to my then-newborn daughter, Lucy, in an effort to ensure that she never experienced the literacy achievement gap. Tired of books about animals and objects, I grew determined to create a book for babies, toddlers, and the parents who read to them, that would capture their day-to-day experiences while reinforcing language and literacy. I was passionate about creating characters who reflect the identity of my mixed-race family in order to normalize minority protagonists and a wider variety of family make-up.
I'll know I've been successful with Littlebit Book Club when more and more parents, family members, and early childhood educators and caretakers refer to us as the brand for instilling a love of literacy in little people. This will tell me that our simple stories, practical tips, and free resources have helped or inspired people to do something that many people view as difficult. As I continue to grow the business, I am doing what I love, and it makes me feel successful in the day-to-day operations. Achieving financial goals I've set will further confirm that I was able to do work that I love to help and inspire others.
[Related: She Found a Way to Share Her Love of Reading With Her Son]
My biggest success has been personal, and that has been learning to move forward in my business even when I'm scared or not fully confident in what I'm doing. I spent a lot of time holding myself and my business back because I was afraid to step out of my comfort zone to make moves. Now that I'm overcoming that fear, doors are opening for me and for my business. I am excited to learn new skillsets that I previously thought just "weren't for me." Applying them in my business is now helping us to level up, and it's exciting to see.
My goals for Littlebit Book Club are to expand our book series and to add early literacy games and other products to encourage learning with love…bit by bit (our motto). I also hope to increase brand awareness and to become a go-to literacy resource for early childhood education. I see this company one day being a household name and a one-stop shop for baby shower gifts or toddler birthdays. I also look forward to the day when today's Littlebits can say, "I learned to read with Lucy Littlebit!"
My biggest challenge has been facing the learning curve of business know-how. I was a career educator before I took on this venture. I've addressed this challenge in a number of ways. I had to think about all of the ways that being a teacher is comparable to or has prepared me for running a business. That has helped to build my confidence. One thing that helped me grow and excel as a teacher was professional development, so I have had to apply that to running a business, as well. This means getting advice from experts, studying how others are marketing their businesses, getting feedback from others, listening to podcasts, taking courses, and learning to be comfortable with trial and error.
[Related: She Wanted to Make a Podcast Featuring Modern Arabic Children's Stories]
After a miscarriage in January 2020, my husband and I were excited to get pregnant very quickly a few months later. I wasn't anticipating the pregnancy being as difficult as it's been. Because of the uncertainties and changes that 2020 has brought, my other side hustles have gone by the wayside, and because of the unpredictability of this pregnancy paired with raising a headstrong three year old, I haven't been able to work the way I worked before. This has forced me to focus 100% on Littlebit Book Club, and I'm so glad it has. As a result, we're growing, and I'm learning to say no to things that are out of alignment with growing this brand.
I've viewed many people as role models throughout my life, but right now, the person I am learning the most from is my three year old daughter, Lucy. This may seem ironic. You may be thinking that I should be her role model. I hope that I am. But every day she reminds me some of life's important lessons, and that's why she's my role model. Not only is she my muse for many of the creative ideas for the brand, but in all of her threenager idiosyncrasies, she reminds me to advocate for myself and the things that I want; to be relentless and to follow up when making requests; to dream big and know no limits to my abilities; and to find joy in the simple things in life.
Check out our Advice + Tips for entrepreneurs starting-up
Watch our latest videos
Subscribe to our podcast