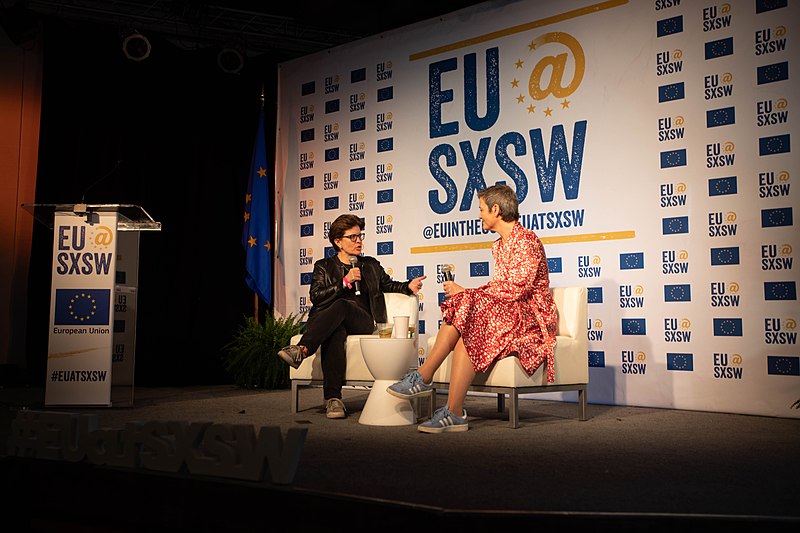 As in-person work, travel and events resume — albeit with new precautions in this ongoing Covid era — that means conferences are also back. While many hosts and attendees had to quickly adjust to Zoom formats during the pandemic, grand halls, breakout sessions and lots of branded merch appear to have returned in (somewhat) full force.
The Embrace Ambition Summit, hosted by the Tory Burch Foundation, recently convened in New York City to bring together women around the topic of challenging stereotypes around race, gender and sexuality, and speakers included activist Dolores Huerta, writer Min Jin Lee and actress Mindy Kaling.
And The 19th held a virtual conference looking at the past 50 years of Title IX, featuring Sen. Elizabeth Warren and Jennifer Doudna, the biochemist who won the Nobel Prize for co-inventing CRISPR.
We take a look at some of the upcoming networking events that are going live again, though many also include a virtual component. Check each website for details.
August 2-5 | Las Vegas, Nevada
Registration is open for what's dubbed "the largest LGBT business event on the planet." This conference offers networking opportunities for more than 2,000 LBGT business leaders and allies, according to its website, in the form of keynote speakers, a boot camp for certified LBGT businesses, and one-on-one meetings between suppliers and Fortune 500 companies. Session topics include pitching business ideas and the art of storytelling and marketing your business.
October 9-11 | Louisville, Kentucky
NAWBO represents the interests of more than 10 million women-owned businesses in the U.S. and counts about 5,000 members. Keynote speakers at this year's annual conference include entrepreneur and author Molly Bloom, Latina businesswoman Magie Cook, who was raised in an orphanage in Mexico, and motivational speaker Vera Jones. Louisville is a strategic venue location, according to the conference website. The economic hub is home to GE, Ford Motor Corporation and, of course, bourbon.
November 1-4 | Lisbon, Portugal
Web Summit has been hailed for its prescience around where technology is heading next, and the Dublin, Ireland-based company also hosts several offshoot conferences in cities around the world. Its flagship conference will take place in Lisbon and will bring together more than 70,000 CEOs and founders in the tech industry, according to its website. Past speakers have included executives from Reddit and Vice Media.
November 3-5 | Chicago, Illinois
This mainstay for female entrepreneurs is back in person for the first time since 2019. Details for this year's conference are still scant, but the nonprofit organization typically brings together more than 500 members and recognizes women who are "changing the face of business." C200 has recently focused on how working moms can avoid burnout since the pandemic started.
November 15-16 | San Diego
Fortune magazine's Most Powerful Women Next Gen Summit this year is going with the theme, "Realizing Your Power," as speakers focus on how the world — and business — has changed during the pandemic. The conference will bring together "preeminent rising women" in business as well as leaders in government, philanthropy, sports and the arts. Past speakers included makeup mogul Bobbi Brown, model and entrepreneur Emily Ratajkowski and Moms Demand Action founder Shannon Watts.
December 14-15 | Virtual
This star-studded conference brings together influential women in entertainment, media and technology and includes mentoring sessions, workshops and networking across industries. Speakers in 2021 included Jennifer Hudson, Sarah Paulson, Regina Hall and Paxton Smith, who made headlines this year for slamming Texas' abortion ban in her speech as high school valedictorian. She was honored with the "Voice of the Future" award at last year's conference.
March 10-19, 2023 | Austin, Texas
The trendsetter of conferences had to cancel all events in 2020 following local restrictions, but it came back in full force the last two years with speakers including writer and singer Michelle Zauner of Japanese Breakfast and Secretary of Transportation Pete Buttigieg. Speakers haven't been announced yet for next year's conference, but aspiring panel participants can enter PanelPicker session ideas through July 24.
June 26-29, 2023 | Toronto, Canada
An offshoot of the Web Summit, Collision's whole mission is to increase representation of women in tech. After two years of virtual gatherings, Collision recently wrapped up its first in-person event, and plans are already in the works for next year's conference. Over three days, tech execs, journalists and startup founders came together in "a global gathering of provocative ideas, brilliance, and investment dollars." Speakers included actresses Lupita Nyong'o and Bethany Brown, and renowned novelist Margaret Atwood.