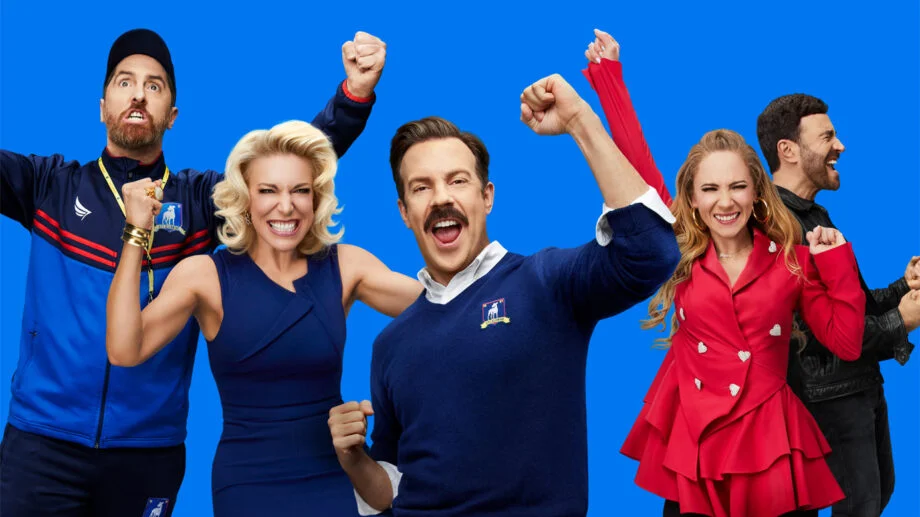 At the height of the pandemic lockdown, I thought it would be great fun to use some of my newly acquired indoor time to re-watch HBO's hit fantasy series "Game of Thrones." About three episodes into my endeavor, I gave up entirely.
It's not because of its widely panned ending. (GOT fans: I will simply say the show's conclusion made narrative sense, but was told too poorly to bother justifying. If you'd like to discuss further, my email address can be found in my bio.) Rather, I found myself struggling to complete the task because the show is bloody, brutal, gory — in short, extremely depressing.
And when you're living through the most painful period in recent history, the last thing you need is to feel (even more) miserable. Especially if it's solely on behalf of fictional characters. And particularly if you're "languishing," a buzzword used at one point to describe our collective pandemic blahs.
So I forged ahead, and found that the right TV shows can be a perfect way to forget (albeit briefly) our world of chaos. Here's my list, augmented by the staff at The Story Exchange. Each is available online ,and ranges from 30 to 60 minutes in length (which is great if you lack binge-watching time). And they're all a blast.
The Good Place
One-Sentence Summary: Four strangers navigate the afterlife.
If you have somehow managed to avoid finding out about this NBC comedy's now-famous plot twist, we suggest you start your watching efforts here, lest it get spoiled for you. But while the show's big heel-turn is one of its most discussed moments, the entire series is a sharp but loving contemplation on redemption, and the human capacity for change and growth. It also delivers laugh-out-loud moments in every installment.
Where to Watch: Netflix, Apple TV
Run the World
One-Sentence Summary: A group of best friends, all Black women, go through life together.
This is more than merely "a Black 'Sex and the City" — though the show's creators understand (and sometimes even play to) the comparison. Set in Harlem, this series is, at its core, all about friendship and female support. The lead quartet sees ups and downs in both their personal and professional lives — but always gets through whatever happens together.
Where to Watch: Hulu Premium, Philo Premium
Superstore
One-Sentence Summary: The lives of big-box store employees play out largely at work.
The best fiction is fiction that tells truths. "Superstore," which ended its run last year, is one such show. It tackles income inequality, racism, sexism, the American immigration system and other societal ills with precision and humor. The show also tackled the Covid-19 itself through these lenses — perhaps the show that most successfully grappled with the pandemic. And for those who enjoy them, it also features an especially enjoyable "will they, won't they" pairing.
Where to Watch: NBC.com, Hulu Premium, Peacock Premium
Parks and Recreation
One-Sentence Summary: A tenacious city employee leads her team in acts of civil service.
Yet another NBC offering — and, for those who follow television producers, another witty ensemble show from producer Michael Schur — but one that's well worth your time-passing consideration. It skewers the American political machine on a macro level by telling a micro-level story in a mockumentary format. It also features a driven, intelligent and loveable lead female character, Leslie Knope, and laugh lines you'll be quoting long after you finish watching the finale.
Where to Watch: Peacock, Hulu Premium, YouTube TV
Schitt's Creek
One-Sentence Summary: A once-wealthy family finds itself destitute and living in a rural town.
The staffer who suggested this entry admits that it "got me through many a long evening" during the most dire portions of the pandemic. If you've watched the show, it's easy to see why — it features a truly unique mix of humor and heart, and you'll cry (happily!) as much as you laugh. And two of the lead roles are played by comedy legends Eugene Levy and Catherine O'Hara — but Dan Levy (yes, Eugene's son) is the shining star, as well as the subject of roughly 75 percent of the GIFs you encounter online.
Where to Watch: Netflix, Hulu Premium
Ziwe
One-Sentence Summary: A comedienne hosts a late-night talk show.
Ziwe Fumudoh's star has been on the rise for a while. You may know her as a writer for another Showtime talk show, "Desus and Mero." Or maybe you know her from her online offering "Baited," in which she asked non-Black individuals questions about race — and sparked some rather interesting conversations in the hilarious process. Now, with her own television show — which features high-profile guests like author Fran Lebowitz and actress Jane Krakowski — she's shining even brighter.
Where to Watch: Showtime
The Circle
One-Sentence Summary: Participants live in isolation — from others, and from one another — and interact solely through a social networking platform called, you guessed it, The Circle.
I will not put this addition on any of my fellow staff members; this one is all me. Like most reality television, it's compelling because the people on it are extremely charismatic, and often hilarious (whether intentionally or not). It's also an especially fun group watch — whether in vaccinated gatherings or via Zoom — because the episodes' cliffhanger endings beg for further discussion.
Where to Watch: Netflix
Fleabag
One-Sentence Summary: A woman makes frequent observations on her own chaotic life.
Yes, there is a "Hot Priest" character. (And yes, for those who are attracted to men, he is rather attractive.) But we didn't add this show to our list for him. (Mostly.) We have it here because its creator and star, Phoebe Waller-Bridge, is witty in ways most of us can dream of being. She delivers jokes in a dry, blunt manner, making us laugh as she navigates love and tragedy alike. (They are, indeed, sometimes one in the same.)
Where to Watch: Amazon Prime
Ted Lasso
One-Sentence Summary: An American college football coach is brought on by an English soccer team.
Admittedly, I have not yet caved and subscribed to Apple TV+ — a desperate, likely futile, attempt to avoid reaching double digits in subscription services. But my colleagues strongly recommend this show — as does literally any other person I've encountered who's watched it. It's seemingly less about the laughs, for fans I've spoken with, and more about the unwavering optimism at the show's heart and in its performances. I'll admit, that does sound good right about now.
Where to Watch: Apple TV+
Abbott Elementary
One-Sentence Summary: A group of teachers go about their jobs and lives at a Philadelphia public school.
I know, ensemble casts feature big on this particular list — but this one is especially well-constructed. (Though Janelle James, who portrays the school's principal, does steal every scene she's in.) Its creator, Quinta Brunson, is also its star — and she's knocking both roles out of the park. In fact, it's set numerous ratings records in its first season. Appointment television is a rare practice to engage in nowadays, but I'm available every Tuesday night to catch the latest episode.
Where to Watch: ABC, Hulu
Love is Blind
One-Sentence Summary: Classically attractive individuals date one another in pods where they can hear, but not see, other participants.
It would have been polite to warn my editor that, in my hands, this assignment would involve at least two entries one could reasonably call "trash." But like wine coolers or Flamin' Hot Cheetos, sometimes the bad stuff is so good. This one is a dating show — albeit on an accelerated timeline, as marriage proposals are the objective of the titular "blind" portion of the show. The dramatics turn up a notch when the couples who commit embark upon a retreat, before moving in together. If anything, you'll be riveted away from the news.
Where to Watch: Netflix
Our Still-Must-Watch List: "Shrill" (we know), "Broad City" (we know), "Gilmore Girls" (we know).