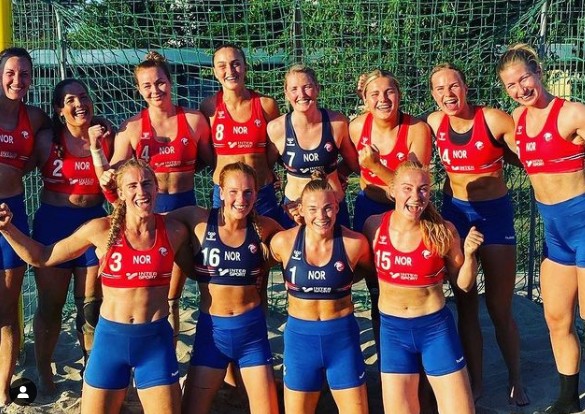 We cannot roll our eyes hard enough.
The Norwegian women's handball team was recently fined for its game day attire. Rather than donning the standard bikini bottoms for a match, the players opted for shorts that they found to be more comfortable. The result? About $1,770 in fines, split among the "offending" players.
The International Handball Federation requires that players wear bottoms "with a close fit and cut on an upward angle toward the top of the leg, and sides that measure no longer than 4 inches. And these are the rules the European Handball Federation said they were enforcing when it handed down the fines.
Meanwhile, men who play the sport are permitted to wear shorts, provided they aren't excessively baggy — a blatant double standard. Jessica Rockstroh, an IHF spokesperson interviewed by The New York Times, admitted that she wasn't sure of the rules' origins, but noted that an internal investigation was set to take place.
The Norwegian team's demonstration was planned in advance, and took place at the European Beach Handball Championships in Bulgaria on Sunday. "I don't see why we can't play in shorts," Norwegian player Martine Welfler told the Times. "With so much body shaming and stuff like that these days, you should be able to wear a little bit more when you play."
In an Instagram post — featuring the players wearing the shorts in question — the team said that "together we will continue to fight to change the international regulations for clothing, so that players can play in the clothes they are comfortable with!"
Rockstroh said that the organization had not received any other complaints about the uniforms, stating that "other countries like to play in bikinis, for example, especially in South America." Norwegian Handball Federation head Kare Geir Lio said the fines would be paid, and added that Norway's team has complained about the uniforms since 2006 — but had yet to be acknowledged, until now.
Lio added to the Times, "Women should have the right to have a uniform they think is suitable for performing in their sport."