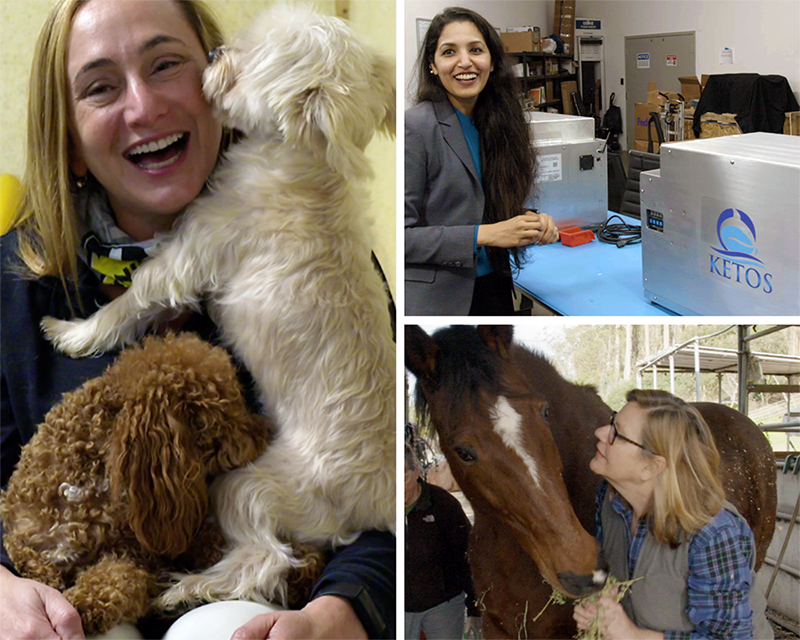 Our list looks a little different this year — in addition to The Story Exchange's usual profiles of inspiring female entrepreneurs, viewers sought tips and tricks to get through the pandemic. Plus, our award-winning podcast on women's suffrage broke the top ten.
Here are the most popular videos on The Story Exchange in 2020.
When she learned that horses are regularly abused and sent to slaughterhouses, Lynn Hummer decided to take action. In 2006, she formed Pregnant Mare Rescue, a nonprofit near Santa Cruz that specializes in rehabilitating female horses and letting them bond with their foals in a peaceful setting. In this video, see the work that Hummer does at her California ranchette. She has rescued over 400 mares and foals.
There's no right or wrong way to survive a pandemic. But now could be a great time to turn your skills into a startup …. based completely from home. Here are 6 home-based business opportunities. Whatever you choose, go to the Advice and Tips section of our website to figure out how to start your next chapter.
Bonnie Tyler was making deviled eggs when inspiration struck, and she dreamt up the Negg. She and co-founder Sheila Torgan began manufacturing the egg peeler in the U.S., and quickly raked up sales on Amazon.com, the Grommet and HSN. Then, disaster struck. One morning, Tyler woke up to find cheap knock-offs of the Negg all over the Internet. She has successfully taken down over 800 counterfeit sellers, many based in China. Watch the video to learn about her startup story and how she's fought back against fraudsters.
Meena Sankaran is the founder of Ketos, a water analytics startup that aims to detect toxins and leaks in the water supply. The Milpitas, California, company provides real-time intelligence on water usage and safety — and aims to prevent water crises like the one in Flint, Michigan.
From Instagram to newer social platforms like TikTok, here's the best way to do social media marketing and connect with customers during coronavirus.
While this video was filmed before the coronavirus, Jules Pieri of The Grommet reported in the spring that she'd seen 30% growth in sales of unique products made by small businesses, post-Covid-19. She co-founded the online marketplace in 2008 as a way to showcase innovative items that come from makers, inventors and independent entrepreneurs. Watch this video to learn how the company started and how it's grown over the years.
In the conclusion to our 3-part series, we question: Is the future really female? As we head into a fierce presidential election, in a nation roiled by a pandemic and protests over police brutality, we look at the role women are playing as candidates and voters. Our guests include Kelly Dittmar of the Center for American Women and Politics; Joanna Weiss of Women for American Values and Ethics; author Molly Ball of the new "Pelosi" biography; Ronnee Schreiber of San Diego State University; and Glynda Carr of Higher Heights.
For women entrepreneurs who find themselves with all the spare time they could ever want — and then some — we've compiled a list of our favorite books by women authors. Some are fiction; some are nonfiction. Some will make you laugh; others will make you cry; and all of them will make you think. And each one comes to us from smart, gifted women authors, many of whom won awards for their work.
72 years. That's how long it took for women to win the right to vote, after suffragists first rallied at the 1848 Seneca Falls Convention. The battle was long, heart-felt, and sometimes bitter — with a surprisingly split over race issues after the Civil War ended. The 19th Amendment was finally ratified on August 18, 1920, in the wake of Spanish Flu Pandemic. 100 years later, the war for equality is still being fought — making the history explored in this podcast more important than ever. Ellen DuBois, author of Suffrage: Women's Long Battle for the Vote, joins reporter Victoria Flexner to answer this question: How did getting the vote in 1920 change women's ability to wield power in America?
Former Wall Street lawyer Tania Isenstein loves animals — so when she decided to embark on a second career, she knew it must be related to pets. In 2012, Isenstein purchased Camp Canine, a doggie daycare, grooming and boarding facility on Manhattan's Upper West Side. She used her business acumen to make capital improvements, change workplace culture and grow revenue 400 percent. At the start of 2020, she employed about 50 workers and was on track to make $2.5 million in sales. And then the pandemic hit. Camp Canine stayed open for a few weeks, caring for the dogs of first responders and essential workers — but demand evaporated and Isenstein closed the doors for two months. She re-opened in May and is fighting to keep her business going in these challenging times.