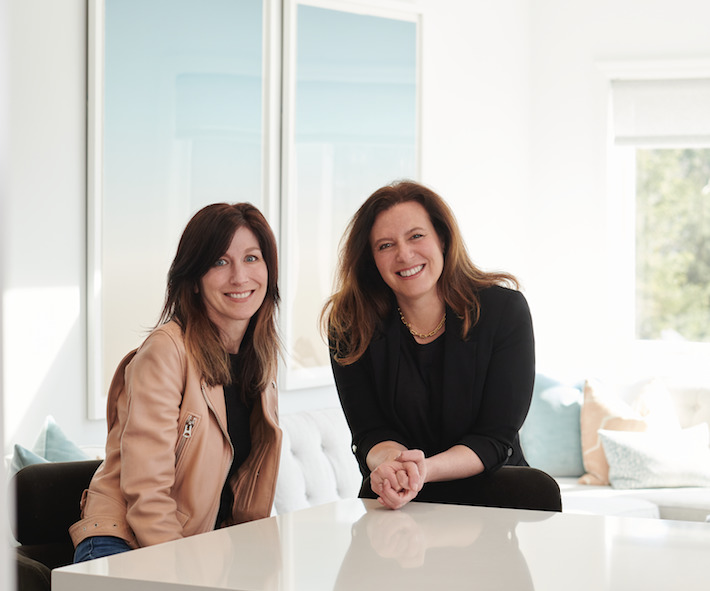 Michelle Jacobs and Sally Mueller are on a mission to bring modern menopause products to the mainstream market. When Mueller was going through menopause herself, her doctor recommended dated and ineffective products to deal with side effects. Jacobs and Mueller realized how desperately women of a certain age needed an entire range of products that offer solutions from head to toe throughout menopause. The result is Womaness, a collection of creams, serums, vitamins and everything in between that are beautifully packaged. Womaness products are designed to be enjoyed – not hidden away in the bathroom cabinet. While the duo found that launching during the Covid pandemic certainly had its challenges, today they have reached the impressive $1 million mark in revenue sales and are only looking to continue that growth.
Jacobs & Mueller's story, as told to The Story Exchange 1,000+ Stories Project:
What was your reason for starting your business?
There was a huge need in the market that became clear from the personal experiences of my co-founder Sally and myself. Sally was going through menopause and having medical issues. When she finally understood what was going on with her body (shocking that she didn't have any understanding of menopause), the doctor recommended products to try. They were – frankly – outdated, lackluster, with bad formulations. Think bottom shelf at the drugstore.

I saw a lack of focus on this woman who was over 45 and into her 50s. Marketing, products, startups were all focused on Millennials. It was time to celebrate this woman and all she has achieved. Time to stop telling her she has to look younger and instead celebrate where she is today. In essence, focus on celebration and not shame about this age and stage of life.
How do you define success?
There are two parts. Of course, financial success is important for us. With financial success, we fulfill our promise to employees and investors, and it also validates our product in the market. But there's also personal success; we achieved something very difficult that we decided was important. Both Sally and I are driven by that level of success. Through our experiences with our own health and aging, we saw a huge gap in the market. The information provided to women in perimenopause and menopause is inadequate. Ask any doctor and you get a different answer. If you are a woman experiencing symptoms, that's even worse. It's so hard to find answers and doctors who agree on treatment. The goal of Womaness is to help women navigate through some of the information, but to also know they are not alone in their confusion. The more companies like ours and the more women demanding answers, the better the information will be. Success for us is really helping our customers not only find great products, but also some of the answers they need.  
Tell us about your biggest success to date
Literally getting Womaness launched (in the midst of a global pandemic, no less) and making our first $1 million in retail sales. Amazing in my mind—this shows we are reaching women and resonating with their needs. Many people told us women couldn't raise money. That women's health—especially menopause—would not get funded. That we were crazy to launch with more than one or two products. That women over 40 don't respond to digital advertising. Almost everything that was told to us did not come true. We had many investors interested and a lot of male investors. We are seeing sales on all our products and our top five cross categories and finally our best channel is womaness.com, where we have a robust community.
What is your top challenge and how have you addressed it?
We have struggled with brand awareness with our limited budget. Our best plan to date is to stop focusing on fixing what isn't working and instead find new ways to reach our customers. Stopping things you have financially and mentally invested in is difficult to do, but it must be done to move forward.
Have you experienced any significant personal situations that have affected your business decisions?
In a word: Covid. We had to change our plan to raise money and pitch retailers. Sally and I have decades of experience pitching retailers and building brands, but with Womaness, we have had to do it all virtually. This was completely new, uncharted territory for us – in some ways, it was an advantage and in some ways, a disadvantage.
What is your biggest tip for other startup entrepreneurs?
Ask for help, and use your network.
How do you find inspiration on your darkest days?
I am lucky I have a business partner that I trust implicitly. We talk a lot on days we feel terrible. And we help each other through the dark days.
Who is your most important role model?
We have so many role models and we would be lying if we didn't say otherwise. What we are doing is not easy and we are not experts in everything…we feel like we are barely experts in anything these days. The doctors we work with are amazing—Dr. Somi Javaid from HerMD and the people at Mayo Clinic. They are fighting every day to provide good healthcare to women and get research funded. Our investors who help us navigate the VC, Private Equity and investor community. Our customers who tell us their stories and rally behind our brand. Every one of these people inspire us and teach us things every day. It's really been an amazing experience and it has changed both of us. ◼
Check out our Advice + Tips for entrepreneurs starting-up
Watch our latest videos
Subscribe to our podcast