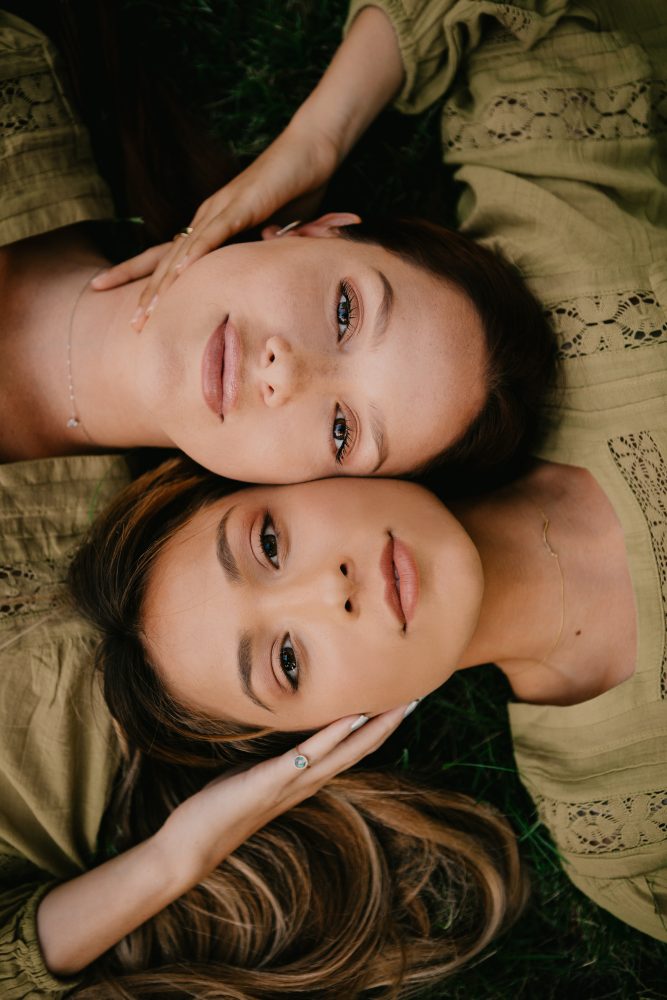 Aja and Tia Blanco are sisters with different professional backgrounds but a shared grievance: sensitive skin. Tia is a professional surfer and vegan activist while Aja is a software engineer who is also passionate about the planet and the environment. During their years of searching for the right skincare products the sisters had a hard time finding a line that was not only good for their sensitive skin, but that was also ethically made. They decided to take their passion for skincare and beauty and create the vegan line of products they had been looking for. The result is Dear Self Skincare. Each of their products comes with a unique, positive affirmation designed to redirect habitual thinking patterns surrounding beauty routines. Today the Oceanside, California-based entrepreneurs are dedicated to growing their brand while providing customers with products that are good for their skin and the planet.
The Blanco Sister's story, as told to The Story Exchange 1,000+ Stories Project:
My sister and I have always had a passion for all things skincare and beauty, so we decided to take a chance together on something we have always loved. We wanted our company to be centered around love and to really empower our customers. We both realized how self-critical we can be during our skincare routines and we wanted to shift that narrative and find a way to redirect habitual thinking patterns. We have also struggled finding products that are suitable for our sensitive skin types. So it was our dream to find a solution all while aligning with our cruelty-free beauty and planet-friendly motives.
Our mission has been (and continues to be) to provide our customers with high-quality skincare line that encourages them to practice daily self-love. Each product is named after a positive affirmation designed to redirect habitual thinking patterns. We truly believe in the power of plant-based ingredients, natural skincare and never harming animals in the process of developing our formulations. Our expert chemists ensure all of our products are non-comedogenic, paraben-free, safe for sensitive skin types and free of synthetic fragrances. We love our planet and that is why we aim to make this skincare line as eco-friendly as possible. We have committed to packaging in glass bottles to help put an end to the mass consumption of plastic. Our packaging includes biodegradable shipping boxes and paper made from recycled materials.
Our definition of success is having our passions in life at the forefront. Our mantra is "Love what you do, and you will never have to work another day of your life!"
Another important factor of success is to live with purpose and intention. "Life without purpose is mere existence." Everything we do, from our morning routines, to the endless hours of hard work and effort we put into our individual careers, our business, and personal endeavors, comes from a place of intention and purpose. And that has translated beautifully in all aspects of our life, including Dear Self. Our mission and brand values are always driving and motivating us to do better and be better.
[Related: She's Giving Soft Serve Ice Cream a Healthy Make-Over]
One of our biggest successes was being featured in a few subscription boxes, such as the Kinder Beauty Box, founded by some incredible boss women Daniella Monet (Disney Channel) and Evanna Lynch(Harry Potter)! We also partnered with GILT/RueLaLa to sell a few of our products on their site. And as far as press goes, we were featured in media outlets such as Forbes, Maxim and Bloomberg which has been incredible exposure for us. We are so grateful for all of these opportunities.
But at the end of the day, we are honestly most excited when our customers leave glowing reviews! It truly makes us so happy to see that our customers love our products and it makes all of our hard work feel so worth it. All in all, that is truly our biggest success. Looking forward, one of our biggest goals for the future is to be featured in retail stores like Sephora, Ulta, Whole foods, Sprouts etc. We are so excited for what the future holds and we are excited to introduce our new line very soon!
This is our very first business, so there have undoubtedly been obstacles and challenges along the way. Understanding the ins and outs of the industry has definitely been a learning experience for us. As well as balancing our separate careers as a professional surfer and software engineer. We have made our fair share of expensive mistakes along the way, which has been very stressful as our business is completely self-funded at this time. We may look for investors in the future, but we have agreed to build a solid foundation first and foremost. All in all, we learn from each and every mistake and know better for next time. Not to mention the fact that we are sisters running a business together! As you can imagine, sometimes emotions run high. But we always manage to get through it.
It has been a lot of hard work, but we truly love the hustle and we are so passionate about what we do. We recently brought on Matt Meyerson as our COO, who has been a fantastic addition to our small team. Matt has taken lead on operations and marketing, which has alleviated a great deal from our plate enabling us to focus on product development and sales.
[Related: Meet the Fashion 'Trash Nerd' Who's Won Money and Love from Vogue}
It's funny because our role models seem to be ever changing, due to the fact that we are so multifaceted and have so many different dreams and aspirations. For example, Tia has looked up to Ariana Grande, for her massive success and the overall power and grace she holds as a strong, independent woman. I have looked up to Jessica Alba and her ability to be such a success as an actress as well as businesswoman (Honest Company) and mother.
However, the one constant in our lives has been our parents and their unwavering support and belief in us. Our parents have continuously inspired us and encouraged us to go after our dreams with full confidence. They basically started from nothing and worked so incredibly hard to build their empire and have truly created such a beautiful, admirable life. They have instilled in us the power of always maintaining a sense of child-like wonder/imagination when it comes to envisioning our life and our wildest dreams. This has allowed us to really shoot for the stars when it comes to what we want out of life, business, relationships, etc. It has trickled into every aspect of our life and we are so grateful for that. The power of the mind is so incredible.
Check out our Advice + Tips for entrepreneurs starting-up
Watch our latest videos
Subscribe to our podcast