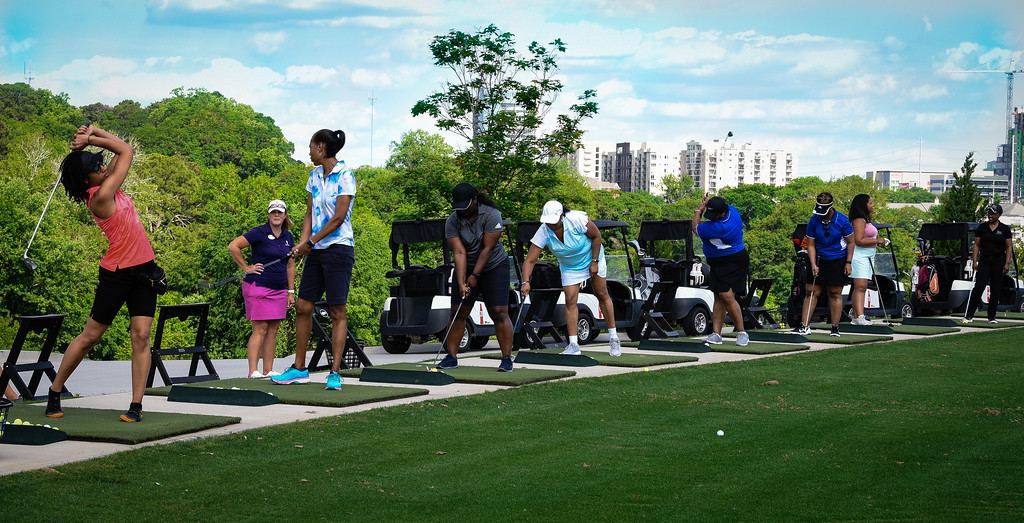 What comes to mind when you think of the typical, traditional golf player?
If you answered "old white man," Tiffany Fitzgerald wants to change that. She's the founder of Black Girls Golf, a nearly 5,000-member organization that exposes young girls and professional women of color to the sport, often seen as a throwback to the "Mad Men" era of corporate wheeling and dealing in industries such as law, finance and advertising.
She founded the group in 2013, and the members, ranging from schoolteachers to surgeons, will convene for an executive retreat in Texas next month, billed as the first of its kind event — the largest gathering of women of color on the course.
Finding Her Footing
Fitzgerald never thought she'd be teaching other women of color about golf — the sport was the furthest thing from her mind as she tried to climb the corporate ladder during the early aughts. Working in marketing at a manufacturer in Iowa, "I had my head down, I was there early, I stayed late," she said. "I was busy checking off all the boxes: go to college, get a good job, do all those things."
[Related: ESPN's First All-Women Baseball Broadcast Team Hopes to Inspire Young Women]
She added, "No one told me to play golf, though."
As she watched her colleagues head off to the course, she felt left out of the boys' club. So she bought some clubs at Kmart and signed up for a golf lesson, and the next time her coworkers went out, she decided to join them.
"I invited myself and it was probably, even to this date, still one of the most embarrassing experiences of my life: not knowing what to do, where to stand, when I could talk, when I couldn't talk, swinging and missing," she recalled.
But a senior-level male coworker in their foursome recognized Fitzgerald was uncomfortable and guided her as she teed off at each hole. "I recognized something shifting," she said. "Some of the other guys began to help me and tell me about their first time playing."
Fitzgerald took more lessons and discovered something else: she enjoyed playing. And she wanted to share that love of the sport with other women who looked like her, so she quit her day job and moved to Atlanta in 2012. "I decided to give Black Girls Golf a full effort," she said.
She founded her organization a year later with her own funds. About two dozen women showed up to a course in Atlanta after Fitzgerald posted on Facebook, and she tried to give them a crash course in the sport. It didn't go very well, so Fitzgerald rounded everyone up to celebrate "just getting together around this common activity."
"I just stuck with it. I knew that this was something that had to happen because Black women have certain perceptions about golf that it's boring, it's expensive, it's for old white men," she said. "Golf isn't really a sport that meets people where they are. I felt like Black Girls Golf could be the bridge."
[Related: Today, Mental Health Took Gold at the Olympics]
After that, there were even more challenges. "In the beginning, I was hosting networking events and golf clinics and no one was coming, or I'd have two or three people," she said.
But she knew if she kept at it, she'd be able to change some minds.
Where They Are Now
Eight years later, the organization maintains an active Facebook page and hosts clinics in cities around the country as well as watch parties of professional games that double as mentorship and networking opportunities. Fitzgerald also started a youth golf program at Clemson University in South Carolina, but it was disrupted by Covid.
"The goal really is to normalize seeing Black women in these spaces," said Fitzgerald. "I want to be able to show up with as many Black women as I can on the golf course and people not be shocked and surprised."
She has also seen a welcome influx of cash from companies that ramped up their efforts to support Black Lives Matter and small Black-owned businesses in the wake of the murder of George Floyd last May. But she made sure to thoroughly vet the places that wanted to help.
"Who was really, genuinely committed to helping me promote diversity, equity and inclusion in this industry? Who is working really hard to be on the right side of history?" she said she asked. She turned some companies down, but in the end she accepted financial support from the Professional Golfers' Association of America, BMW and Adidas Golf.
[Related: New Teenage Talent Takes Over Tennis at U.S. Open]
As a "solopreneur" with a few paid interns, Fitzgerald hopes to soon expand to hire full-time staff. Currently, membership is free, but there's a fee for events. Atlanta is currently one of the main hubs for Black Girls Golf, but one goal is to offer more clinics in other cities.
"I know that I'm at the tip of the iceberg for what I'm doing," Fitzgerald said, "and there's so many more women I could be introducing to the game."