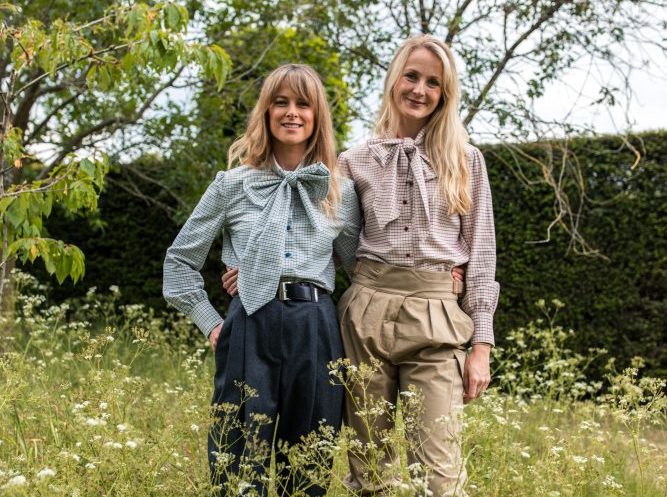 Rosie van Cutsem & Lucia Ruck Keene are United Kingdom-based sisters, entrepreneurs and designers. The stylish sisters felt as though there was a gap in the market for high quality classically British outerwear, especially for women – so they decided to fill the gap themselves. Today the Norfolk, England-based sisters run TROY London, which manufactures beautifully made coats, jackets and other wardrobe staples for women, all of which are made in the United Kingdom. Recently the sisters have launched a menswear capsule collection and are proud of how much they have been able to grow their brand on a start-up budget.
Cutsems & Keene's story, as told to The Story Exchange 1,000+ Stories Project:
What was your reason for starting your business?
My sister Lucia and I launched TROY London to meet the need for quality outerwear that performs whilst also being stylish. We felt this market was under developed, particularly for women, so we launched our first collection in 2015 to try to meet this gap in the market.
How do you define success?
Success for us is getting our TROY brand and designs out to a broader market in an ethically and economically profitable way. This requires building sound foundations for the business in design and manufacturing processes that can then be up-scaled with innovative marketing and sales initiatives. Growing the business on a tight budget has required discipline and patience but we are thrilled to see the growth of our company really outreaching expectations.
Tell us about your biggest success to date
As we grow the business it is often the smaller things that really make our days, such as the glowing customer review or new markets opening up to our online business. We have had challenging times but the many high points include launching our design collaborations with British fashion leaders Amanda Wakeley and Brora, stocking our collection in Harrods of Knightsbridge and most recently launching our first menswear capsule collection.
What is your top challenge and how have you addressed it?
Our greatest challenge is finding and building key relationships in British factories and craftsmanship. It is a treasured part of our design ethos to make everything we design here in the UK and this requires diligence and tenacity to ensure we uncover the best expertise across the country.
What is your biggest tip for other startup entrepreneurs?
Not to be afraid of asking for help, of sending a personal email to that experienced person you think will be too busy to help and candidly asking them for advice. I have been so happily surprised and rewarded by braving that first introduction over the years!
How do you find inspiration on your darkest days?
Stepping away from your computer and getting some fresh air can work wonders for regaining perspective on problematic moments and keeping the dialogue positive and constructive.
Who is your most important role model?
We have worked closely with Amanda Wakeley in the design of our Elements Parka and despite the closure of her business last year, she remains an important role model for her passion for the fashion and retail business, her wisdom in facing the many challenges of growing a brand and her generosity in supporting others in the industry.
Check out our Advice + Tips for entrepreneurs starting-up
Watch our latest videos
Subscribe to our podcast