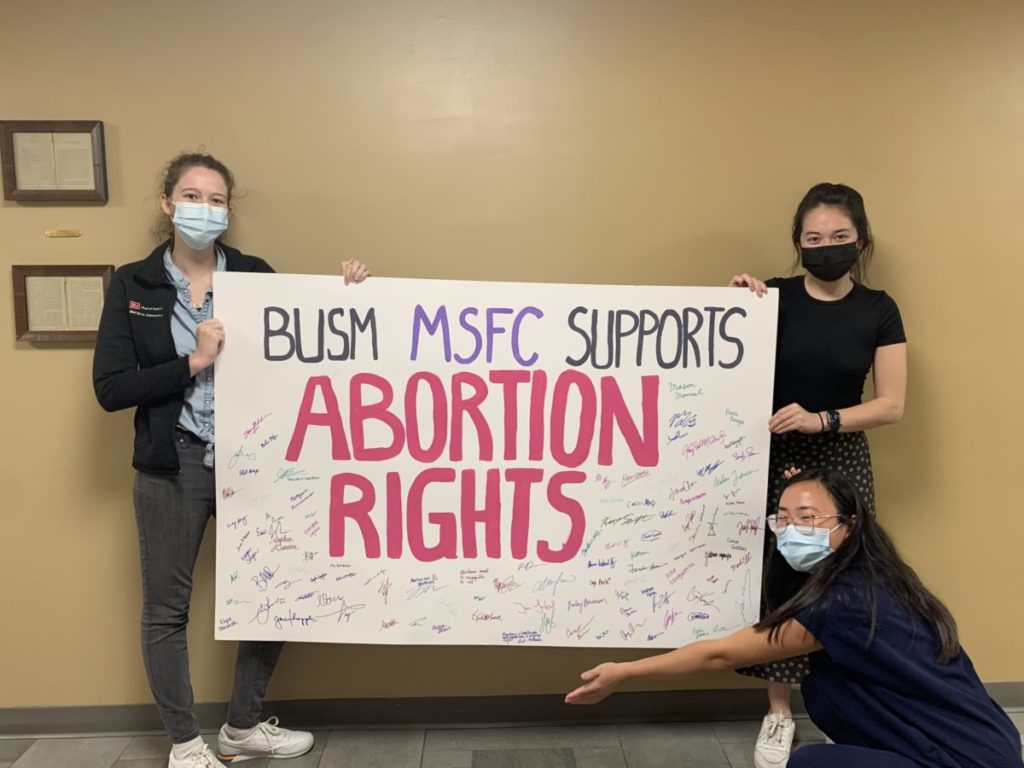 Laura Rusk knew that the moment the Supreme Court decision overturning Roe came down, Indiana's leaders would pounce on the opportunity to restrict abortion access in the state.
Rusk, a second-year law student and co-leader of Indiana University's Lawyering for Reproductive Justice chapter, grew up in a state with only nine abortion facilities in 2017, when Roe v. Wade was still intact. Republican Gov. Eric Holcomb has now made it clear that a total ban is on the horizon, and a special session of the General Assembly is set to meet July 25 to decide the fate of the current 22-week abortion ban on the books.
The situation is making Rusk and her pro-choice peers question their futures as lawyers in a state that would prevent them from helping residents get a necessary service.
"I'm working within this system, and it's not a good system," Rusk said during an hourlong Zoom interview, two days before the Supreme Court ruled 6-3 to overturn the landmark decision. "That's why we needed the federal court to say, 'You can't infringe upon this right.' We needed, at least, that safeguard."
"We plan on fighting it every step of the way," said Abigail Flowers, who serves on the group's Board with Rusk.
They are among many students across the country who are dedicating themselves to pursuing law and medicine careers in reproductive rights, even as those rights are stripped away. Polls suggest nearly 80% of college students say abortion should be legal, according to Newsweek.
From volunteering as abortion doulas, to organizing events on effective contraception, students are turning their campuses and careers into the new frontline of the fight for abortion rights.
Colleges, which were criticized for not speaking out about the decision, have slowly released statements — some condemning while others praising the outcome. Still, anxiety lingers for students who have little else to guide them.
"I think for everyone, that question is always in the back of their mind — 'What if I had a kid?'" Rusk said. "'How would I do that?' Like, I can barely take care of myself."
Hannah Nguyen, a student at Boston University, asked her parents that very question when she was a teenager in Arizona. "They were like, 'You're going to keep it,'" the co-leader of BU's Medical Students for Choice chapter said.
This prompted Nguyen to spend two years working at an abortion clinic in New Mexico before enrolling in medical school and continuing to advocate for reproductive justice on campus.
Hearing the stories of those she met at the clinic, armed with the knowledge that it could easily be her in that position, is "why I'm so passionate about it today," Nguyen said.
She and her two co-leaders, Margaux Zimmerman and Kendra Lujan, regularly volunteer as abortion doulas at a nearby clinic, escorting patients through swarms of protestors and sitting by their sides in waiting rooms.
Like Rusk and others in her campus organization, they are limited in what they can do. But they have an invaluable tool, Lujan said, in being able to talk to the patient and focus on their individual experience. "We have a lot more time to just listen to their story and hear their perspective on the matter," she said.
At the end of the day, those interactions motivated her and her fellow students to keep going despite the feelings of helplessness at learning about the coming decision.
"This fight should have already been done," Nguyen said. "I trusted the system to protect our rights as people who can get pregnant, and it just completely failed."
Still, they found community, not only in the crowds at nationwide protests, but at a campus event that brought local doctors and BU students in conversation about reproductive rights.
"After the hopelessness, there's a desire to hit back as hard as possible," Zimmerman said. "If anything, it's just reaffirmed more than ever that I want to be an OB-GYN – that I want to be involved in fighting as hard as I can for an individual's right to choose."