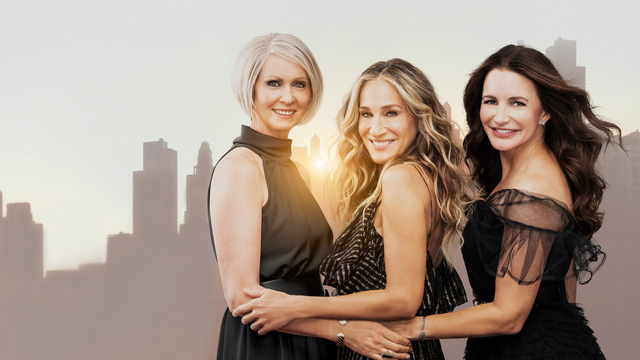 Editor's Note: This is a spoiler-heavy article.
In Sex and the City, it's the journey that defines the lives of four single girlfriends: Carrie, Charlotte, Miranda and Samantha. Over six seasons, the characters dealt with life's curveballs, navigating through unexpected pregnancies, cancer battles, divorces, and affairs.
In December 2021, And Just Like That… debuted on HBO Max, with its main characters dealing with midlife crises. Charlotte and Miranda are parents to tweens and teens. Carrie is a co-host on a relationship podcast. Samantha is noticeably absent, having fallen out of friendship with Carrie and moved away to London.
Like Carrie's signature "I couldn't help but wonder" internalized musings, I had often wondered what a Sex and the City revival would, or should, do with its leads. The characters, as we re-meet them more than a decade later, appear at times to be waking up from stasis mode. In the first episode, Charlotte suggests that Miranda dye her gray hair back to its original red color.
And just like that, the show doesn't do a great job of embracing your fifties as fabulous. There's not a whole lot of sex in this city these days, unless you count the sex scenes featuring Miranda's son Brady (and I don't!). The show's emphasis now appears to center on time as the great equalizer.
Carrie's existence is uprooted completely by the death of her husband, John James Preston, AKA Mr. Big (played by Chris Noth, who was cut from the finale after sexual assault allegations). As Carrie grieves, Miranda struggles with a drinking problem and questions her sexuality. Meanwhile, Charlotte works to support her youngest child struggling with their gender identity. This is a version of midlife that is 100% financially secure — not a bill in sight and nobody is in debt — and the COVID-19 pandemic is over. And yet, a strange gray cloud hovers over everyone's lives. The energy is remarkably different from the original series, but I don't think age has anything to do with it.
Rather than focus on AJLT's blunders — from underused characters that are women of color to endless pronoun confusion and a Peloton PR nightmare — I want to examine what this revival is getting right about midlife. I asked fans of the original SATC to weigh in with their thoughts on how the characters are navigating the next chapter of their lives.
Wading into the dating pool again
We only get to see Carrie and Big's married life together for a few short scenes in AJLT before it's suddenly over. After a grueling Peloton ride, Big drops his phone on the floor, slumps over from a heart attack, and dies. Now a widower, Carrie is back to being single.
Skylar Liberty Rose, a 47-year-old coach for women in midlife, helps women embrace their forties and fifties with joy and confidence. Rose initially got into SATC when it first aired because there were no other shows depicting female and sexual empowerment.
"It felt energizing to see women on TV who were close in age to me and unafraid to speak frankly about sex and relationships," Rose says, noting that while SATC had its imperfect moments, it revolutionized the way women were seen on screen.
"Suddenly we weren't just in supporting roles anymore," she says. "We were the main event."
Rose, who was not expecting the "Big" ending in the first episode, thought it was a great decision. Though initially shocked, she is pleased with the writers for pulling the rug of security out from underneath its viewers and Carrie herself. Otherwise, what else could Big and Carrie have given us? More scenes of them salting fish for dinner and playing records?
"We needed that jolt," Rose explains. "This is a new era. It is forcing the viewer to engage with the characters as they are now, rather than allow us to wallow in yesteryear."
My hope is that if approached the right way, Carrie's loss opens the door for an interesting next chapter. Later in the season, her new friend and realtor Seema Patel helps her set up an online dating profile. Carrie will — finally! — have juicy date night details to talk about on the podcast she co-hosts with nonbinary comic Che Diaz.
Keeping up with the kids
Throughout SATC, Charlotte had tunnel vision of what she wanted her life to be: the perfect marriage, home, and family. She was the only one to divorce, convert religions, remarry, and adopt kids. In the AJLT universe, Charlotte is an active mom at her children's private school.
Charlotte's kids make all major life announcements on TikTok. Lily has a secret Instagram account where she is dressing less conservatively. Rose now goes by Rock and is exploring their gender identity.
Certified divorce coach Jen Lawrence was a SATC viewer during the show's initial run. Lawrence, now 50, praises the respectful nature of how Charlotte is tackling Rock's gender identity journey. But Lawrence also notices that Charlotte doesn't have time for herself.
"I'd love to see her build a business or career," Lawrence says. "Perhaps a Martha Stewart-esque future is on the horizon?"
Charlotte the entrepreneur? I'm in! After all, her fellow midlife BFF Anthony started a thriving sourdough business during the pandemic. No doubt she could turn to him for business advice in starting a second act.
Later in life sexual exploration
Miranda is saddled with one too many storylines in AJLT. She left corporate law and is going back to school for a Master of Human Rights degree, where she embarrasses herself repeatedly in front of the instructor. Her son, Brady, is having more sex than Miranda and her husband Steve have had in years. And Miranda is hitting the bottle hard to cope.
Unexpectedly, Miranda also starts exploring her sexuality. She is attracted to Che, Carrie's boss, and before long they start having sex. After Carrie puts her on the spot, Miranda vocalizes how much she hates her life and marriage. She doesn't know who she is anymore.
Lawrence believes Miranda is experiencing a classic midlife crisis.
"The aspects of her personality she's cultivated as a successful lawyer, mom, and wife are no longer making her happy," Lawrence says. "It's very normal at this age that what she has is not enough. Many women feel burned out from work and caregiving and want to explore social justice work, go back to school, or revitalize their marriage or have an affair."
With two episodes left in this season of AJLT, Miranda is fully embarking on a late-in-life sexual exploration. She wants to be with Che and has asked Steve for a divorce, but only time will tell what happens in her decision to follow her heart and rediscover herself.
The end of long-term friendships
You may have noticed I've not said much about Samantha. The internet is in firm agreement that the show is simply not the same without her. But her absence is also one of the most realistic aspects of midlife. Although it is not often depicted in the media, many great friendships do come to an end, whether friends want it to happen or not.
Music historian Melanie Gall, 41, is a huge fan of the original SATC series. Gall moved from rural Canada to New York in 2001 and immediately felt at home in Manhattan. She even studied at the Manhattan School of Music and was thrilled to see the school represented in the first episode of AJLT (it's the same school where Lily performs in her piano recital).
"AJLT gets it right that older women do tend to be invisible, and that in a lot of ways, they do need to learn to re-navigate their world when it changes," Gall says. "As women age and their kids grow up and spouses sometimes die, their female friendships become even more vital."
Some of these vital friendships end, even if felt like they were built to last. "We have all lost friendships we regret and mourn," Gall adds. "Losing someone in a friend group because of a misunderstanding is possibly the most relatable thing on the show for me."
If there's a second season, Gall thinks it would not hurt for the series to re-embrace some of its flippant, light spirit again. Carrie's editor needs her grief memoir to end with a glimmer of hope, and the AJLT audience needs it, too.
Heather Taylor is the head writer for PopIcon, Advertising Week's blog dedicated to brand mascots. She been published on HelloGiggles, Brit + Co, Joy, Business Insider, and more online outlets. Find her on Twitter @howveryheather.