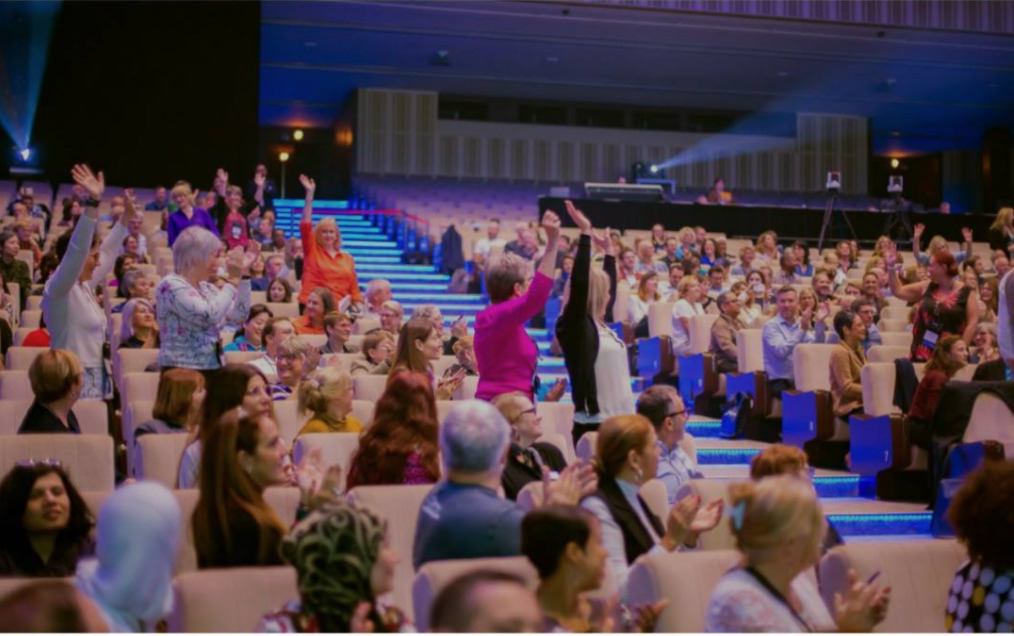 Dina Cataldo was working 70 hours a week in the Sacramento District Attorney's office, eating poorly and feeling burned out. After a breast cancer diagnosis in 2010, she knew something was really wrong when chemotherapy felt like "a vacation."
Then, in 2015, Cataldo discovered Tony Robbins. Something about the world-famous life coach with a self-help empire spoke to Cataldo. (Robbins has since been embroiled in several lawsuits, and had to answer to allegations of sexual misconduct after a BuzzFeed News report.)
Cataldo started working with a life coach through Robbins' Platinum Partner Coaching business, Shasheen Shah, who now has his own venture.
"He really started to unravel some of my thinking about what it meant for me to be happy and successful," she said of Shah. "I didn't feel like I had any control over my life until I started questioning all these beliefs I had."
And so began Cataldo's path from criminal prosecutor to life coach. She completed two certification programs at The Life Coach School and hired business coach Kathryn Morrison, who, according to her LinkedIn page, helps "renegade employees" become successful entrepreneurs. Some $30,000 later, this past January, Cataldo started her own coaching business geared toward a population she knows best: stressed-out lawyers.
"I was like, 'Oh my God, I could help so many people,'" she said. "I need to know more, I need to become a better teacher. I want to be able to bring these tools to people in a way that really makes sense for them."
This is the common life cycle of a life coach: as more people become exposed to arbiters of aspiration through podcasts, social media and word of mouth, they explore the career path for themselves — especially after a global pandemic forced millions of workers out of jobs, and made countless others rethink careers.
The International Coaching Federation, the industry's main accrediting body, currently counts more than 53,000 members worldwide — more than triple its 17,000 members in 2010. But the number of people who market themselves as so-called life coaches without any official accreditation is much higher. ICF loosely defines coaching as "partnering with clients in a thought-provoking and creative process that inspires them to maximize their personal and professional potential."
ICF has grown exponentially since it was founded in 1995 in Lexington, Kentucky, by Thomas J. Leonard, who started several life coach training schools that still operate today. ICF charges members roughly $300 a year in dues, and offers a slew of credentials to "continue your coaching journey." The organization also hosts an annual conference that typically draws about 2,000 attendees.
The crush of coaches is matched by a steadily rising number of training programs that don't have to follow any universal standards or procedures, and that charge anywhere from $100 to $18,000. ICF lists 2,729 third-party training programs on its website that meet its requirements.
"Coach training programs undergo continuous review," ICF CEO Magda Mook said in an interview. "They have to prove that their educational offerings are aligned with our coaching competencies, our code of ethics and our definition of coaching."
Mook, who joined the organization in 2005, added that ICF recently implemented an investigative arm to probe complaints about training programs. At any given point, she said, there are a handful of active investigations.
Still, many programs exist and operate outside of ICF's standards. "Everybody can attempt to learn to be a coach," Mook acknowledged. "Like with any other profession, some are more innately skilled, and others maybe need to work a little bit harder."
Critics say the nearly $3 billion industry can lend itself to bad actors who prey on vulnerable followers.
"There's no regulation," said Sam Alibrando, a clinical psychologist based in Pasadena, California, who follows the industry and offers executive coaching in addition to psychotherapy. "It's buyer beware. It can be a haven for those kinds of narcissistic personalities who don't want accountability."
An Extreme Case
In 1989, Amy Saltzman was a 25-year-old competitive cyclist and medical student at the University of California-Irvine when she met a life coach — then an almost unheard-of profession — through a fellow cyclist. A lifelong athlete, Saltzman switched from gymnastics to cycling after a friend suffered a devastating fall, paralyzing her from the waist down. The accident rattled Saltzman, who was a varsity gymnast at Stanford University.
"I didn't think I was going to the Olympics, but I just wanted to race as best I could," said Saltzman. "I was the person with moderate talent who worked her butt off."
She attended a workshop where the coach went around the room and read everyone's personalities. When she got to Saltzman, "she said [my outlook] was, 'Poor me,'" she recalled. "She was accurate in how she read people."
But what followed, Saltzman claims, was three decades of emotional abuse. Saltzman consistently sought the coach's guidance to overcome fears and anxieties about being a competitive athlete, a medical practitioner and, later on, a wife and mother.
"This was 30 years of slow coercion and undermining my sense of self," said Saltzman, who spoke to The Story Exchange on the condition that the coach not be named because she is still involved with members of Saltzman's family. "If you speak up or push back, she starts to bully you or tell you that you won't ever fulfill your dreams without her."
Saltzman, now 58, estimates that she paid the coach — who appears to have established a business out of her condo in Los Angeles — "millions of dollars" after speaking with her on the phone twice a week at a rate of $450 an hour. She said she has not ruled out legal action.
The fear of disappointment was so intense, Saltzman said, she couldn't imagine leaving. The coach had warped her into thinking she could only "be my best self with her support."
Saltzman finally cut off the relationship in January 2020 after undergoing a neuropsychological evaluation by a licensed clinician that reported she was, in fact, experiencing emotional abuse. The Story Exchange reviewed sections of the evaluation, supplied by Saltzman, which notes the lack of boundaries and the coach's penchant for "[taking] umbrage at not being credited" when Saltzman achieved success.
The wrenching experience has made Saltzman, who now runs a small holistic practice in Santa Barbara, want to advocate for others in similar situations. "I'm not saying all or even most life coaches are abusive or unethical," she said, "but it's much more ripe for that."
While this may be a worst-case scenario, even high-ranking figures in the industry urge caution when choosing a life coach.
"Research your coach," said Jodee Gibson, ICF's Michigan chapter president. She added that potential clients should ask to see coaches' testimonials and credentials.
One of the more respected certification programs, accredited by ICF, is the Institute for Professional Excellence in Coaching, known as iPEC. For roughly $12,000, students must complete more than 200 hours of training to receive their certification.
Kapi`olani Laronal, an Indigenous life coach based in the Bronx, New York, said iPEC was "life-changing" when she enrolled at the start of the pandemic in 2020. She is the founder of Indigenous Life Coach & Consultant Co., through which she helps environmental nonprofits navigate outdoor spaces that were once Native lands.
"I feel like it does give me some credibility," Laronal said of her affiliation with iPEC. "We still have access to a lot of their resources, and it opened up my network. I'm still connected with iPEC coaches."
Laronal works with organizations including Greenpeace and the Superior Hiking Trail in Minnesota. "They're really curious about, 'Coach us through what it means to be on another person's land. How do we do it respectfully?'"
A member of the Haida and Tsimshian tribes, Laronal leverages her own background in her profession. "The way I start [sessions] is, each and every one of us has a homeland," she said of her coaching style. "As a Native Hawaiian and Alaskan Native, I identify with these land spaces that affirm my identity.
"Regardless of what's happening outside of you," she continued, "you have to be able to ritualize your place in this world, and it should be a place that brings you peace."
A Life Coach for Everyone
As the market becomes more saturated, coaches have carved out niche areas in order to set themselves apart. There is a life coach for just about everyone, including women in mid-life, survivors of trauma and LGBTQ+ expats who relocate abroad. All promise to help clients create more authentic, fulfilling lives after completion of their programs.
"I think what's happening right now is people are having a life experience and then throwing the word 'coach' behind it," Gibson said.
She added, "They have a baby and all of a sudden they become a parent coach, or they get a divorce and become a divorce coach, or they have some financial challenges and they become a financial coach — without ever truly going through training."
By comparison, becoming a financial advisor or therapist generally requires a formal education, thousands of hours of supervised training and passing board-approved standards in order to get licensed or certified.
Back in Sacramento, Cataldo, who is building her business for burned-out lawyers, says she understands the need for regulation — after all, she had to pass the State Bar of California to practice law. But, as a life coach, she isn't interested in becoming certified.
"The marketplace is going to speak for itself," she said. "If you're not an effective coach, you're not going to stay in business."
Earlier this year, Cataldo left the DA's office to focus on her business full time. She currently has five clients in Big Law, estate planning and other legal fields, and charges $6,000 for a six-month program.
"I want to really help as many lawyers as possible retrain themselves to take control of their lives," she said. "A lot of people I work with have stayed on one path for so long, they forget there are infinite paths available to them."
Cataldo is among the growing number of coach converts who decided this particular path was right for her. "I honestly think everyone on this planet would benefit from coaching," she said. ◼
Anusha Bayya contributed research to this report.