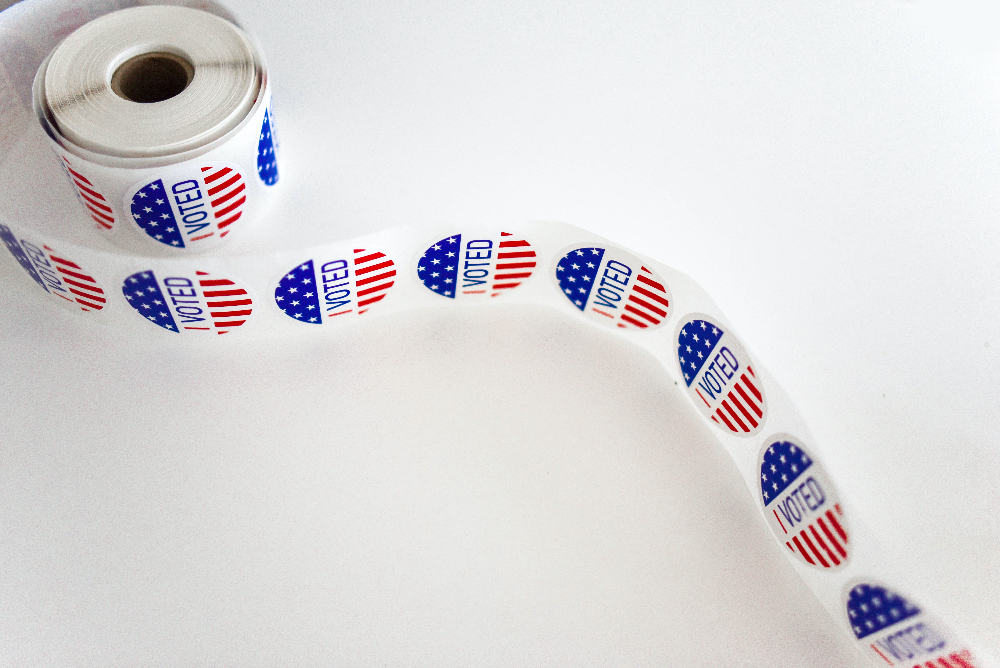 The majority of Americans tend to skip voting in midterm elections – only about 40% turn up, on average. 
Michele Rayner, who is running to retain her Florida State House seat, says we need to do better. "If we are watching where this country is headed … that should get people to the polls," she says.
She points to issues like abortion access, natural resource protection, affordable housing and voting rights – all ones that should galvanize progressive voters into action, especially since Republican primaries saw an attendance boost that Democratic ones did not.
With the 2022 midterm elections around the corner, Rayner and other progressive women candidates want voters to understand that every vote really does matter – especially in local and state elections. Because, as former New York State Senate candidate Kaegan Mays-Williams notes, "whoever represents you is going to be making decisions about your real, everyday life."
So "if you're not pleased with what's happening … now is the time" to act, adds Arizona State House candidate Lorena Austin.
Studies show economic concerns to be at the forefront of voters' minds this year. But Austin adds that, based on her conversations with voters, recent Supreme Court rulings loom large, too. And this year has seen some significant ones. 
There was, of course, the overturning of Roe v. Wade, which had ensured abortion access for decades. But the court also slashed the Environmental Protection Agency's ability to curb carbon emissions and declared stringent restrictions on gun carrying in New York State to be violations of the Second Amendment, among other controversial calls.
Those calls could come with dire ripple effects. Unsafe abortions are a leading cause of maternal death; experts call the EPA decision "a huge setback for public health;" our gun problem kills Americans in ever-greater numbers – women in particular.
"The freedoms that we hold dear are literally on the ballot this year," says Florida State Senator Annette Taddeo, also seeking reelection.
Election Day 2022 is expected to be a nail-biter. According to a recent Pew Research Center poll, Americans are largely split between Democratic candidates – who may seek to preserve previous protections however they can – and Republican candidates – who would likely act to uphold those rulings in their communities and states. A fifth of voters remain undecided.
And getting more people to even care enough to vote can be difficult because, after those court decisions, "there was a widespread feeling of helplessness and a lack of control – a lack of say," Alexandra M. Hunt, a former candidate for Pennsylvania's 3rd congressional district, says.
But voters can't give in to that, Hunt asserts. "There needs to be a fight back, a push back against those feelings … and remembering where we can still make a choice."
From State House candidate Ruwa Romman's viewpoint in Georgia – where voter disenfranchisement is essentially the law of the land – the importance of voting is clear. But "it's totally valid to feel burnt out about continuing to be asked to vote without seeing much for it," she concedes. Indeed, a recent FiveThirtyEight poll found that about 51% of voters don't feel that candidates from either major party are fit to lead.
"But [change] takes time," she adds, and first happens on smaller, local levels – in the very offices voters will have a chance to fill next Tuesday.
Romman also hopes voters will remember that elections for local offices "have been won or lost by the equivalent of a coin toss." It's no exaggeration – a 2018 Virginia State House race was determined by drawing a name from a hat. In smaller towns or cities, winners and losers are sometimes separated by just a few votes. And yes, some outcomes have even been determined by flipping a literal coin.
As a one-time candidate herself, Pennsylvania's Hunt knows that some might not want to vote because "the candidates aren't perfect. Some aren't as inspiring as we'd hope. They don't check all the boxes on" the issues.
But all that aside,"we need to take power wherever we can," she adds. "And [we do that] in an election, with a vote." ◼️