At The Story Exchange, inspirational women are our business. And business is booming.
We have shared — and even analyzed — countless stories of women entrepreneurs who have launched fascinating and thriving ventures, overcome personal and professional challenges, and truly helped others through their products and services.
In the process of sharing these startup stories, a number of them resonated with members of our staff in a long-term way. So in honor of Women's History Month, we are sharing several past profiles of inspirational women entrepreneurs whose missions and successes stayed with us.
[Related: Why Women Need Role Models]
The Path Makers
1. Judi Henderson
Founder, Mannequin Madness
Henderson inspires admiration primarily for making a "go" of such an innovative business idea. Who would have ever thought of launching a business selling used mannequins? This former corporate sales executive did, and now she's making hundreds of thousands of dollars every year. She is proof that the market is open to so many possibilities that most would never have dreamed of.
2. Alison Chung
Founder, TeamWerks
This "digital detective" brings new meaning to the phrase "detail-oriented." Chung's computer forensics agency has been a game-changer for fraud, theft and corruption investigations since its doors opened in 1997. If you wrote something online at any point, she will find it! And that kind of focus, diligence and sheer smarts definitely motivates us.

Helping Native Women Heal
Listen to our podcast episode for more of our interview with Norine Hill.
3. Norine Hill
Founder, Mother Nation
Hill is one of the most memorable women we've featured. We found her discussion of Oneida and Native histories, and her journey toward working through inter-generational trauma, to be gripping and insightful. Her mission of using what she's learned — and emphasizing traditional healing methods in her drive to help other Native women — resonates deeply with us.
4. Becky O'Neil
Founder, Becky's Pet Care
If you're a dog lover, walking an endless parade of them sounds like an especially pleasant dream. For O'Neil, it's the sign of a thriving business, one that makes millions of dollars in addition to walking millions of pups. We love her compassion for animals as much as we love her successful business model.
Those Who Persevered
5. Pam Marrone
Founder, Marrone Bio Innovations
Marrone's business benefits the environment — her insect repellants are all-natural. But for us, the big takeaway from her story is the value of perseverance and hard work. She endured the near collapse of her business just one year after going public, when her head of sales was indicted for fraud. Such adversity could have easily crushed a business owner's aspirations, but Marrone was able to get her venture back on track and thrive.
6. Delia Viader
Founder, Viader Winery
Viader's story is a master class is overcoming misfortune. Her entire inventory of wine burned to the ground, but instead of falling to pieces, she moved quickly and cleverly to deal with the situation and come out ahead. Her story is truly one of resilience. (We are also, admittedly, big fans of anyone bringing quality wine to the world.)
7. Angela King
Co-founder, Life After Hate
King is a former member of a hate group who, after landing in prison for taking part in an anti-semitic crime, rebuilt her life with new, loving purpose. Her nonprofit helps others find paths away from these groups and toward redemption by examining what makes them appealing to people in the first place. What's needed, King says, is "compassion and kindness, but also dedication to making sure people's human rights and civil rights are respected."
[Related: How to Stay Inspired When You Really Need a Boost]
Women Helping Women
8. Amy Hagstrom Miller
Founder, Whole Woman's Health
Miller is a shining example of a woman who tapped into her inner reserves of strength to keep fighting for a cause she believes in: women's reproductive health. Even after recently losing her Austin, Texas, location — to a Christian anti-abortion crisis pregnancy center, no less — Miller simply pressed onward and found a new spot. "I'm driven by this quest for human rights and justice," she says.
9. Molly Hayward
Founder, Cora
Fact: Girls around the world often miss several days of school every month during their periods, because they cannot afford sanitary pads. Hayward is doing something about it — specifically, she started a subscription service for organic sanitary products and donates proceeds to purchase pads and tampons for girls in the developing world. We love that her company not only helps women, but also shines light on a serious issue for girls worldwide.
10. Anita Saville and Kathy Brough
Co-founders, Budget Buddies
Women must take charge of their finances — but we've discussed, at length, why many struggle to do so. Saville and Brough are helping a particularly disenfranchised group fight past those difficulties: homeless women. The founders' financial literacy workshops and coaching sessions are helping these women become self-sufficient, so they can escape poverty — and gain confidence in the process.

[Related: Who Women Entrepreneurs See When They Look Up]
Saving People and Planets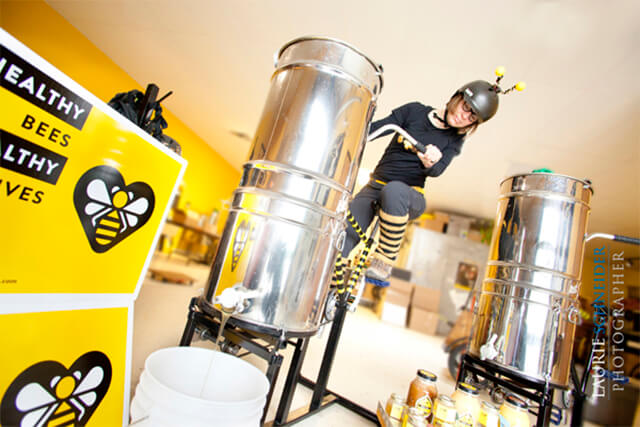 11. Kristy Allen
Founder, The Beez Kneez
Allen's business reflects her principles — she lives and works sustainably. Beekeeping isn't exactly a major money-maker, but she has found various streams of income under her one buzzing umbrella, showing both her dedication to the cause and entrepreneurial creativity. The nature of her work also makes her an important part of her surrounding community, yet it also boasts further-reaching benefits.

12. Yve-Car Momperousse
Founder, Kreyol Essence
In 2010, the island nation of Haiti was devastated by a 7.0 earthquake. Momperousse, who is Haitian-American, was galvanized into action by this — first as a volunteer assisting in relief efforts, then as a business owner providing jobs to farmers and workers there. Her business sources its key ingredient, organic black castor oil, from contractors in Haiti to this day, providing them with reliable, consistent economic opportunities.

Reuse and Recycle
Listen to our podcast episode for more of our interview with Lynn Julian & Ann Siner.
13. The Women Combating Earth's Plastic Problems
The founders of U Konserve and My Sister's Closet
Lynn Julian, Chance Claxton and the Siner sisters (Ann and Jenny) are four more founders trying to make an environmental impact with their companies. Plastic is a scourge — not only is it littering the oceans, but tiny pieces of it are also getting into much of what we eat, drink and breathe. Julian and Claxton are doing their part to reduce single-use plastic products for school children, while the Siners are trying to keep fast fashion out of landfills. Both solutions are smart, strategic, and make money for their founders.
[Related: A Dose of Inspiration from Michelle Obama]