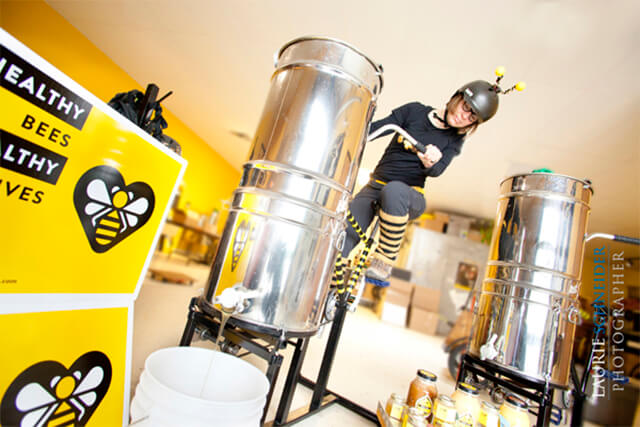 Kristy Allen, a beekeeper in Minneapolis, has built a thriving business doing what she loves best: Caring for bees.
She maintains hives, sells honey and teaches intensive beekeeping classes, all while maintaining environmentally sustainable practices. Her business, The Beez Kneez, pulls in some $200,000 a year in annual revenue. "When I started in 2010, we just didn't anticipate that kind of growth, and it's not waning," Allen told us recently in this podcast.
But what Allen is most proud of is a device she has invented: the Beez Kneez Honey Cycle. Many beekeepers use a hand crank to extract honey from the comb. It looks "kind of like a butter churner that sits on the side of the machine," Allen says. "It's really awkward to use."
[Related: This Minneapolis Beekeeper Is Building a Thriving Business]
A few years ago, Allen thought there must be a better way. An avid biker, she had initially started The Beez Kneez as a pedal-powered honey-delivery service. She had dressed like a bee — the costume included antennas and striped socks — and biked around Minneapolis, dropping off honey deliveries to restaurants, food co-ops and other clients.
So she went to her bike mechanic — a friend who has a "brilliant engineering mind" — and told him about the challenge of extracting honey by hand. "I said, 'Help me make this pedal powered,'" she says. "And so I literally gave him a six-pack of beer, and we sat in his garage and just noodled around like, "How can this be the best for the beekeeper?"
They came up with something that looks like a stationary bike with a giant tank on it, and Allen set about manufacturing it. Using a small grant for environmental initiatives, plus some funds raised through a Kickstarter campaign, Allen built a rudimentary device using bike parts. "It was not super functional," she says.
But it got attention right away. "After our Kickstarter, I got a lot of emails and requests from around the world, 'I want the design. Can I buy this thing? Can you tell me how to build it?'" she says. A civil engineer contacted her to help — and working with him and others, she came up with an even better design and began taking her first orders.
Today, the latest version of the Honey Cycle is used for extracting and filtering honey. At Beez Kneez's honey house in downtown Minneapolis, customers who pay by the hour can jump on it and use their legs to extract honey from hives — a far less tiring process than extracting honey by hand. "Kids and adults can both do it, and hobby beekeepers, like a grandpa," Allen says. "Of all the things that make us stick out, [it's] what I'm most proud of."
[Browse the startup stories of other social entrepreneurs]
Bringing the invention to market has been slow-going, especially given new tariffs on steel. "The trade war is affecting steel prices, so I'm not sure what to expect," Allen says. "One of my suppliers of part of the product went out of business." For now, she orders parts from a Minnesota steel company and assembles the Honey Cycles at a local bike shop and her honey house. She doesn't have a patent yet, but is looking into it.
In 2019, Allen hopes to raise more funds to properly advertise the product through social media and other channels, so that more organizations dedicated to bees will buy it. The device isn't cheap — it retails for $2,000 — "but I have had a lot of interest," Allen says, and has sold four thus far. "We're just seeing the potential of the equipment sales."
Listen to Allen's complete startup story in this podcast:

Let's Hear it for Honeybees
Listen to our podcast episode for more of our interview with Kristy Allen.