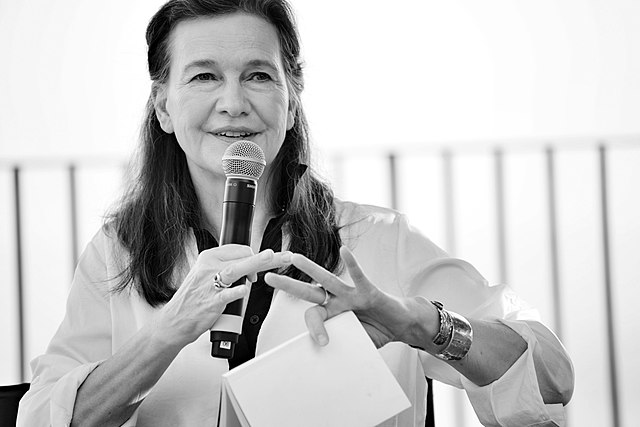 Indigenous Peoples' Day is a holiday that acknowledges the past, present and future of Indigenous groups all across the country. It is intended as a day of celebration of Native culture and heritage, but also as a day of reflection of the impact colonialism has had on these communities. 
On this day, it is important to listen to the voices of Indigenous people so we can better understand their experiences — and that is why we've compiled a list of 7 recommended books written by Indigenous women. They all contain testimonies of exploitation and injustice, but they also act as lanterns guiding readers toward spaces of healing and community. 
The authors incorporate Indigenous knowledge, which has historically been buried by colonialism, into bold stories that foster cultural understanding. Each book on this list is a powerful tool for reflection not just on Indigenous Peoples' Day, but year-round. 
1
The Night Watchman by Louise Erdrich 
In The Night Watchman,  National Book Award-winning author Louise Erdrich (an enrolled member of the Turtle Mountain Band of Chippewa Indians) draws inspiration from the life of her grandfather who worked as a night watchman while fighting against Native dispossession from rural North Dakota all the way to Washington, D.C. Winner of the 2021 Pulitzer Prize for fiction, this powerful novel explores the lives and ambitions of its vivid characters who live on an impoverished reservation, while shedding light on the exploitation and violence these characters face while they grapple with love and death.
2
Poet Warrior: A Memoir by Joy Harjo
Joy Harjo, the first Native American to serve as U.S. poet laureate, invites readers into the world that she was raised in, the world that taught her how to write poetry of compassion and healing. She recounts ancestral poetry, music and stories of owls heralding grief and resilient desert plants. She acknowledges and celebrates the influences that shaped her poetry, among them Audre Lorde, N. Scott Momaday, Walt Whitman, Muscogee stomp dance call-and-response, Navajo horse songs, rain and sunrise. Poet Warrior is a memoir detailing her grief at the loss of her mother, the theft of her ancestral homeland and a celebration of the rituals that make up her life as a poet and Indigenous woman.
3
Woman of Light by Kali Fajardo-Anstine
Kali Fajardo-Anstine is a native Colorado author whose goal is to tell stories with diversity and representation of her family and ancestry. Taking place in 1930s Denver, Woman of Light is a story about a laundress and tea-leaf reader named Luz "Little Light" Lopez. When her brother, Diego, leaves town to escape violence, she begins to have visions of her ancestral homeland, even witnessing the violence that descended on her people. As she reflects on these deep-rooted memories, Luz becomes responsible for keeping them alive and not letting these vital stories become forgotten.
4
Probably Ruby by Lisa Bird-Wilson
Probably Ruby is the debut novel of Lisa Bird-Wilson, a Cree Métis poet and writer. It follows Ruby, an Indigenous woman in her 30s who was adopted as an infant. Her adoptive parents, both white, understand very little about her Indigenous heritage. The story is told through a kaleidoscope of different perspectives, from Ruby's to those of her birth parents, grandparents, her own children, and more. As her life and her relationships begin to spin out of control, Ruby goes on a search for her own history in hopes of better understanding herself.
5
Ceremony by Leslie Marmon Silko
Ceremony, published over thirty five years ago, is regarded to this day as one of the most moving works of Native American literature. It follows Tayo, a World War II veteran of mixed heritage as he returns home to the Laguna Pueblo Reservation. He is deeply scarred by his experience as a prisoner of the Japanese and further wounded by the rejection he encounters from his people. His Old Grandma and Betonie, a Navajo medicine man, engage Tayo in ceremonies to open his mind and help him find his place in the world. Written by Leslie Marmon Silko, a Laguna Pueblo Indian woman, this novel has been described as a ceremony of healing in itself.
6
Braiding Sweetgrass by Robin Wall Kimmerer
Robin Wall Kimmerer is a botanist and member of the Citizen Potawatomi Nation who embraces the notion that plants and animals are our oldest teachers. Braiding Sweetgrass is a collection of essays that examine how other living beings offer us gifts and lessons, even if we've forgotten how to hear their voices. In reflections that range from the creation of Turtle Island to the forces that threaten its flourishing today, she circles toward a central argument: that to awaken the ecological consciousness, one must acknowledge and celebrate our reciprocal relationship with the rest of the living world. Kimmerer's novel is a must-read because it brings Indigenous wisdom to the global conversation about the climate crisis.
7
Noopiming: The Cure for White Ladies by Leanne Betasamosake Simpson
Award-winning Nishnaabeg storyteller and writer Leanne Betasamosake Simpson combines narrative and poetic fragments in this truly original novel about a long-ago time of hopeless connection and finding freedom and solace in isolated suspension. It is told from the perspectives of seven main characters — including a maple tree, a giant and a caribou — attempting to commune with the unnatural urban-settler world. But cut off from nature, they are cut off from their natural selves. The characters, all connected in the same web, perform the daily labor of collective healing. The novel itself is an act of decolonization, degentrification, and unlearning the colonial ideas that have shaped today's world.