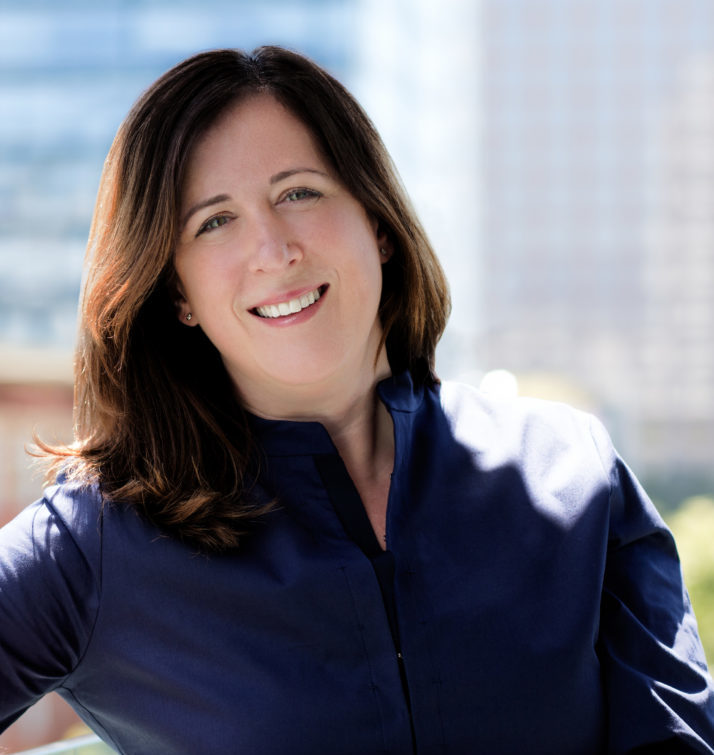 Editor's Note: To & From has been named to The Story Exchange's list of 12 Brilliant Business Ideas.
Never know what to get someone for their special day? We've been there. (Who hasn't?) But now, Bridget Johns and her Larchmont, New York, gifting intelligence company, To & From, want to help. She's designed patent-pending technology that helps a shopper work out what their intended recipient would want by way of a guided virtual process, then offers a range of suitable options to purchase from a growing list of partner companies. It also allows users to store reminders about recurring dates. "Imagine getting a reminder 2 weeks before your best friend's birthday with a link to three perfect gifts," she says. "You'd be a gifting hero every time!" Her tech will be available to try in June – in the meantime, her company's site also features a content hub with listicles full of ideas.
Here's our lightly edited Q&A, from The Story Exchange 1,000+ Stories Project.
What was your reason for starting your business?
I have always wanted to build a company from the ground up. My first business was a corn stand — yes, a corn stand — which I ran on our family farm with my sister and brother, and I've been building ever since. After finishing my MBA, I worked for some of the best brands (Polo Ralph Lauren, Tiffany & Co., L'Oreal) but always in their start-up divisions.
Twelve years ago, I shelved an idea I was working on (a retail experience company for kids) to help the founders of RetailNext, a start-up focused on Google-style analytics for brick and mortar retail. In the middle of the pandemic, I finally took the leap to build To&From, a company I had been thinking about for many years. My husband, who is a notoriously bad-gifter, asked me, "If not now, then when?" But it was actually my 9 year-old who really motivated me to take the plunge. I wanted him to see what it takes to build a business. He actually has terrific instincts and has even started an entrepreneurs club with some friends.
How do you define success?
I believe success is measured in three ways. The first is solving a real problem for consumers. Retailers have to catch up to consumers, to meet the new expectations of what a great retail experience means. There is a ton of opportunity to improve the experience across search and discovery, to build practical tools that ease everyday organizational problems, and to create a company that is social and fun for gift givers, gift receivers and brands.
The second is building a company where people love to work. My favorite moments of managing teams are when someone delivers a project beyond my expectations or an idea that is beyond their own role in the organization. Our culture is centered on our values of generosity, inspiration, vigor, and equity.
The third measure of success is driving financial returns. This means treating our investors' money as if it's our own, making smart choices and tough trade-offs on a daily basis.
What is your biggest success so far?
I am very proud that in six months we went from a loose idea to a functional product, with very limited funding and a team of part-timers – some of whom had never worked before (our fabulous interns). It was an incredible process to ideate and build our closed beta and then to use that experience to help inform the next phase of development.
What is your top challenge and how have you addressed it?
My husband and I are both entrepreneurs and finding the balance has definitely been a huge personal challenge. It sounds crazy, but we have to schedule family time to make sure we all connect as a unit. For any working parent, finding that tradeoff between investing in your career and investing in your family is a struggle. With all honesty, there is never enough time to do everything at the level you want, so we have to make creative choices to fill everyone's buckets. One of my favorites was (pre-Covid) when I brought my son on a business trip and put him in day camps in two different cities during a one week trip, which he loved!
Right now my top business challenge is not having a full-time team. I have very dedicated and talented part-time team members who are doing incredible work, but there is no substitute for having a team focusing on the same problems full time. The best thing we've done to offset this is to set up standing Monday work-togethers, where we all gather at our co-working space. It's the perfect way to organize our work for the week and to work collaboratively. It's the best part of the week, hands down!
Have you experienced any significant personal situations that have affected your business decisions?
I grew up on a farm and have been earning my way since I was a kid – and while I had so many great life lessons and really knew quite a lot about business and retail from an early age, in some ways this also held me back. I was always worried about not earning a paycheck or taking the financial risk to launch my own company. I got married very late (at age 50) and my husband was actually the one who encouraged me to finally stop saying "one day" and start saying "today is the day." It was the best decision (both to marry him and to start To&From).
What is your biggest tip for other startup entrepreneurs?
My biggest tip is to be open to how your idea may change shape as you dive deeper into it. I am surprised at how differently I think about what we are solving today versus nine months ago. I would also recommend talking to a lot of would-be customers. People are actually very generous with their time and they like to think about new ways to solve their problems. This has been incredibly helpful to us on our young journey.
How do you find inspiration on your darkest days?
When I am in a funk or stuck on a problem the two things that always help me through it are spending time in nature with my son or traveling. A change of scenery does wonders for the soul.
Who is your most important role model?
I struggle with this question because I have always been inspired by a wide swath of people; however, I will say my remarkable grandmother. She had early ideas to bottle our spring water from the farm I grew up on and to grow only organic produce – neither of which became businesses or brought her any fame or fortune, but I have always reflected on the things she could have done if she had access to the right network of people. ◼
Check out our Advice + Tips for entrepreneurs starting-up
Watch our latest videos
Listen to our podcast