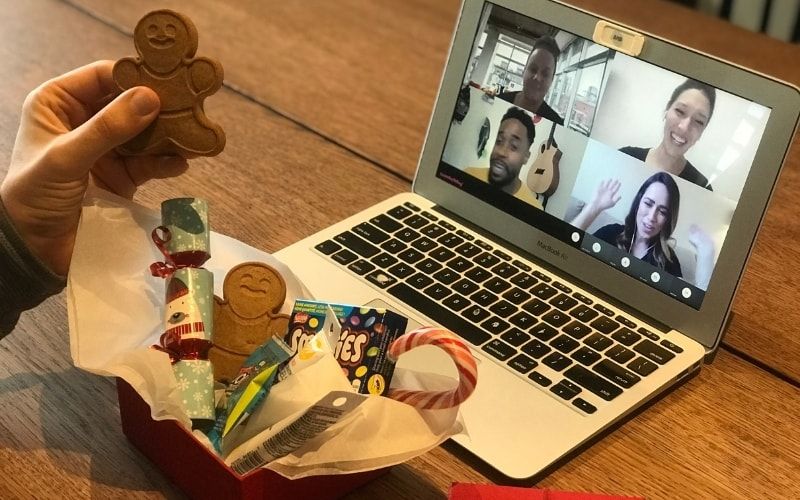 From "Slackolades" to company-branded PPE to cash gift cards, companies are figuring out creative ways to make sure their employees get a little much-needed TLC this winter.
And, of course, there are plenty of virtual parties for those who want a boost of holiday morale without the awkwardness of in-person gatherings.
"We very much believe that virtual events are here to stay," said Tasia Duske, co-owner of TeamBuilding, a company that offers online events.
Duske and partner Michael Alexis offer virtual events that also help keep Broadway performers, entertainers and stand-up comedians employed. They have seen a sharp rise in requests during the busy holiday season, and count Google, Amazon and Facebook among their clients.
[Related: Home for the Holidays: 16 Cozy Gift Ideas Under $100]
"We've almost gotten as much business last month as we've gotten the entire year," she said. "It was incredible."
Duske recently hosted a 400-person event for Sargento Foods Inc. for its "first-ever virtual holiday party," she said. The company usually holds raffles and gives away prizes in person, but this time, "they were trying to figure out how to make their team members want to come to another Zoom meeting and actually have it be fun," she said.
Out of a rotating cast of about 100 employees and performers, Duske selects someone with enough charisma and energy to emcee the event, followed by Zoom breakout rooms "to give team members small intimate conversations so they can still connect one-on-one as if mingling in a cocktail party."
Many clients are requesting virtual holiday events with a physical — and edible — component. A popular option right now is Virtual Gingerbread Wars — for $60 per person, partygoers are mailed gingerbread kits in advance. Duske, who "emergency flew" from New York to an Airbnb in Fruita, Colorado, to put the kits together by hand, said she has to get 12,000 of them out the door for corporate clients.
[Related: These Travel Entrepreneurs Want You to Start Planning Your Dream Trip Now]
"It was much more challenging than we thought," she said, laughing.
Other companies are taking a more low-key approach, nixing the holiday party altogether. Alison Bernstein, founder of Suburban Jungle, a New York City-based real estate advisory company, said she is big on "Slackolades."
"Our team members are encouraged to share their feats and subsequently field congratulations and support from other team members," she said, adding that she is also encouraging her 59 employees to spend time with their families and work "on their own terms" through the holidays.
Over at LoveDevani, which offers dating and relationship advice, founder Michelle Devani is sending holiday baskets that contain food items, company swag — and even company-branded personal protective equipment.
"One of the bonuses of stay-at-home lockdowns for our company has been the reduction of overhead costs," she said. "This has allowed us to reallocate the budget towards holiday festivities and improving employee morale."
[Related: Is Love Pandemic-Proof? These Matchmakers Say Yes]
And fellow relationship expert Sonya Schwartz, who runs Her Norm in Jackson, Mississippi, is making sure her employees get a little extra green in their stocking stuffers.
"I'm adding cash gifts on top of their yearly Christmas bonus so they can have something to spend," Schwartz said. "Everyone needs to treat themselves. Having a fresh state of mind is the best gift we can give ourselves so we can survive this pandemic."