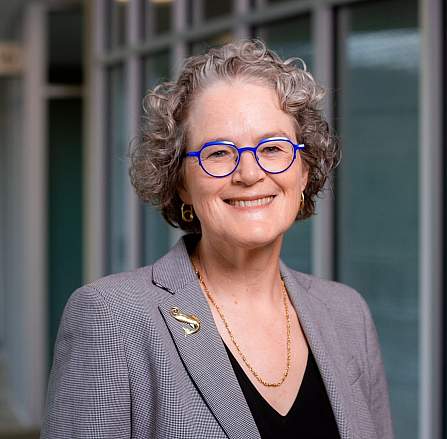 The National Institutes of Health this past week finally announced who will be replacing Dr. Anthony Fauci as the head of its allergy and infectious disease branch: Dr. Jeanne Marrazzo, a professor and HIV expert from the University of Alabama at Birmingham.
"Dr. Marrazzo brings a wealth of leadership experience from leading international clinical trials and translational research, managing a complex organizational budget that includes research funding and mentoring trainees in all stages of professional development," said Dr. Lawrence Tabak, director of the NIH, in a statement.
Ever since Fauci retired from his nearly 40-year post as director in December, there's been speculation around who would replace the public face of our nation's Covid-19 response. When she begins in the fall, Marrazzo will take on all of Fauci's responsibilities – including oversight of the institute's $6.3 billion budget.
"I think what's remarkable about her is not that she's known in a singular area, but that she's broadly respected in a broad range of areas," Marrazzo's friend and colleague Sharon Hillier, an OB-GYN professor at the University of Pittsburgh, told NPR. "She's known as an exquisite clinician. She's known as an exquisite teacher."
Marrazzo has chaired the American Board of Internal Medicine Council and its Infectious Disease Specialty Board; she is also a recipient of the American Sexually Transmitted Diseases Association's Distinguished Career Award – one of the most prestigious awards in her field.
She spent years as a professor at the University of Washington before taking her current job at the University of Alabama at Birmingham. In a statement, UAB president Ray Watts called Marrazzo's new role "a great opportunity for her to make a big difference to the country."
Marrazzo will not be stepping onto the smoothest ground in her new role, as Republican lawmakers have vowed to investigate Fauci's and the NIH's role in the Covid-19 pandemic – with some even suggesting that the agency had a hand in creating the virus. She will likely face questions from Republican members of Congress following recent scrutiny directed at NIH funding for virus research; as they plan their 2024 budget, members are expected to grill Marrazzo on the origins of Covid-19.
Regardless of what's to come, her colleagues in the health community are cheering her on.
Dr. Carlos del Rio, a professor at Emory University and president of the Infectious Diseases Society of America, told NPR, "I love Dr. Fauci, he's great. But at the same time, we need to get over it. The Fauci era's over, now it's the Marrazzo era."