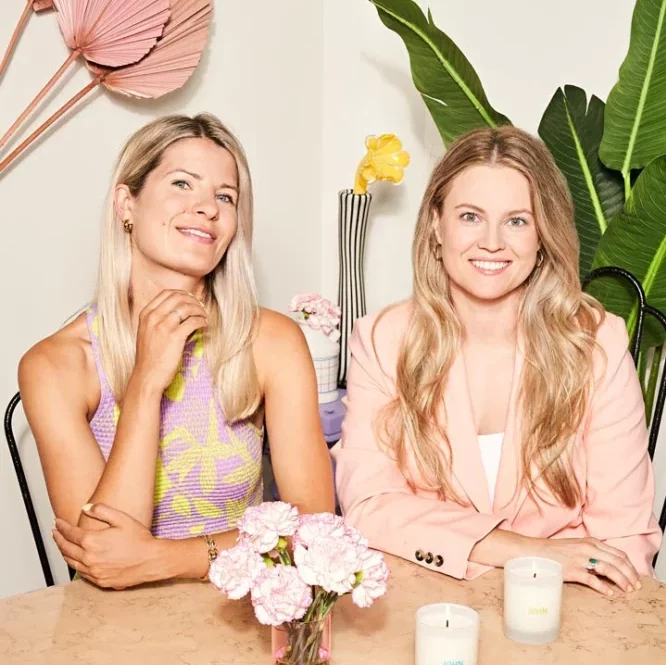 When Katerina Juskey and Victoria Mierzwa first connected via LinkedIn in 2016, they were both experiencing burnout from their corporate jobs in the beauty industry. As their friendship developed, so too did a concept for a business – a line of colorful candles with layered scents. This would ultimately become their company, LOHN. The Canadian entrepreneurs utilized their backgrounds in chemical engineering and product development to create chic candles that contain gradients of scents that reveal themselves as the candles burn down. Today, Juskey and Mierzwa are proud to have their products on the shelves of numerous brick-and-mortar stores, and aim to grow the business further by developing fresh marketing strategies with the help of experts. 
Here's our lightly edited Q&A, from The Story Exchange 1,000+ Stories Project.
How is your business different from others in your industry?
We employ women in STEM on their terms to develop our candles – fostering an interest in entrepreneurship while providing opportunities for them to explore manufacturing and brand building. Plus, our candles also feature layered scents – top, middle and bottom notes that fill a space with delightful, changing aromas.
Tell us about your biggest success so far.
Currently, we sell most of our candles directly to customers online and through social media. But we also have growing retail partnerships with The Detox Market and select Free People stores. Seeing our products on shelves has been a dream come true.
What is your top challenge and how have you addressed it?
Victoria and I lack expertise in marketing – a crucial element of any business. We've turned to experts to help us build our strategy. It's been helpful because, with the advent of so many different social media channels – Instagram, TikTok, Twitter, Pinterest, etc. – it can feel overwhelming to stay relevant!
What is your biggest tip for other startup entrepreneurs?
Find your tribe and stay close to them. Whether it's family, partners or other founders – make sure you have a robust support system. This journey can often be isolating, and incredibly challenging!
How do you find inspiration on your darkest days?
We go back to our roots to remember why we started. We also remind ourselves of our core values, one of which is community. In moments of hardship, we pause to read our glowing, five-star customer reviews, which remind us that we are making a meaningful difference in people's lives by enhancing their wellness.
What is your go-to song to get motivated on tough days?
We used to listen to Bob Marley on repeat in the early days, before we moved into our studio – in particular, Marley's "Could You Be Loved."
Who is your most important role model?
Joanna Griffiths, a Canadian entrepreneur and the founder of leak-proof underwear company Knix. She has broken barriers by creating a successful apparel company while promoting body positivity and inclusivity – her brand empowers women. She's a boss, and someone we truly look up to. ◼
Instagram: @lohnofficial
Facebook: @lohnofficial
TikTok: @lohnofficial
Check out our Advice + Tips for entrepreneurs starting-up
Watch our latest videos
Subscribe to our podcast