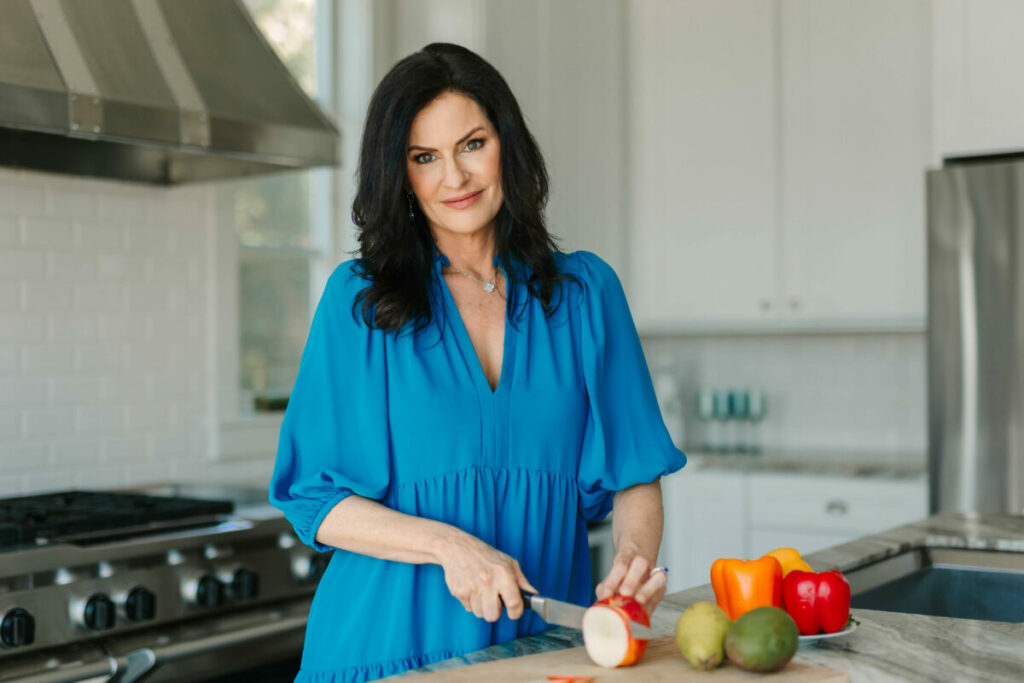 "I want to be the Goop of menopause," says Dr. Mary Claire Haver during a recent Zoom interview.
Haver, a board-certified OB-GYN from Galveston, Texas, claims to be feeling under the weather, but her black hair looks shiny and resplendent; her skin appears dewy. In a few short months, she will be leading a group of devotees and other midlife experts on a five-night menopause cruise, "just doing donuts in the Gulf of Mexico and coming back" – a tongue-in-cheek play on the brand-sponsored, envy-inducing trips that (younger) beauty influencers often flex on Instagram. It's fully booked.
If anyone could be the Gwyneth Paltrow of wellness sites for aging women – a chronically under-served and woefully ignored demographic – it might just be Haver. Many know her from her punchy-yet-scientifically-accurate videos on TikTok, where she has amassed over 2 million followers. She's also the author of "The Galveston Diet," a Wall Street Journal bestseller on the best foods to tame hormonal symptoms.
But this month, Haver, 55, is further testing her entrepreneurial chops by launching ThePauseLife.com, with long-term plans to offer a mix of curated products, nutritional supplements and science-backed information for menopausal women.
Over 1 million women enter menopause each year, but many quietly suffer as a result of stigma, embarrassment and a flat-out lack of adequate care from the medical community. "Menopause just gets shoved into this narrow, narrow, narrow box, and we need to open that box," says Haver, who speaks – as she does in her social media videos – with an unusual combination of enthusiasm and straightforward medical talk. "Forty percent of us are in menopause in this country right now … and we're getting just maybe 5% of the education and research dollars."
And women are pretty damn sick of it, which is where the Goop-inspired platform comes in. Haver, who received her medical degree from Louisiana State University and trained at the University of Texas, wants ThePauseLife.com to be a central place for women to turn to – especially if they're confused about menopause and need advice on everything from hormone replacement therapy to belly-fat-burning foods to exercise recommendations.
As she talks about ThePauseLife, Haver – who says she's always been described as "driven" – excitedly adds that she wants to tackle sexual health for mid-life women, too. The field generally gets scant attention. "So many people reach out to me like, 'I need a vibrator. I can't see anymore without my glasses. I don't want to put on my glasses if I want to have an orgasm. Give me a tool that has buttons big enough. Give me lubricants that are very specific to menopausal women.' I'm like, 'I'm working on it!'"
With the exception of some menopause startups like Womaness, Kindra and Naomi Watts' Stripes, there are few entrepreneurs focused on older women's needs. "I just feel like there's so much opportunity for us, and I want to be that person," Haver says.
How She Got Here
After years of delivering babies, counseling patients and teaching medical students, Haver began experiencing perimenopause in her 40s. Weight became harder to keep off, despite regular workouts. Brain fog descended. She began researching medical journals on nutrition for women at the end of their reproductive years – and found shockingly little information.
But she did find a handful of studies on nutrition to lower inflammation, which in turn could lead to weight loss. She also found research on the health benefits of intermittent fasting. Armed with that data, Haver developed a program in 2015 that she eventually dubbed The Galveston Diet, and recruited about 1,500 volunteers via Facebook to try the regimen, which focuses on healthy fats, lean meats, fruits, vegetables and whole grains. They had similar results, with some also noticing a decrease in hot flashes and other menopause symptoms.
"Then finally, some of my entrepreneur friends reached out and were like, 'Hey, you should do something with this, because it's got legs,'" she says. Initially, she protested, saying "No, no, no. I'm a doctor. No one's going to want to buy a program." She eventually tried an e-book – "it was a disaster" – but when she packaged the diet information into an online course via Teachable, "several thousand" paying customers signed up.
And then, the Covid pandemic hit. But far from derailing her side business, lockdowns led to an unexpected payoff. "My kids were home, of course, as all of us were. They're like, 'Mom, you got to do this TikTok thing.'" She demurred. Her two daughters persisted. "They showed me a few other physicians who were kind of sharing informational things, pointing at phrases to music. I was like, 'I can do this.'"
Haver soon learned she had a talent for imparting menopause info via dance challenges and memes. "Overnight, I went to bed and woke up and I had 10,000 followers, and X amount of views," she says. It was a "dopamine rush."
The TikTok stardom – or rather, the realization that women are desperate for menopause information – gave Haver the confidence to take a big leap in 2021. She quit her job and launched her own menopause clinic outside of Galveston. It is not a money maker. Most insurance doesn't pay for menopause care, and Haver wants the freedom to prescribe various types of hormone therapy, as opposed to cutting deals with just one provider.
"I have a waiting list of hundreds and hundreds and hundreds," she says, and often has patients flying in from other states. "It's such an honor … but it's ridiculous that they can't find basic menopause care. I'm not walking on the moon. This is very, very basic. That they cannot find someone who is trained well enough to be able to do what I do is a problem, and one that I'm working to rectify."
What is generating revenue, however, is her own line of nutritional supplements. As "kind of a fluke," Haver says she began a few years ago formulating her own supplements – turmeric, fiber, collagen and a combination of Omega-3, vitamin D and vitamin K. She now has "thousands and thousands and thousands" of customers a month, and her husband, Chris, has taken a leave of absence from a longtime job with Chevron to run operations. Her staff fluctuates between 10 to 12 people in a mix of part-time and full-time positions.
Supplements, along with other products and information, will be available on ThePauseLife. Haver says she'll be channeling her inner Paltrow – "she's a brilliant businesswoman" – as she endeavors to create a one-stop shop for menopause.
The biggest thing she'll be selling, though, doesn't come with a price tag. "I swear, 80% of what I do is validation," she says. Patients, customers and TikTok followers alike come to her with questions that aren't answered – or outright ignored – by other doctors. "I just listen. I say, 'Yes, yes. That's happening. It's real.' Because we have such a gap in menopause education and care."
"We're going to get to the point where we have equal representation of menopause in women's health, but it's going to take a while." ◼