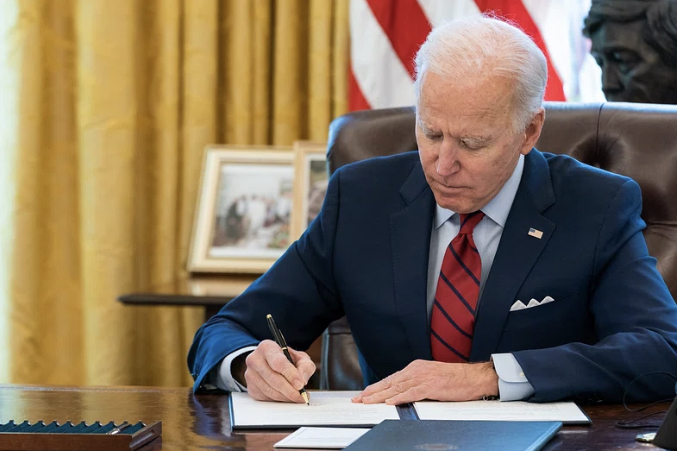 President Joe Biden signed an executive order on Friday to increase access to contraceptives, one year after the Supreme Court's decision to strike down abortion protections.
The order directs the secretaries of the Treasury and Labor Departments, as well as Health and Human Services, to convene pharmacies, employers and insurers to discuss options to make over-the-counter contraceptives more affordable. 
"Contraception is an essential component of reproductive health care that has only become more important in the wake of Dobbs and the ensuing crisis in women's access to health care," according to a fact sheet released by the White House Briefing Room.
Biden also announced plans to bolster access to contraceptives for service members, veterans, employees and college students, as well as women with private health insurance.
"Congressional Republicans want to ban abortion nationwide, but go beyond that, by taking FDA-approved medication for terminating a pregnancy off the market and make it harder to obtain contraception," the president said in a statement.
One of the most vocal opponents of contraception access is Justice Clarence Thomas, who released a concurring opinion on the day of the Dobbs v. Jackson Women's Health Organization decision arguing that the Supreme Court also "should reconsider" its past rulings on birth control.
Meanwhile, Justices Stephen Breyer, Sonia Sotomayor and Elena Kagan defended those past rulings in a dissenting opinion, asserting that preceding cases like Griswold v. Connecticut – which established a constitutional right to privacy regarding reproductive decisions – "are all part of the same constitutional fabric protecting autonomous decision-making over the most personal of life decisions."
Friday's executive order is the third one regarding reproductive healthcare access that Biden has signed in the year following the Dobbs decision. The previous two orders, signed in July and August of last year, took actions such as establishing a task force dedicated to reproductive healthcare access and supporting women's ability to travel across state lines for care. This is the first order primarily dedicated to contraception access.
"Together, we will restore the right to choose for every woman in every state in America," Biden said.