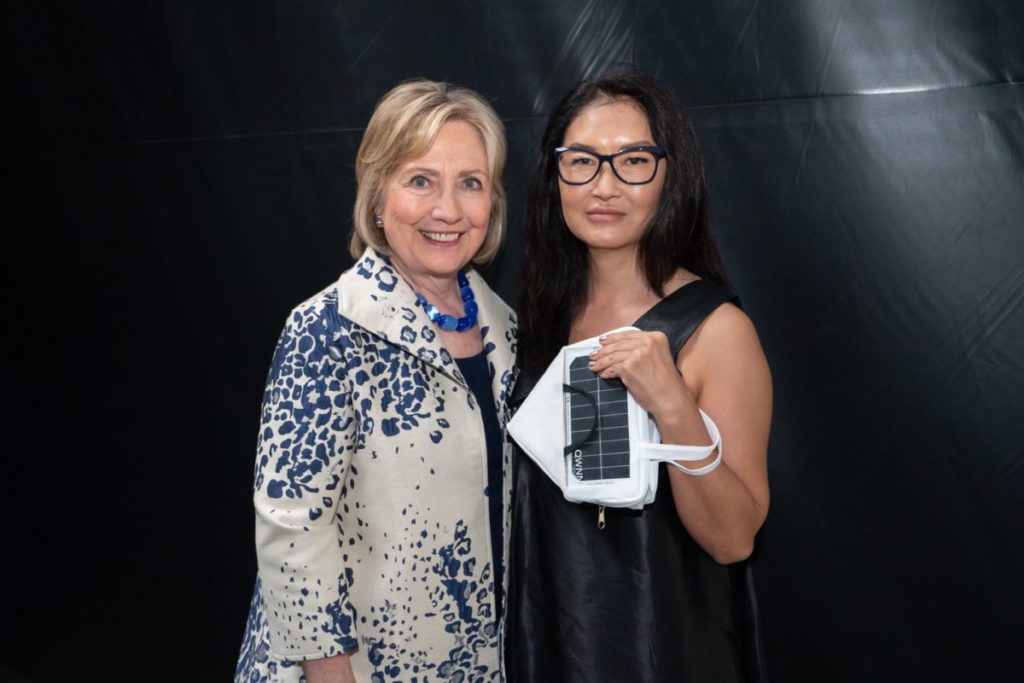 When entrepreneur Alice Chun crossed paths with Hillary Clinton, a lightbulb went off for the former First Lady, senator and Secretary of State.
Chun, who founded Solight Design, which sells origami-style, collapsible solar lanterns, first met Clinton in Puerto Rico after Hurricane Maria ravaged the island in 2017. The politician and philanthropist was so taken with the SolarPuff, Chun's classic, bestselling design — as well as her sustainable mission — that she included the founder in the book she published in 2019 with her daughter, Chelsea Clinton, titled The Book of Gutsy Women.
"My chapter was in between Jane Goodall and Greta Thunberg, and then there's me," Chun said, laughing. "I was incredibly honored, humbled and grateful for the opportunity. Hillary is an amazing person. She's one of my heroes."
Now, Chun will also be featured in the Clintons' eight-part docuseries, "Gutsy," to premiere on Apple TV+ in September. She called the experience of having 30 cameramen and women filming her in her cramped Manhattan apartment "surreal."
"I feel like I'm just a regular mom and inventor," said Chun, a divorced mother who has a background in architecture. "I love to make things and solve problems."
Fittingly, she'll appear on an episode of the docuseries about women who "step up" — "It's about women who see a problem and they step up to solve it," Chun said.
For Chun, the problem started back when her son was born 18 years ago with asthma. After researching, she found that "the air pollution in New York City mainly comes from buildings, not cars. The lighting, energy consumption, cooling, heating, machinery — all of that causes an incredible amount of carbon emissions, and children are impacted by this intense pollution."
As she learned more about solar energy during stints as the director of material technology and design at Parsons School of Design and a professor of sustainable design and technology at Columbia University, she thought she could offer her own take on solar lighting. Companies such as LuminAID also offer compact solar lanterns with a socially conscious mission, but Chun says her Korean-inspired designs are the "lightest on the market," with different settings, including a blinking "distress" signal. She raised $500,000 on Kickstarter in 30 days when she launched in 2015.
"A lot of people take it camping, hiking and backpacking," she said of the lights, which charge when left out in the sun. Larger versions come with USB and phone charging capabilities.
To date, the company, which has four employees, has accrued over $10 million in revenue, Chun said. She has recently sent her solar lights to refugees from the war in Ukraine, and she also travels the world and lectures on the dangers of using kerosene.
She'll take her "light warrior" mission next to the silver screen. And, as in the bestselling book, Chun will be in good company. The series will also feature Goodall, Gloria Steinem, Megan Thee Stallion, Amy Schumer and Goldie Hawn and Kate Hudson.
"It's unusual for a startup to be involved with something like this," Chun said. "What I hope is to be able to inspire other women, and especially young girls, to become inventors, follow their passion and not give up."