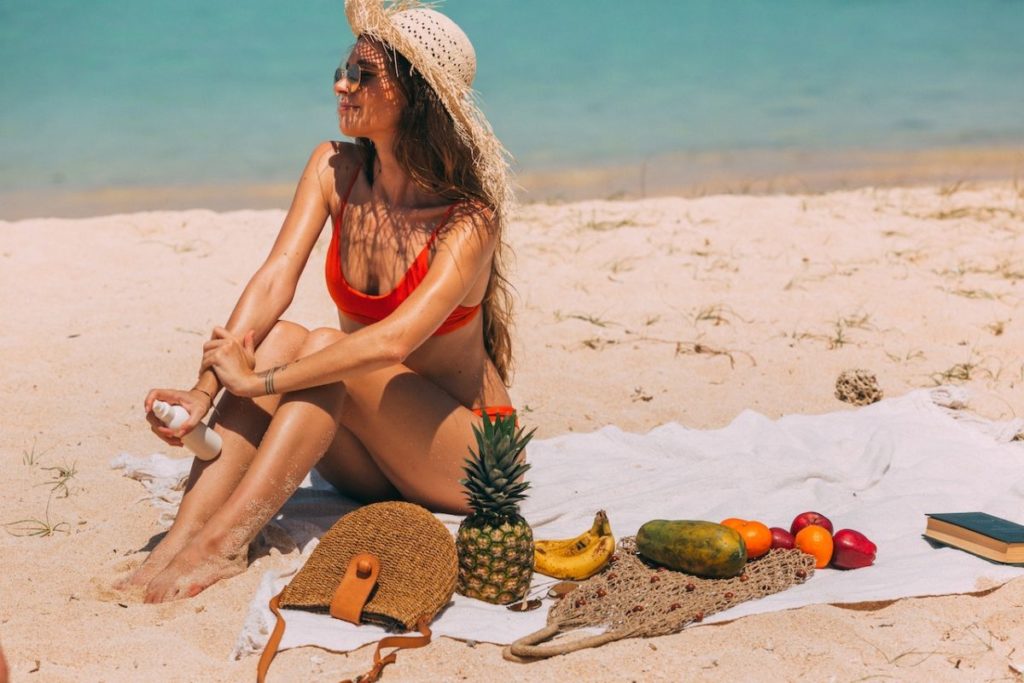 The scene is, in a word, summer perfection.
With effervescent music coursing through my headphones and into my spirit, I lazily stretch my limbs from my spot on an especially fluffy beach towel. I'm wearing a cute bathing suit that's most assuredly not the same tired one I've worn for the past decade, and sipping an adult beverage without having to worry about keeping it out of tiny hands. It's utter tranquility – my bare toes wriggle in impossibly soft granules of sand beneath me as an ocean breeze softens the heat from a bright and unobstructed sun. I sigh in contentment.
And then my son breaks through my dream, waking me 10 minutes shy of 6 a.m. to ask for help finding his phone. (My 4-year-old child does not actually own a phone.)
We can't all escape for the summer – at least not physically. But with the right soundtrack, we can still carve out space of sorts to relax ourselves, wherever we are. Whether you're sunning yourself in some warm, scenic idyll, or just looking to take a mental vacation while simultaneously cooking dinner and watching a Minions movie for the millionth time, these 10 tracks will create, or enhance, the perfect summer mood.
(Note: Some songs contain explicit lyrics.)
"Can't Take My Eyes Off of You" – Lauryn Hill
This near-iconic late-1990s cover takes its Frankie Valli source material to a groovy, modernized new place. Hill's voice is strong and smooth; the jazzy background vocals provide texture, while also creating special moments on their own; and as beat-drops go, this song's hard to beat.
"Good Kisser" – Lake Street Dive
Let's start with what makes this track shine: Rachael Price. Her vocals take a song already full of power and groove, and send it soaring. Overall, the song more than earns its place in the pantheon of Head-Bopping, Upbeat Breakup Songs.
"Home" – Marc Broussard
This track is a master class in building – starting out with a muted, mellow groove and escalating, over the course of five minutes, to a stomp-clapping crescendo (and a rather unexpected song sample in the bridge). Ideal for adding excitement to a summer evening.
"Come Out and Play" – The Offspring
As someone who came of age in the 1990s, I'm generationally required to enjoy The Offspring. But in addition to a high-octane performance and brilliant bass line, this song's also thoughtful in its expression of anger around school violence. A good listen for some necessary catharsis.
"TiK ToK" – Kesha
Pure, undiluted fun – that's this song, Kesha's debut smash-hit single, in a nutshell. I spent many a night in my pre-parenting life living it up on dance floors to this tune. I recommend grabbing some girlfriends and doing the same, no matter what your "club" looks like these days.
"Soak Up the Sun" – Sheryl Crow
If the sensation of driving down a highway, windows down, on a clear day were given musical form, this song would be the result. It came out in 2002, but feels as though it's been around as long as the concept of summer vacations has existed.
"Can't Help Falling in Love" – UB40
I'm somewhat biased – this is, without question, one of my favorite love songs of all time. And I'm of the opinion that every cover of it is a sonic success. I'm including this particular version in this playlist, though, because it's as earnest as the rest, while staying wonderfully mellow.
"The Speedwalker" – Vulfpeck
I recently discovered this band when I asked for musical suggestions that promote maximum happiness. I was guided to this Michigan-born funk band, and I was not disappointed. This song encapsulates why – it seems to have been lab-crafted to promote a cool summer strut.
"Feel Good, Inc." – The Gorillaz
Driving. Infectious. Damn cool. This song, released by the popular British "virtual" band and featuring also-celebrated hip-hop group De La Soul, was a success from the moment of its 2005 release. Once you press "play," you understand why.
"Jump in the Line" – Harry Belafonte
Belafonte was both an outspoken leader in the civil rights fight, and an outstanding musician. This song is a great example of the latter side of his life. You simply can't sit still while listening – both the song title and Belafonte's delivery demand you get up and get grooving.