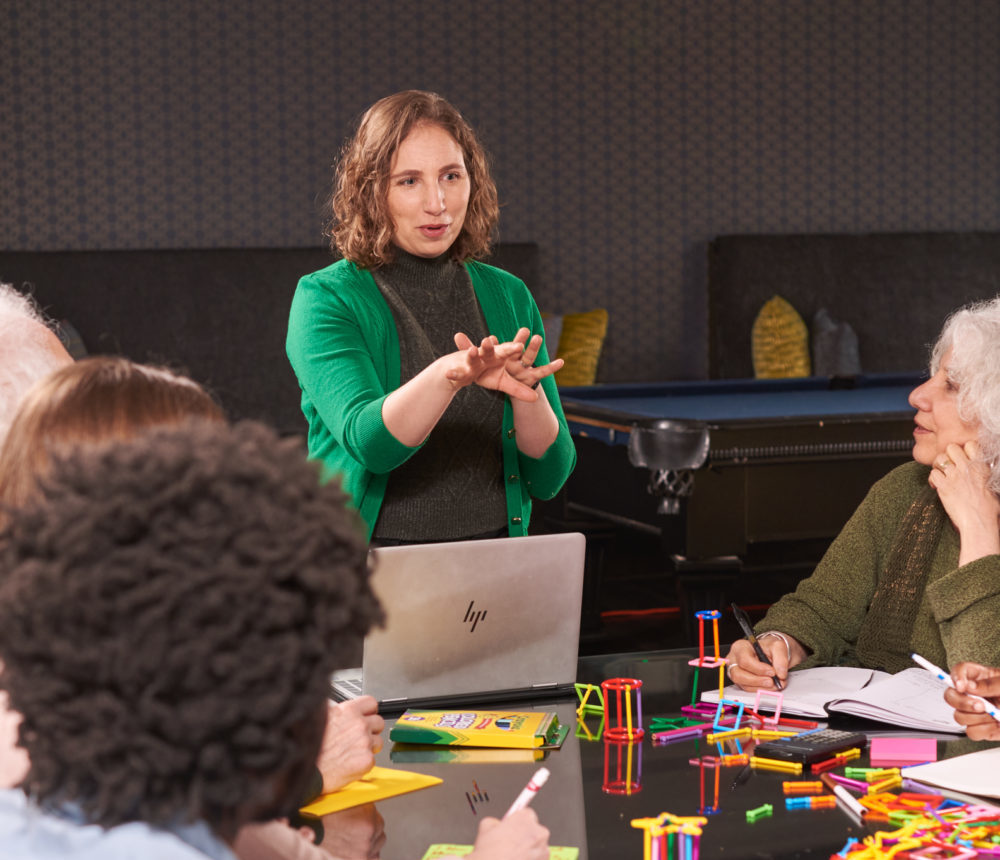 Editor's Note: Barometer XP has been named to The Story Exchange's list of 12 Brilliant Business Ideas.
Alexandra Suchman's Washington, D.C., business, Barometer XP, uses games and play to build stronger workplace cultures — and who couldn't use that, given that so many workers are now remote, at least part of the time? She says the mission of her venture is to give people a "low-stakes" environment to learn and practice new ways of communication and collaborating. Humans, after all, are social beings — and games can help bring a sense of "connected-ness" back to the workplace. At a time when we're all still struggling to reconnect, and navigate the nebulous landscape of "work" in general, we love the idea of a business helping employees, and employers, along the way.
Here's our lightly edited Q&A, from The Story Exchange 1,000+ Stories Project.
What was your reason for starting your business?
So many people are unhappy in their jobs, and most of that unhappiness is because workplaces are not set up to enable people to thrive. In order to thrive, people need to feel connected, that their values are reflected, and that their contributions are meaningful. We see games as a fun and innovate way to change work environments so more people can thrive.
How do you define success?
I first started wrestling with what success truly means back in late 2016. I experienced total burnout and a mental health crisis, in no small part because I had been following the, "Work hard, get promoted, get more status and money, rinse and repeat" path for about 15 years (in a field I really loved), and still felt like a miserable failure. I quit that job cold-turkey, and took some time off to figure out who I was and what I wanted to be, which eventually led me to starting my first business.
Of the many insights I had during my time off, none was more powerful than the realization that professional status, power and authority were not important to me. Attaining those things didn't make me feel successful, even though others saw me that way. I realized that success can't be defined by professional indicators. We need to experience joy and achievement in all aspects of our lives, centered around our own personal priorities, values and goals.
My personal definition of success includes: spending quality time with the people I love most; having control over my schedule, workload and stress level; being creative and solving problems through my work; finding meaning in my work by helping others; and inspiring colleagues, partners and clients to be the best versions of themselves.
Tell us about your biggest success to date
We just completed a 5-session Leadership and Culture Development program with the leaders of a county public health department. The department has traditionally been a very siloed work environment, with little collaboration across units. Using games and structured discussions, we've helped the unit leaders understand how their unit missions all align, and build the connections and trust needed to not only further their own missions, but increase the department's impact on the health of the county.
What is your top challenge and how have you addressed it?
The interest and demand for our services and products is growing and evolving very quickly, and it's been a challenge to scale up our operational infrastructure and capacity to meet that. We're a small team and are self-financing our growth, so we have to make tough decisions and figure out how to stretch our limited resources in creative ways.
Have you experienced any significant personal situations that have affected your business decisions?
When we first officially started Barometer XP, I was also running my own successful consulting company. In 2021, I tried to split my time between the two, but I found my energy and interest was leaning more toward Barometer. I decided to press pause, indefinitely, on my consulting business to focus 100% of my time on Barometer XP. This meant giving up all of my income, and moving from what was comfortable and familiar into totally new professional territory.
What is your biggest tip for other startup entrepreneurs?
Most of the time entrepreneurship means figuring things out that you never expected you'd need to know. It's more important to know how to learn and adapt than it is to have specific technical knowledge about how to run a business.
How do you find inspiration on your darkest days?
I hear stories from friends and family members about how dissatisfied they are at work, and all the interpersonal stuff that happens in the workplace. Many people don't have the tools and have never been given the skills to be more empathetic and curious – our hyper-capitalist economy doesn't encourage that. But that's the reason so many people are unhappy and why so many people are leaving their jobs. I know the work we are doing addresses these challenges, and I feel it is my personal mission to help.
Who is your most important role model?
My dad, who actually now does some work for Barometer XP. He taught me the importance of empathy and curiosity, and how to inspire and lead by example. He's not afraid to challenge status quo, and find his own path when obstacles try to block him from working toward his mission. ◼
Check out our Advice + Tips for entrepreneurs starting-up
Watch our latest videos
Listen to our podcast