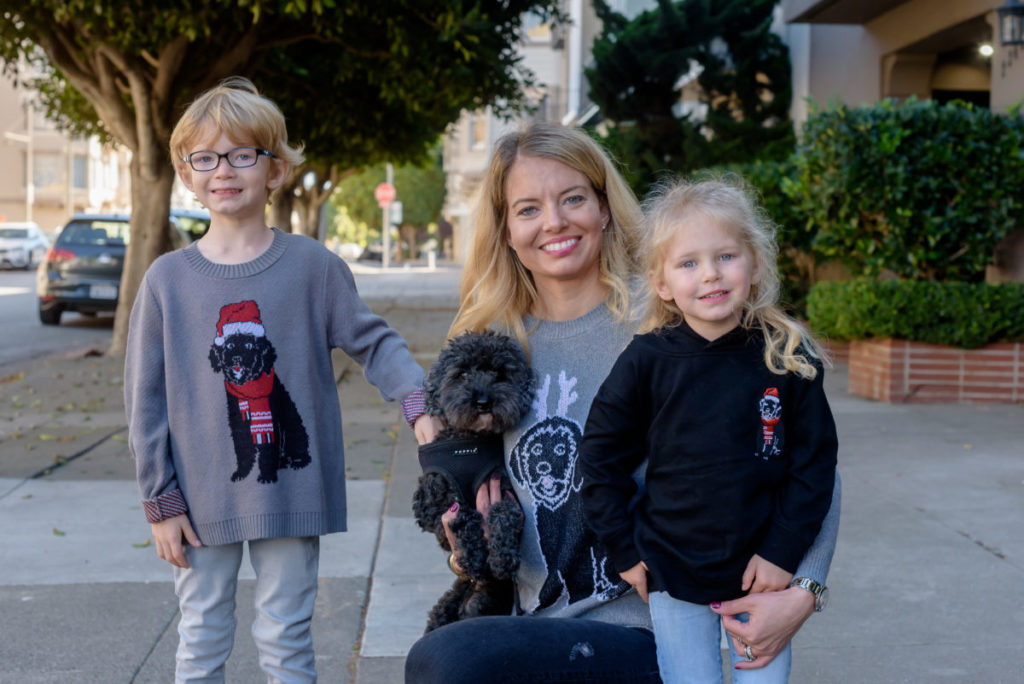 Amy Fohr loves fashion and she loves her dog. Naturally, she wanted to rock her cute pup's face on a sweater. When she found there weren't many companies making custom apparel with a pet's face on it, she leapt at the opportunity to do it herself. Today, the Tampa, Florida-based entrepreneur is running her pet-lover apparel line Sweater Hound on a full -time basis while also enjoying the benefits of positive reviews from the Today show and Oprah magazine.
Here's our lightly edited Q&A, from The Story Exchange 1,000+ Stories Project.
Tell us more about your business
I spent over 15 years working in fashion as a buyer for many large retailers like Macy's, Bloomingdales and Stitch Fix. Over the years I saw many fashion trends and one that I loved was cute dogs on sweaters. But none of the dogs looked like my dog, Harley, who is a mixed breed, part poodle and part something else. It took me a little while to get organized but soon Sweater Hound was born! We make other products besides just dog sweaters, too. You name the pet — whether it's cats, bunnies or snakes — and we can put it on a sweater, pillow or blanket for you.
How do you define success?
I love making products that make people happy. I have the opportunity to communicate directly with my customers to ensure that they love the image before moving to production. My goal is to always make items that bring a smile to my customer's face.
What is your biggest success so far?
During the pandemic, I was extremely fortunate to have two amazing press opportunities. The first was to be featured on the Today show with Jill Martin and her "She Made It" Series, where they showcase female entrepreneurs. The second opportunity was to be featured in one of the last-ever print issues of Oprah magazine as a gift for pet lovers. Both of these were career highlights for me.
What is your top challenge and how have you addressed it?
Like all small businesses, growing and finding new customers has been a challenge. We have been working hard on social media to get the word out there about how awesome Sweater Hound is.
Have you experienced any significant personal situations that have affected your business decisions?
Balancing work and life as a mom of two young kids while also running a company has been challenging.
What is your biggest tip for other startup entrepreneurs?
I would tell others: "This is going to be an amazing, fun and hard ride. Work hard, be kind and do good."
How do you find inspiration on your darkest days?
My family and friends help motivate me — as do all of my customers whom I have previously made products for.
Who is your most important role model?
My husband who also runs his own business is my role model. He has been a huge help in getting my business started. He works super hard to make sure that I feel supported with my business and he keeps his business running as well. Sweater Hound would not be where it is today if it were not for him. ◼
Check out our Advice + Tips for entrepreneurs starting-up
Watch our latest videos
Subscribe to our podcast