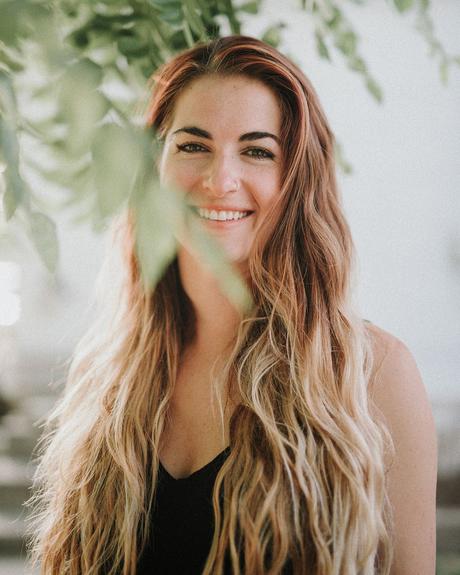 When Hayley Santell learned that someone close to her had been a victim of domestic violence, she knew instinctively that she wanted to help. But Santell also wanted to find a way to help other women who were suffering or had suffered from domestic violence. She did research and found that underwear tops the most urgent needs list of nearly every domestic violence and homeless shelter and rape crisis center. What has emerged since is MADI Apparel, a line of staple basics for women and men made from bamboo. With each purchase, MADI Apparel donates a new pair of underwear to women in need. Today the Kansas City, Missouri entrepreneur is taking pride in the 7,5000 pairs of underwear they have donated so far and continuing to grow her eco-friendly social enterprise.
Santell's story, as told to The Story Exchange 1,000+ Stories Project:
A few years back I leared that a close family member had been a victim of domestic violence. She was a strong, independent women, and it was difficult to believe that she had been a victim for three years. I wanted to find a way to make a difference in the lives of women who suffer the ultimate abuse, abuse from someone they love. After researching the needs of domestic violence shelters, my path and my passion became clear. I began with an Indiegogo fundraiser to raise money for the first production run of six styles of MADI underwear in one color. Since then, I've added new colors, and a full line of basic staples for women and men from underwear, sleep tops and bralettes, to skirts, joggers dresses and long underwear, and men's jockeys.
My definition of success is at its core helping others and inspiring others to do the same. Close your eyes and picture a world where businesses all did something to benefit others or the environment, even if that "something" was small. What if every person in this dream world made a commitment to help others and beam positivity on a daily basis? We can get there if we all do our part.
There are so many success stories to share, especially the financial success of the men's wear launch during the pandemic. But one story in particular is very close to my heart. A few months ago, I received an email from a Kenyan woman named Beth who is the founder of the non-profit Smart Child Kenya. She helps to rescue girls from FGM and early childhood marriages and fights for their education by looking for scholarships for their primary and secondary schools. She also told be about how many girls miss and drop out of school because of a lack of menstrual products. MADI Apparel has since started donating panties to Beth's organization.
The postal system in Kenya, however, is rather difficult. Smart Child Kenya is in a remote area a few hours outside of Nairobi. We had a tough time getting the underwear there. But in the end we found a way. A few weeks later, Beth sent me a photo of the women opening their packages. They were elated. This really made my year.
[Related: Meet the Fashion 'Trash Nerd' Who's Won Money and Love from Vogue]
To be honest, I knew absolutely nothing about everything involved in starting a fashion business from the ground up. At 24 years old, I was fresh out of college and fresh out of money. I had zero experience in business management, money management, sourcing fabrics, manufacturing, designing products, opening a store, launching a website, managing employees, reporting taxes or scaling and driving product sales. Literally, name an area, and I promise I hadn't done it before.
My first big challenge was fundraising $20,000 to pay for the first manufacturing run of products and launch online sales. I used my circumstances and my gifts to my advantage. I networked through building genuine relationships with locals, travelers, business owners and even a few investors. I told everyone I met about what I was starting. I launched an Indiegogo crowdsourcing campaign with a $14,000 goal, and I worked by butt off to spread the word. The restaurant where I worked even let me host a local fundraiser. Between the Indiegogo campaign, the local fundraiser and help from close family, I started my business debt-free with over $25,000.
For perspective, ethical fashion and sustainable fashion brands weren't really a thing back in 2013. TOMS Shoes was really the first leader in the social impact business world. Then, other giving brands started sprouting up. Hardly any clothing brands were making their products in the U.S. anymore; the bigger brands had years prior moved their production to mostly Asian countries where labor was cheaper and less ethical. So, it wasn't easy finding a U.S. based cut-and-sew team, and we had to do a ton of homework. No one was really working with organic or biodegradable fabrics at the time either, so we were on our own a bit here, too. But that's what you sign up for when you commit to entrepreneurship — a lifetime of facing a steep learning curve and tackling it over and over! You fall on your face, you get back up, you climb the mountain and then you do it all over again.
There weren't (and still aren't that we know of), any brands doing what we are — making a difference in every element of the business model. This is similar for many new businesses; you may very well find yourself comparing your business to others — feeling like a sole turtle in a sea of jellyfish. And that's okay. That's actually great. DO YOU and bring your gifts to the table as a leader. For everything else, find a team full of people who make you greater and stronger and lean on them.
[Related: Why This Nonprofit Cares About Periods. And How Meghan Markle Might Help]
I have had too many mentors and role models to name, but here are a few. My parents have led the way as my biggest cheerleaders since day one. They're both very intelligent, well-educated, business-savvy and have always encouraged me to follow my gut and heart. They have been my biggest investors — not only financially using personal funds to help push MADI Apparel along, but also investing in the day-in and day-out operations. My husband and I met a few years after I launched MADI Apparel, but he goes so above and beyond to help in any way. He's a musician and videographer, which comes in handy. He's a great creative influence in my life. He's always dreaming big and introducing new ideas to our business — like building a stage in our shop backyard to host community events.
The rest of my role models and supporters are made up of my extended family, my best friends, our board members, my team, investors, neighbors, and more. Other close friends and business owners in New Smyrna Beach and Orlando, Florida contributed to our grassroots humble beginnings. They volunteered their energy and time to help me fundraise, brainstorm, build a business plan, pop up merchandise at concerts and count inventory in my guest room closet. I met one of my early mentors, donors and board members, Roy Johnson, while bartending in Florida. He passed away in a bicycle accident a few years ago, and I think about how he lived his life to the fullest and put his all into everything he touched. It's because of his encouragement that we launched our non-profit subsidiary. It's also because of him that I look at sunsets a little differently. I'll always remember the time he took me to watch manatees in a kayak spot on the intercoastal that we both loved at sunset. He asked me to never forget the real reason I started MADI Apparel.
It takes a whole tribe to start a small business from scratch and to keep it moving. All of this is not because of me, it's because of them. I'm just a little ant in the equation.
Check out our Advice + Tips for entrepreneurs starting-up
Watch our latest videos
Subscribe to our podcast