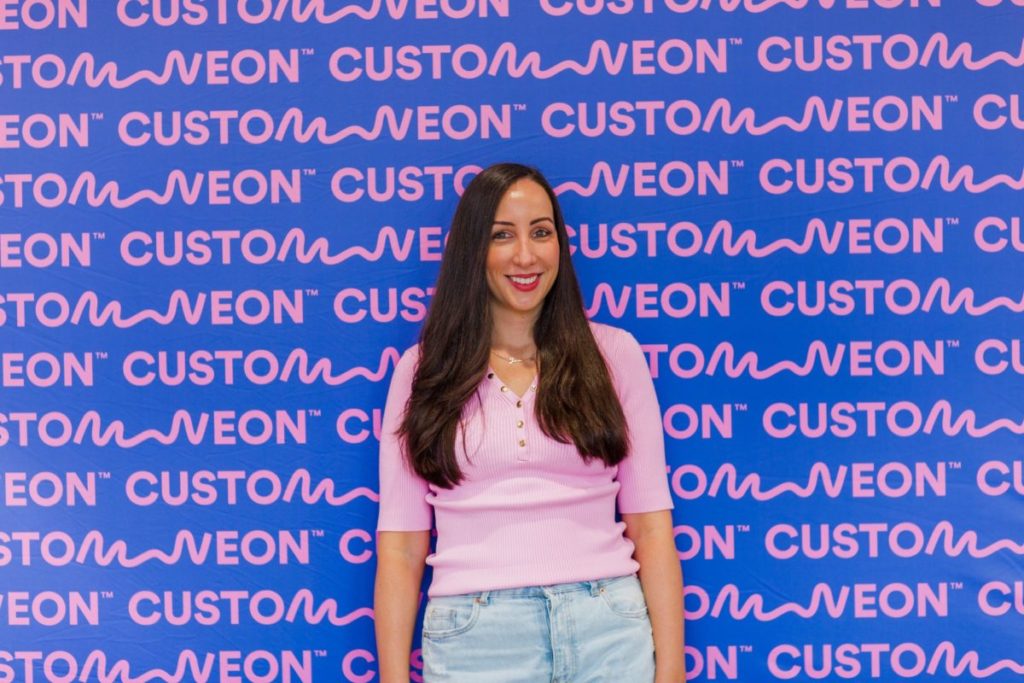 Jess Munday started her business Custom Neon in 2018 when she was pregnant with her first child. What began as a maternity leave side hustle, quickly evolved into a full time job, and now a business making custom neon light signs for consumers across the globe. When the Pandemic hit, Munday saw a sharp decrease in sales revenue from events, which had traditionally been a big market for her company. But instead of 'waiting it out' Munday decided to pivot and scale up, by moving away from event signage and towards custom-designed signs for homes and businesses. The gamble paid off and today the Geelong, Australia-based Custom Neon has satellite offices in London and Los Angeles and nearly 50 employees worldwide.
Munday's story, as told to The Story Exchange 1,000+ Stories Project:
What was your reason for starting your business?
Custom Neon was actually started fairly organically while I was on maternity leave after the birth of my first child. My husband and I had been looking for a custom neon name sign to put up in the nursery, something that we found to be overly expensive and unnecessarily difficult to track down. This experience helped us to identify a gap in the market, kick starting my entrepreneurial drive and resulting in the creation of a maternity leave side hustle that kept me extremely busy while away from my regular nine to five. Using my husband's expertise in e-commerce and my own experience in people management, I started Custom Neon (then known as Neon Collective) by hiring out neon signs on Instagram. This side hustle quickly snowballed into a full-time passion, ultimately resulting in me quitting my previous job to build the business into what it has become today.
How do you define success?
For me, success comes from working on something that you're passionate about with a team of people that you're passionate about. The continued growth of our business and the opportunities that it has provided for my family and my team is something that I'm extremely proud of, largely because it allows me to continue working on something that's enjoyed by customers across the globe. Seeing our neon signs in shopfronts and living rooms across the world still amazes me to this day.
Tell us about your biggest success to date
Growing to a point where we've been able to open two satellite offices in London and Los Angeles has definitely been one of the biggest highlights for me. Increased demand from consumers in the US and UK meant that it was vital for us to expand, resulting in the continued growth of our brand and allowing us to better deal with the needs of other markets. We've also been able to support a number of charities across the globe, such as Rivers Gift and the Offspring Project, which work to eliminate Sudden Infant Death Syndrome and human trafficking. One hundred percent of profits from our 'Signs of Change' range goes to charity, all of which reflect the values that we hold.
What is your top challenge and how have you addressed it?
Navigating the COVID-19 pandemic was a massive challenge. Prior to 2020, the vast majority of our sales came from signs for events such as weddings and birthdays. The sudden cancellation of these events across the globe led to a significant reduction in profits, forcing us to pivot away from event signage and towards custom-designed neon signs for homes and businesses. Instead of lowering budgets and retreating until the pandemic ended, we opted to aggressively expand by increasing marketing budgets and hiring new employees. This strategy ultimately paid dividends, resulting in a 123% growth in profits from 2020 to 2021.
Have you experienced any significant personal situations that have affected your business decisions?
I became pregnant with our second child soon after Custom Neon began really ramping up, something which completely changed my perspective on the business and what we were building for the future. Having children to care and provide for has informed many of my daily business decisions by forcing me to take a step back to imagine how the work being done today will impact their lives tomorrow.
What is your biggest tip for other startup entrepreneurs?
Make sure that you build a healthy work-life balance and coordinate your role in the business around maintaining this healthy balance. When I first started Custom Neon, I was busy juggling the responsibilities of developing a new business from home and looking after a newborn, something which necessitated a careful balance for my own sanity! I would recommend that others starting their own business take the time to draw clearly defined boundaries (whether that be in the form of working hours or work locations) and work hard to stick to those boundaries. Embracing delegation can also be extremely beneficial for entrepreneurs looking to improve their work-life balance, however, this often requires high levels of trust that will need to be cultivated with staff.
How do you find inspiration on your darkest days?
I typically like to lean on the people around me and find inspiration in the actions of those in my closest circle. Having my husband as my main pillar of support and business partner allows me to draw inspiration from the hard work and great ideas that he brings to the table on a daily basis. I also find that standing back and appreciating the hard work done by our team always energizes me in my darkest days!
Who is your most important role model?
While it may sound a bit cheesy, I have to say my husband, Jake. His vision, tenacity and resilience have been key to the rapid growth of Custom Neon and his energy inspires me on a daily basis. His experience in the business world and ability to constantly motivate me has been the fuel that has kept me motivated and engaged since the very start. ◼
Check out our Advice + Tips for entrepreneurs starting-up
Watch our latest videos
Subscribe to our podcast