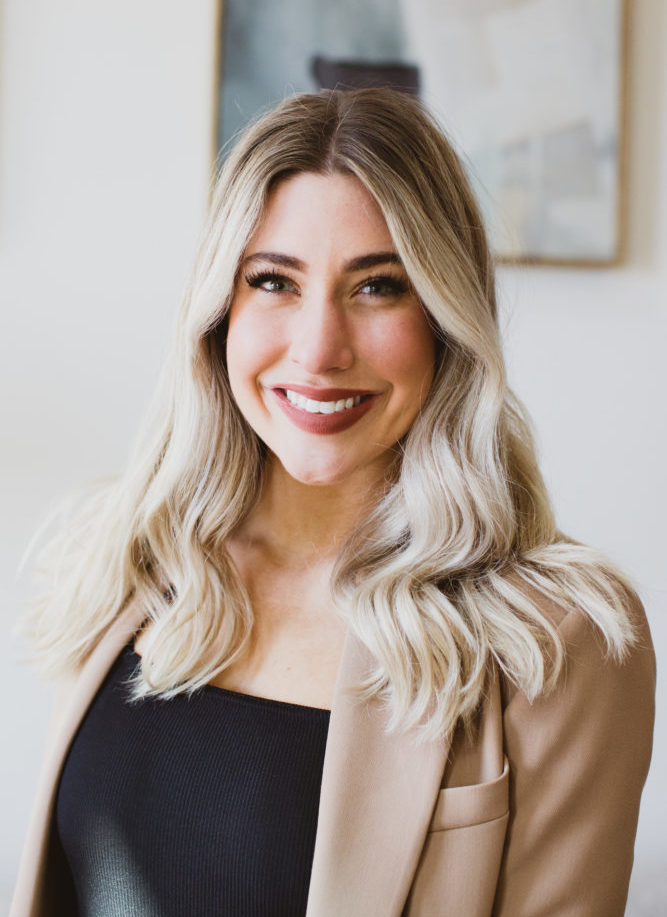 During her journey with autoimmune and hormonal health complications, Kourtney Simmang discovered functional medicine. It's defined by the Institute of Functional Medicine as an "approach that focuses on identifying and addressing the root cause of disease" by looking at the human body as a whole. In this regard, it differs from conventional medicine, which often treats individual symptoms as they relate to specific body parts. Simmang became a certified functional diagnostic nutritionist, and in 2020 launched Kale Diagnostics to help patients who, like herself, are seeking answers to their health questions. Today, the Dallas entrepreneur and her team of healthcare professionals are helping to effectively diagnose and treat patients suffering from a range of health issues.
Here's our lightly edited Q&A, from The Story Exchange 1,000+ Stories Project.
How is your business different from others in your industry?
We use innovative approaches that are not used elsewhere – at least, not to this extent. We truly are leaders in the functional medicine space. I haven't seen many practices boast of such radical health transformations, confirmed by medical doctors – yet we see them on a weekly basis. We're data-driven, and our patient's outcomes are proof that we are doing something right.
Tell us about your biggest success so far.
It was an exciting career milestone, as a woman especially, to hit the seven-figure revenue mark while I was quite literally in the middle of giving birth to my daughter. But it's the things patients say that mean the most to me. That is what it means to be successful as an individual in a healing profession.
What is your top challenge and how have you addressed it?
I could truly work for hours on end because of the passion and know-how I have. And before having my daughter, some of my work days would be 9 to 12 hours long, mostly without breaks. I can't say this was a healthy way to live, but I was driven, and the work I did during those busy years still serves me to this day. Within this time, I was able to hit remarkable milestones, and this led to growth. But as a new mom, I struggle with not having as much time as I used to. I have been able to trust in my team and their commitment to me, and to the mission of Kale Diagnostics.
Have you experienced any significant personal situations that have affected your business decisions?
When I found out that I was expecting, I was thrilled, but also knew my work/life balance would have to change. I grew my business from a team of four to a team of 14 in eight months, and was able to have a true maternity-leave experience while Kale Diagnostics continued to run smoothly. It was a gift I gave to myself.
What is your biggest tip for other startup entrepreneurs?
Make sure you are doing something that you are truly passionate about. It's easy to look at the market and observe what others are doing to make money, but the truth is that your product will fall short if the genuine calling is not there. The money and success will come, but you have to be the embodiment of what you are offering in order to create something long-lasting.
How do you find inspiration on your darkest days?
My faith is very important to me. I don't have many dark days because, when I truly believe, I can do anything. I also know that I can change my environment and my outcome simply through the way I feel and act. Believing that things can always get better is the first step. The suffering of life can create joy and empathy of heart, and this is a redeeming factor in the difficulties we face.
What is your go-to song to get motivated on tough days?
I love "Just The Way You Are" by Billy Joel.
Who is your most important role model?
While I can't say I have a specific role model, I do have a wonderful husband who consistently shows me how I can become a better version of myself, while also fully accepting me where I am. He has played an instrumental role in helping me know that who I can be, is who I really am. ◼
Instagram: @kalediagnostics
Facebook: @kalediagnostics
Check out our Advice + Tips for entrepreneurs starting-up
Watch our latest videos
Subscribe to our podcast