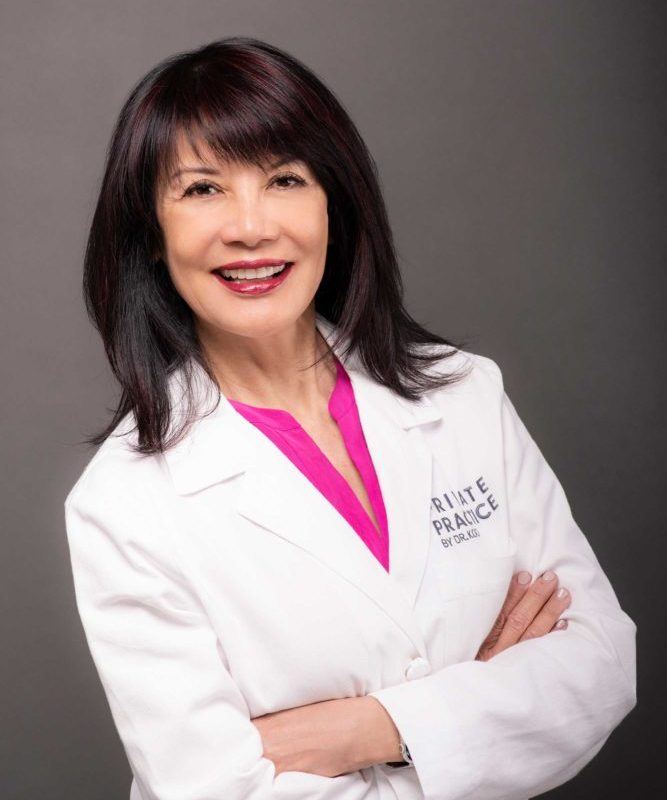 For 29 years, Michele Koo has worked as a plastic surgeon. While her work was focused on surgical solutions to skin problems she saw her patients facing, she began to realize there were many non-surgical alternatives as well. The St. Louis, Missouri doctor and entrepreneur began searching for products to give her patients, but couldn't find any she'd recommend herself. Instead, she started Private Practice, a line of skin care products made from medical-grade ingredients.
Here's our lightly edited Q&A, from The Story Exchange 1,000+ Stories Project.
Tell us more about why you started your business.
As a plastic surgeon, I create change through surgical procedures. But it has always been my obsession to heal and optimally change skin without surgery. I didn't find any products on the market that met my expectations of creating significant change, so I decided to make them myself.
How is your business different from others in your industry?
My products can and do create skin change safely without surgical intervention. They don't take the place of surgery, but there is much that can be achieved with daily skin care that will ultimately lead to better overall health.
Tell us about your biggest success so far.
Success is a lifelong endeavor of following your passion and doing the right thing, and always trying to improve. I'd say raising three children who are independent young adults and maintaining a marriage throughout my training, starting my practice and building a startup skin care brand, as a success.
I define success as being an empowering role model for my children and all young women. I want all women to know that they can do anything they want to. You don't have to give up a family for a career or vice versa.
What is your top challenge and how have you addressed it?
One of my top challenges has been learning how to be an entrepreneur. I came from a medical background, not a business one. But I treat my customers with the same respect, kindness and gratitude that I treat each and everyone of my patients with.
Additionally, assembling the right team, figuring out how to scale the business and how to differentiate my skin care products from others on the market is a challenge. I am always directly involved in the growth of the company. No one will care as much as you, and direct involvement is the only way to grow a business.
Have you experienced any significant personal situations that have affected your business decisions?
When my mother became ill and passed away, much of my motivation and happiness seemed to pass with her. I really had to keep remembering her words of wisdom. My continued regret was not spending more time with her. I came to realize there never would have been enough time. My sadness now impels me to appreciate all those around me more and to live everyday to its fullest.
What is your biggest tip for other startup entrepreneurs?
Work/life balance is a constant struggle. The worthiness of the startup endeavor is a daily question I face. I'm often discouraged, but it's the small milestones accomplished that keep me moving forward. If you break down the entire entrepreneurial journey into immediate, intermediate and long-term milestones and keep checking them off as you go, you'll feel re-energized each time a goal is met.
How do you find inspiration on your darkest days?
The conviction that customers deserve better – and that I can give them something better.
What is your go to song to get motivated on tough days?
Coldplay's "Viva La Vida." I don't know why I love it, but it's upbeat and tells a story: Be grateful. Be humble. Your success and life lasts only as long as it takes to say the word, so be appreciative and live every minute without taking anything for granted. I also love "Ain't No Mountain High Enough" by Tammy Terrell and Marvin Gaye because they rock your soul no matter how bad you feel.
Who is your most important role model?
My mother was fearless and relentless with all her endeavors. Her philosophy was, "You can accomplish anything you desire, if you're willing to work, sacrifice and reflect." ◼
Instagram: @DrKooPrivatePractice
Facebook: @DrKooPrivatePractice
Twitter: @DrKooSkincare
Check out our Advice + Tips for entrepreneurs starting-up
Watch our latest videos
Subscribe to our podcast