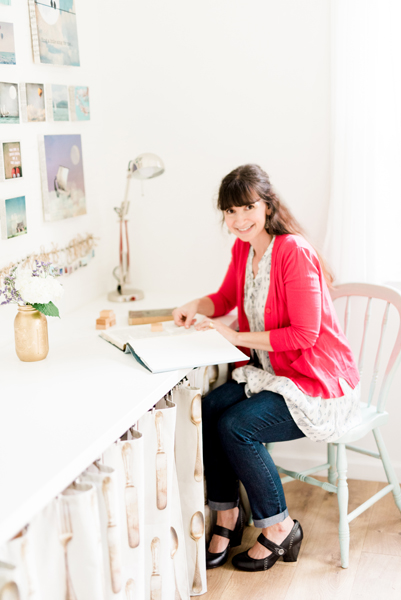 Michelle Ciarlo-Hayes was working as a librarian when she started bringing home the books the library intended to throw out, and repurposing them into pieces of art. In 2009 she decided to take what was at the time a weekend hobby and turn it into a full time business and thus mkc photography was born. Today the Philadelphia-area entrepreneur is supporting her family with her eco-friendly, hand-made gift and home decor company, juggling work-life balance and even getting her kids involved in the family business.
Ciarlo-Hayes' story, as told to The Story Exchange 1,000+ Stories Project:
I started mkc photography over a decade ago in order to bring my artwork to a larger audience, to create something wonderful out of materials that would otherwise be discarded, and to build a small business that would eventually help support my family – and it does!
I took a bit of a circuitous path to get to the place of being a professional artist – while I'd always adored photography and elective art classes in high school and college, I focused on English Literature and Women's Studies in college and graduate school. After graduate school when I became a full-time librarian, I began rescuing books that were purged from our stacks: they were meant to be discarded, but I found them too beautiful to let go. At one point, my husband and I had an entire section of our basement full of these old books! It took a little time for the inspiration to strike and combine my artwork (which I still created on a regular basis during my free time on the weekend) with these book pages, but by 2009, MKC Photography was my official full-time job.
[Related: How Women Entrepreneurs Are Playing to a Growing Holiday Shopping Trend]
I want customers to be transported by the little stories that I tell in each piece of art, I want them to be excited to give our items as gifts or to collect them and keep them in their own homes. I also want to continue to use only salvaged materials and our handmade labor. If I can do all of those things while supporting my family, then I consider that a success indeed. We've had the opportunity to scale exponentially when the art blocks caught the eye of a big box retailer, and every day I'm grateful we made the choice not to make that leap. There would have been too many compromises that were in direct opposition to the company mission statement ("salvaged" and "handmade" are non-negotiable), and this was definitely an occasion where "bigger" did not equal "better." Keeping our core mission as our true north – all while still growing and expanding at a manageable pace – has kept all the important pieces in focus and made our success possible.
Working with the tremendous company Bas Bleu – not only do their customers love our art, they leave the kindest reviews about how much joy it brings to them. We have been collaborating on artwork for the past two years: I create the visual pieces and the Bas Bleu team selects the little literature gems that I then incorporate into the art. The art blocks have been so popular that we've moved into designing note cards as well, and the response has been utterly humbling and thrilling (both from a sales perspective and from the customer feedback). To hear that a card you've designed has helped someone lift a friend's spirits or was so beloved that they framed it and hung it on a wall is fantastic – we've all been enduring challenges, and I'm deeply grateful to know that something small that I helped create would help brighten a day for someone.
[Related: She Got Her Products Into Target – And It Nearly Destroyed Her Business. Here's How She Rebuilt]
My top challenge is managing work-life balance, to be sure! I actually set a timer for things that I need to take care of during evenings and weekends so that I don't get swept away and lose track altogether. There's nothing wrong with loving your job: you just have to be sure you give yourself (and your family) a break. Another way I've dealt with this? Involving my family in the business. Now that my children are teenagers, I've been hiring them to help me with everything from sourcing and picking up the salvaged wood, to sanding and routing blocks in our workshop, and even helping me create video content for our website and social media. Their involvement has been an incredible help for me, it's allowed them to feel a real sense of ownership in the success of the company, and it has pushed our productivity forward while still allowing time for important things like family dinners and movie nights.
My father is my most important role model. I remember seeing very little of him during the week (if at all) when I was growing up, but he also made it his job to take me to practice (and then breakfast) every Saturday morning, no matter how exhausted he surely was from the work week. You can work extremely hard, and yet still be sure you're present for the other important things in life too.
Check out our Advice + Tips for entrepreneurs starting-up
Watch our latest videos
Subscribe to our podcast