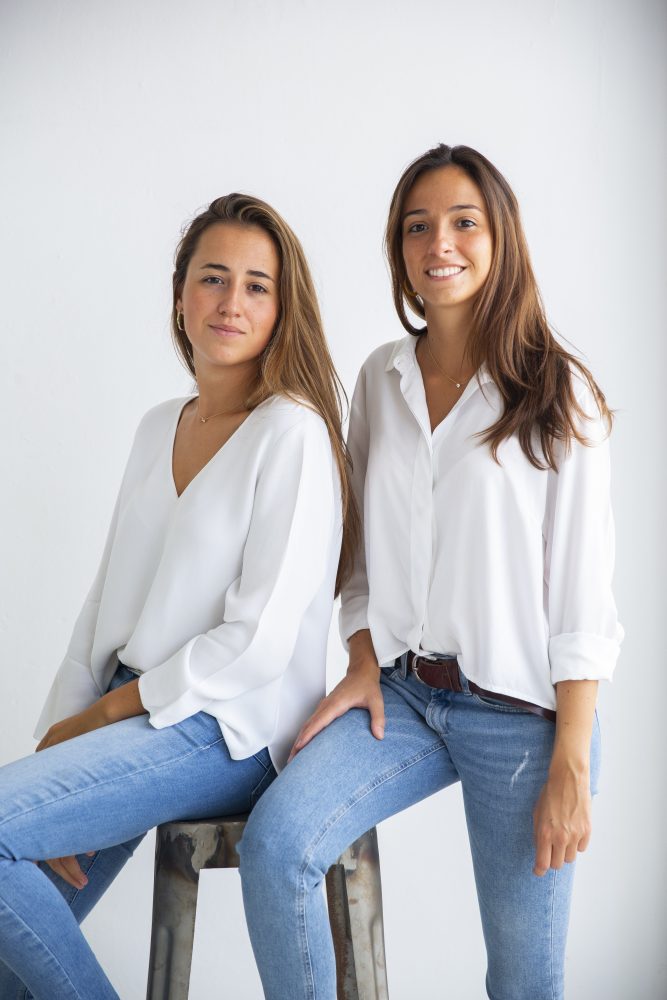 Olimpia and Carolina Roman are sisters, entrepreneurs and eco-friendly toy makers. Their company Oli & Carol sells baby rubber toys that are meant for teething, bath time and sensory play. Each toy is made from sustainably sourced all natural rubber, so they are good for the environment and the children who play with them. But Olimpia and Carolina did not start their line from their own experiences as mothers – in fact they started their business when they were 21 and 16 years old respectively. They say they were motivated to think outside the box and dream big. For them that dream was to make something eco-friendly, sustainable, cool and with a powerful message. When they happened to meet someone who worked with natural rubber, they found a way to transform this dream into something tangible; cool toys for kids. Today the Barcelona, Spain-based sisters are continuing to grow their five year old company, which now sells in over 84 countries worldwide and to expand their staff of twelve.
Romans' story, as told to The Story Exchange 1,000+ Stories Project:
What was your reason for starting your business?
Oli & Carol was created to offer a sustainable, 100% natural, cool alternatives to today's toys. Our goal is to create a better and safer world to live in. That is why, since the beginning, we have acted for the benefit of society. To do so, we are constantly transmitting important messages and taking actions to help our planet. Such as with our H2Origami collection, which aims to teach kids to respect our oceans and biodiversity. With every purchase, we donate some of the proceeds to the Oceana Organization, whose mission is to clean up the oceans around the world. Our Fruits & Veggies toys, for example, introduces children to the importance of a healthy lifestyle from a young age, and our Chewable Bracelets allow children to have a closer contact towards the preservation of our planet's wildlife.
How do you define success?
For us, success is doing what we love, and being able to drive positive change with it. When, as sisters, we began creating Oli & Carol, we knew that we wanted to offer natural and sustainable products that were respectful to our environment. We have been lucky enough to pull off our brand. We surround ourselves with people who also love what we have to offer and that appreciate and understands the need for 100% natural toys. And at the end of the day, the positive response from the market is what enables us to keep going.
Tell us about your biggest success to date
We believe our biggest success is having created toys that are "more than toys." Toys that go beyond entertainment, in order to convey significant messages to children from an early age, such as the importance of leading a healthy lifestyle or learning to respect the environment. Our loyal customer base who believe in Oli & Carol's values, mottos and toys is also our biggest success.
What is your top challenge and how have you addressed it?
When we started Oli & Carol five years ago, we were both still studying (high school and university). The fast scaling of our company was at times difficult to combine with our studies, but thanks to our loyal distributors in the US, France, Japan, Australia and Germany, amongst others – who believed in us and trusted our product – we were able to expand Oli & Carol around the world. Today we sell our goods in more than 84 countries worldwide! With time, we started our own internal team, which currently counts 12 people, and is continuously growing!
Have you experienced any significant personal situations that have affected your business decisions?
At the very beginning, the market wasn't ready for products that were 100% natural and handmade. The market was saturated with plastic and synthetic mass produced toys that were cheaper than what we offered. But with time, people began to understand and appreciate the value of products that are respectful of our environment, in terms of materials used, but also take into account the processes, transportation systems and the conditions of the artisans behind each and every toy.
What is your biggest tip for other startup entrepreneurs?
Behind every start-up or small company, there are lots of hours of work and dedication. You know what they say, "easy comes, easy goes" and to be successful, you need to work hard at what you believe in. And also surround yourself with people that you work well with, who push you to keep going and who bring out the best in you.
How do you find inspiration on your darkest days?
We are very positive and optimistic people. We always try to see the good in everything, and when things do not go as planned, we are lucky enough to be working as sisters, and we always find in one another the support we need to keep on going.
Who is your most important role model?
Our mother has always been an inspiration and a role model for us. From a very young age, we helped her (and our father, who is also involved in the family business Lorena Canals) and learned from her. She's a strong, hard-working and loving mother who has taught us what the real meaning of life is. "If you work doing something you love, then it's not work anymore," she would always remind us.
Check out our Advice + Tips for entrepreneurs starting-up
Watch our latest videos
Subscribe to our podcast