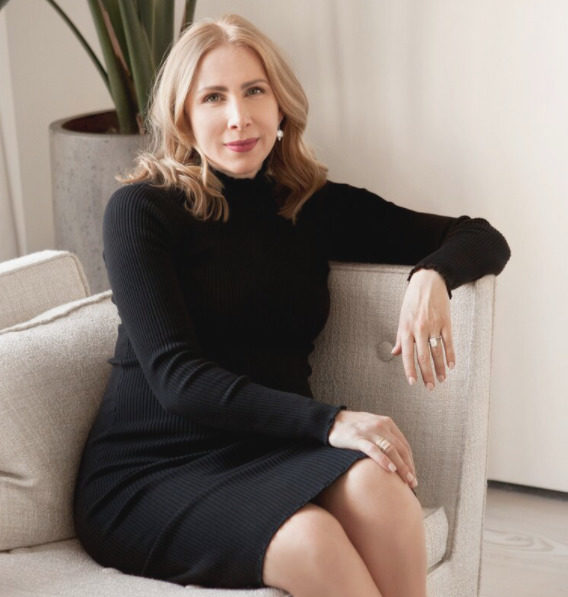 Susie Saltzman is a jewelry designer, solopreneur and mother. Her eponymous line of fine jewelry Susie Saltzman is modern yet timeless. She designs beautiful keepsakes that celebrate unique and personal milestones. Each design is effortless, easy to wear and offers something unexpected while still feeling as though it could have spanned generations past and those to come. All the materials New York City-based Saltzman uses are sourced through environmentally responsible producers, with great care going into the fabrication of each piece. Today Saltzman finds inspiration for her work in nature, watching her daughter grow up and in the small moments of each day.
Saltzman's story, as told to The Story Exchange 1,000+ Stories Project:
What was your reason for starting your business?
I found the options for purchasing an engagement ring to be antiquated and limiting. Thankfully my experience in the fine jewelry industry offered me the connections and opportunity to explore custom design and fabrication. So when family and friends (and eventually strangers) asked for help navigating their search for the perfect engagement ring, I was able to help them. It ended up bringing me so much joy and turned into more fulfillment and meaning as a career than I could have ever imagined.
How do you define success?
Success to me means choice, freedom and being able to live with intention and integrity. It means having security and a foundation so that I can be present and involved in building the life I want with the people I want.
Tell us about your biggest success to date
What I am most proud of is that I have built a business that has allowed me to support my daughter and myself, both financially and emotionally. I am proud that I get to do what I love and also have the flexibility and freedom to spend quality time with her. I hope I am giving her a mother to look up to. That would be success to me.
What is your top challenge and how have you addressed it?
My greatest challenge is scaling. I have been able to grow my top and even bottom line, but it's been hard for me to truly scale; to automate and remove myself from certain tasks. I am addressing it by investing in a few key team members who can help with intentional initiatives and allow me to get back to what I am best at, design and storytelling.
Have you experienced any significant personal situations that have affected your business decisions?
Truthfully, my daughter and my business saved me during my divorce. I don't know how I would have survived it, should I not have had them both.
What is your biggest tip for other startup entrepreneurs?
Focus on serving your clients. Say "yes" in the beginning. Be eager. Be courageous. Be patient.
How do you find inspiration on your darkest days?
The simplest of things will inspire me sometimes. People — their interactions (good and bad) inspire me; they make me reflect. I find inspiration in my daughter, watching her grow and learn. I also find inspiration in nature. I find nature to be full of inspiration from a design perspective – shapes, sounds, movement. I think inspiration is so abundant but also very easy to miss or overlook.
Who is your most important role model?
The most important role model in my life is my mother. I look up to her always, but now more than ever since becoming a mom. It is really nice looking up to someone you can learn so much from.◼
Check out our Advice + Tips for entrepreneurs starting-up
Watch our latest videos
Subscribe to our podcast