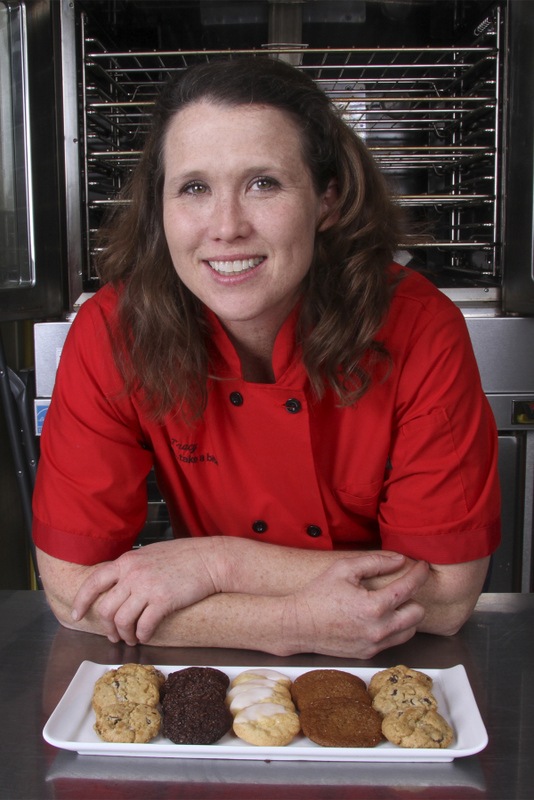 Tracy Mattson spent the first leg of her career working as a pastry chef in some of America's most elite dining establishments. She loved the work, but the long hours began to take a physical toll. A foot surgery 10 years ago brought Mattson to a crossroads. She knew she wanted to continue to bake, but the "where" needed to change. So she launched COOKIE…take a bite!, her Santa Rosa, California gourmet cookie shop. Mattson's treats come in both beloved and familiar flavors –think classic chocolate chip and snickerdoodle – as well as unique creations like chai shortbread and Aztec hot chocolate. Today, Mattson finds joy in bringing a smile to her customers' faces one cookie – or trayful of cookies – at a time.
Here's our lightly edited Q&A, from The Story Exchange 1,000+ Stories Project.
Tell us more about why you started your business
I wanted to demonstrate to myself I had the moxy to control my own destiny. I didn't want to look back on my life and wish I had branched out on my own but never had the gumption to do it. I figured the worst that could happen would be that it wouldn't work out.
Tell us about your biggest success so far.
After 10 years in business, we are finally financially stable. If I can provide for my family and create a good working environment for my employees, I think that is success.
What is your top challenge and how have you addressed it?
It is expensive to live in Sonoma County. But I made a decision when I started my business to hire qualified adults, which makes running things easier – but it also means I need to offer jobs with competitive pay and benefits. For me, that means baking and selling enough cookies to make that happen.
Have you experienced any significant personal situations that have affected your business decisions?
That is a daily struggle as a small business owner. Different day, different problem. That is part of the excitement of owning a small business.
What is your biggest tip for other startup entrepreneurs?
Do your research. Talk to as many people as possible to shape your vision. Be humble, but be determined. Plan for difficult financial situations so you are prepared for the long haul. And have faith in yourself – it is easy for others to point out the negatives, but if you've done the work and mapped it out, go for it!
How do you find inspiration on your darkest days?
I go horseback riding. It is important to take time for yourself.
What is your go to song to get motivated on tough days?
"Under Pressure" by David Bowie and Queen. It might be my theme song, too.
Who is your most important role model?
I find inspiration in so many people, especially fellow colleagues working in the trenches with me. If I had to highlight one, it would be the first chef I worked for, Peter Pastan. He taught me the importance of food – real food – and not trying to make food into something it is not. He also taught me to be kind to my staff.◼
Instagram: @cookie_take_a_bite
Facebook: @cookietakeabite
LinkedIn: @TracyMattson
Check out our Advice + Tips for entrepreneurs starting-up
Watch our latest videos
Subscribe to our podcast