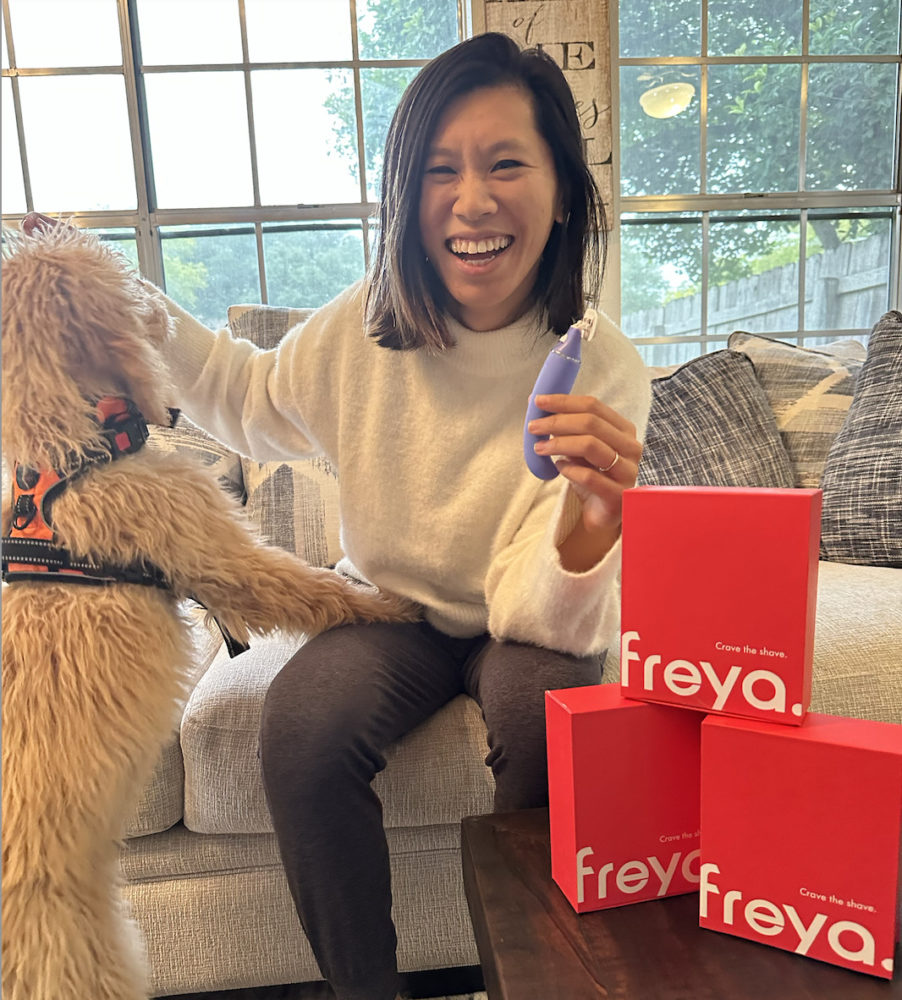 Xin Hamilton struggled with the idea of buying sex toys as a mother of two – not just where to hide them, but also, what to do if someone found them. She decided to address the personal pain point herself by creating Freya, her two-in-one solution. To the casual observer, it looks like your average woman's razor. But the head pops off to reveal an entirely different product underneath – a vibrator, and one you can keep in your shower. The founder, based in Camarillo, California, has received some positive press for Freya, and is utilizing social platforms like TikTok to expand her reach to younger customers. 
Here's our lightly edited Q&A, from The Story Exchange 1,000+ Stories Project.
Tell us more about why you started your business.
I wanted something I could use discreetly, and also something that I could leave out without worrying about my kids asking too many questions. That's when Freya was born. The 2-in-1 product solves this problem. Customers can use it as a razor for a dolphin-smooth shave or as a six-mode vibrator that delights, in or out of the shower.
How is your business different from others in your industry?
Freya is the first and only brand on today's sexual wellness market combining two women's self-care products: a razor for shaving with a vibrator for endorphin-releasing sexual pleasure. Beyond that, Freya is a sex-positive brand hoping to build a community of women that take care of themselves in whatever ways they need, without shame.
Tell us about your biggest success so far.
We are a nominee for the World E-Commerce Awards as one of the best e-commerce brands this year. We have also been featured in Well+Good, Hypebae, Yahoo, SheKnows and others.
What is your top challenge and how have you addressed it?
Our top challenge is advertising a sexual wellness product to consumers who don't yet know they need a product like Freya. There are certain pain points that are more difficult to address on our different channels and finding ads that work for each has been a challenge. In order to reach one of our demographics – GenZennial women – we have used TikTok and Instagram, and partnered with various sex experts in the space to showcase our "Vee" razor. We reach our demographic of moms and elder millennials with Facebook, Google Ads and earned media stories.
Have you experienced any significant personal situations that have affected your business decisions?
As an immigrant from a more sexually conservative country, I wanted something with a beautiful design and discreet features. I knew other women would benefit from a product like this as well. Turns out I was right!
What is your biggest tip for other startup entrepreneurs?
I recommend doing market research and really making sure that your business is solving an actual problem. If there's not a real issue, there might not be a real need for your product.
How do you find inspiration on your darkest days?
Turning off my phone, closing out my email, and hanging out with my two young children.
What is your go to song to get motivated on tough days?
"Try Losing One" by Tyler Braden. I'm a romantic music kind of gal!
Who is your most important role model?
I am constantly in awe of the confident sex experts speaking up in this space, helping women of all ages live more fulfilled lives. It's hard to pick just one! ◼
Instagram: @crave.freya
Facebook: @Freya
Twitter: @CraveFreya
Check out our Advice + Tips for entrepreneurs starting-up
Watch our latest videos
Subscribe to our podcast