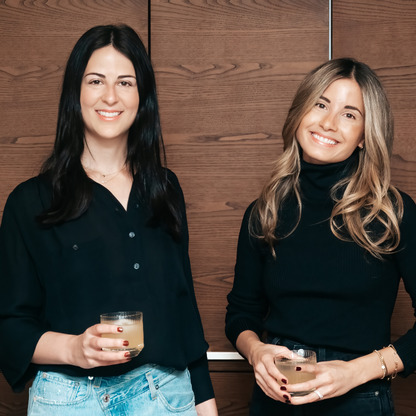 Editor's Note: SAYSO has been named to The Story Exchange's 2023 list of 10 Brilliant Business Ideas.
Alison Evans and Chloe Bergson were frustrated when they couldn't replicate the delicious cocktails they loved ordering in New York City restaurants and bars. They found existing cocktail kits to be tedious and messy, with unsatisfying results. They were then inspired by some other beloved beverages – cold brew and tea – to come up with an outside-the-box solution: possibly the first-ever craft cocktail tea bag. Now, they sell those bags through their business, SAYSO, in much-loved flavors like a Margarita, Old Fashioned and even Paloma. All you need to add is liquor – or not. The tea bags can also be steeped in cold water, making SAYSO an alternative for drinkers and non-drinkers alike.
Here's our lightly edited Q&A, with Evans.
How is your business different from others in your industry?
We figured out how to capture the billion-dollar cocktail and non-alcoholic beverage categories. Despite projected market growth, existing products are old-fashioned – full of sugar, preservatives and artificial flavors. And liquid mixers are heavy, with a limited shelf life after opening. SAYSO solves this problem, and also provides a delicious non-alcoholic beverage that's low in sugar and calories. No other craft cocktail mixer in tea bag format exists currently.
Tell us about your biggest success so far.
When we got our product into our first grocery store outlet – Morton Williams. We are also set to launch SAYSO in stores such as Fairway, Gourmet Garage and Bristol Farms.
What is your top challenge and how have you addressed it?
Finding a manufacturer for our product. Countless manufacturers turned us down because they didn't want to take a chance on a new product type. After many hours of due diligence, research and development, ingredient processing and testing, we have finally found a partner.
What is your biggest tip for other startup entrepreneurs?
Stay scrappy! When you raise that first amount of money, outline exactly what you will spend it on — with a buffer. Also make sure you aren't overspending on things that you could still do yourself.
How do you find inspiration on your darkest days?
By leaning on family and friends. I also go for a walk with my dog, which helps me relax and see that I'm lucky to be able to do what I love.
What is your go-to song to get motivated on tough days?
"Higher Love" by Whitney Houston and Kygo.
Who is your most important role model?
My mom. ◼
Instagram: @drink.sayso
Facebook: @drinksayso
Twitter: @drinksayso
TikTok: @drink.sayso
Check out our Advice + Tips for entrepreneurs starting-up
Watch our latest videos
Subscribe to our podcast