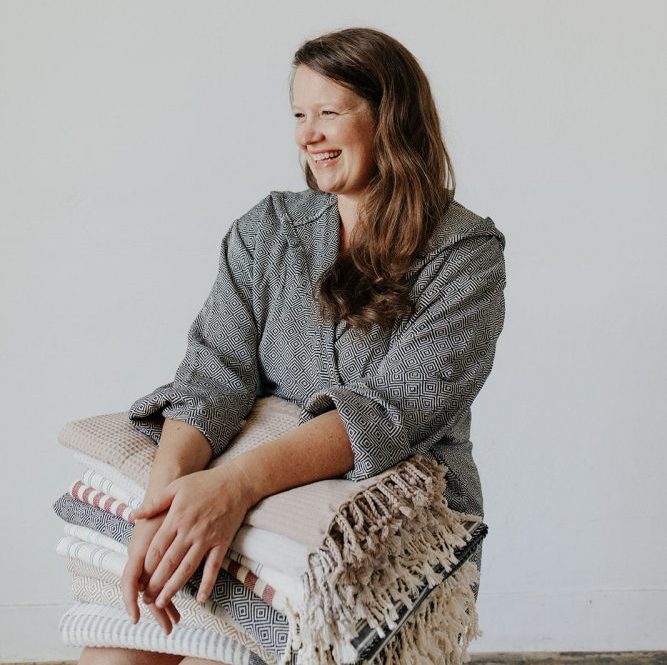 Emily Johnson Kisa's entrepreneurial journey started when she moved back to the states with her husband who is from Turkey. She wanted to create a jewelry line with artisans she knew back in Turkey and her husband suggested she open a physical store front to sell her designs. Thus KISA was born. Today the Minneapolis, Minnesota based mompreneur has shifted the sale of her jewelry, Turkish towels and home goods to their e-commerce site, after COVID-19 forced her to focus on other ways to sell her products outside their storefront. Johnson Kisa counts the businesses survival through the pandemic a huge success, and is focused on continuing to grow the business as well as her team.
Johnson Kisa's story, as told to The Story Exchange 1,000+ Stories Project:
What was your reason for starting your business?
We had recently moved to Minnesota from Turkey and I wanted to start a jewelry line with women back in Turkey. My husband thought we needed a place to sell the jewelry so we opened a store which would also feature other products too. Another reason for starting our business, honestly, is that we needed to support our family as well.
Our Turkish towels are a great working from home self care item! It can be a shawl as you type away at your computer, a scarf going into the winter months, a bath towel for your newly remodeled home improvement project bathroom or it can work as your summer beach towel/picnic blanket! Turkish towels are very multi-purpose yet beautiful.
How do you define success?
My definition of success would be when our business can run independently of my husband and I. Success is also working with artisans in Turkey also also with friends with small businesses here in Minnesota.
Tell us about your biggest success to date
Staying afloat during COVID-19 is far and away our biggest success. Pivoting to online sales and not allowing the Pandemic to kill our business is success.
What is your top challenge and how have you addressed it?
My top challenge has been managing all the hats that come with being an entrepreneur. I've started to delegate more tasks but still need to do more of this! Some goals to help achieve this would be to grow our team. And on a personal level I would like to get back into product development and out of the more day to day tasks. We're also looking for greater brand awareness beyond just Minnesota.
Have you experienced any significant personal situations that have affected your business decisions?
I guess marrying my husband from Turkey, asking him to move back to America for me and taking him out of his comfort zone. All our personal decisions lead to building our business together. Also choosing to build a business while our kids are very young and need a lot of attention is a challenge. It's a necessity really as we needed to make money to support our family. For years we struggled, but now we have our flow and a following. We've gained so much knowledge along the way.
Who is your most important role model?
My mom is my most important role model. She had her own business when we were young. Before the words "entrepreneur" were thrown around with glory. She always worked so hard. I can always call her for a cry or a laugh when I need it.
Check out our Advice + Tips for entrepreneurs starting-up
Watch our latest videos
Subscribe to our podcast