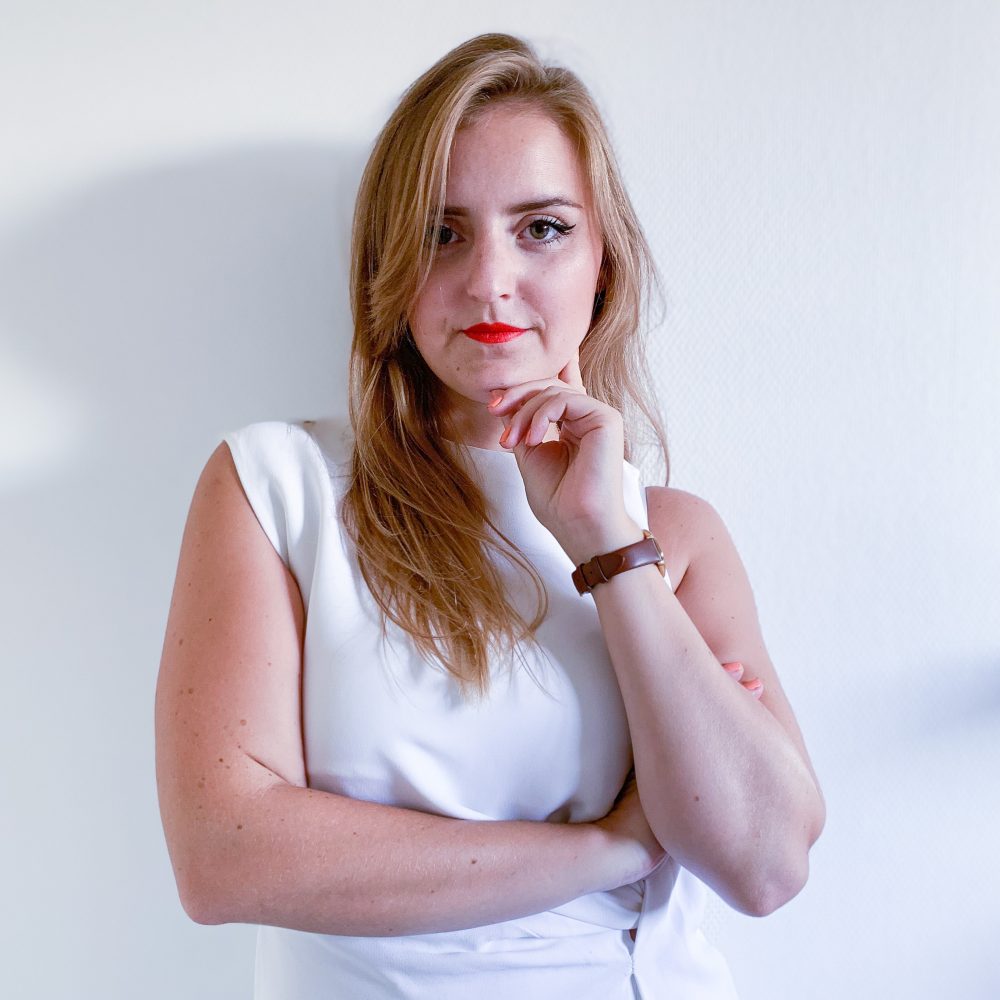 When Floriane Schmitt finished her Master's degree in fashion design, she couldn't find the right company to work for. But she knew that creative freedom and freedom over her own schedule were very important to her, and ultimately this led to her light bulb moment – why not start her own business? Today she runs her textile studio, Flo Home Delight from Strasbourg, France. She handcrafts purses, pillows and keyrings out of modern fabrics in unique patterns. Since she started her business two years ago she's successfully bootstrapped her company, moved deliberately and strategically with financial plans, production and marketing and is finally beginning to reap the rewards of her hard work.
Schmitt's story, as told to The Story Exchange 1,000+ Stories Project:
I am a trained fashion designer, but even with numerous experiences and internships in the industry, I couldn't find any company I'd love to work for, that fits perfectly with me, my style and my creative vision. In the back of my mind, I always wanted to create my own company, and so when I couldn't find any jobs I was interested in after graduating from my Master's I choose to launch Flo Home Delight!
During my journey I realized I needed to start my own business because I was craving freedom. There are several layers to my definition of freedom that are all really important to me. Firstly, the creative freedom; to be able to create everything I want, build my own vision without limitations, not to be told, "no," because my creations don't fit someone else's vision. Creative freedom allows me to be fulfilled as a designer. Then there is freedom of time; the possibility to schedule my life, business, and work hours exactly how I want. To escape a traditional lifestyle and create more possibilities, and work the hours that fit my inspirations – whether that be 9 in the morning or 11 at night. And finally, there is financial freedom. To be able to earn more than I would as an employee, to have control over my paycheck, to be able to create more revenue from my own choices and actions is incredibly satisfying. As is not having to depend on a boss to ask for a raise.
[Related: Meet the Fashion 'Trash Nerd' Who's Won Money and Love from Vogue]
Success to me is to be able to achieve any of your goals and dreams, no matter what they look like. To be able to live exactly the type of life you want, to choose what you do, to feel happy and fulfilled. To do that, you have to know yourself, your values and desires, and work everyday to achieve the goals you set.
Creating and growing Flo Home Delight, building step by step my dream life, is a big success to me. I'm not where I want to be yet (at all!) but I'm so glad I started this journey! I'm learning a lot every day, and even though I feel stressed and doubtful sometimes, I am always feeling creatively fulfilled. A specific moment could be when I launched my Black Friday offers last November, and tripled my revenue compared to last year. It felt so good to see people I've never met, love my products! I felt validated and it reinforced my belief in my dreams, in the possibility of making my creative vision a bigger reality.
Low cash flow and budget have been my top challenges while starting my business. Flo Home Delight is 100% self funded, and having a very small budget from the beginning, I had to chose very carefully in terms of my spending priorities. I would have loved having more product photography, more budget for influencer marketing, more savings for my personal expenses, so I wouldn't need a part-time job in the beginning and have more time to grow the business. I had to accept slower growth in the beginning, before sales could finance all the projects I had in mind! To deal with this issue, I choose an online business model, and kept my monthly expenses for the business as low as possible. All my other sources of income are put into my business, with very little going towards personal entertainment. Also, each time I set up business goals, I would prioritize only one project at a time that requires money.
[Related: A Few of Our Favorite Female Founders Share Their Business Advice for 2021]
Rihanna is my biggest role model – she can do it all! She is a huge artist of course, but has a global vision of what is her style, creativity and vision are, no matter the field of application (music, beauty, lingerie, fashion, etc). She stands for power, boldness, and creativity. She is also unapologetically herself. I also love to follow Sabrina Philipps, and Melyssa Griffin; they are both mindset and business coaches. I love that they both have a different vision and style of business and teaching, but they both help empower woman who are building their own. They teach that you should build a business that looks like you, around the life that you want to create. We don't have to create everything following the rules, if it doesn't suit us! My role models have created their own freedom and build their own dream life, just like I'm trying to build mine now!
Check out our Advice + Tips for entrepreneurs starting-up
Watch our latest videos
Subscribe to our podcast