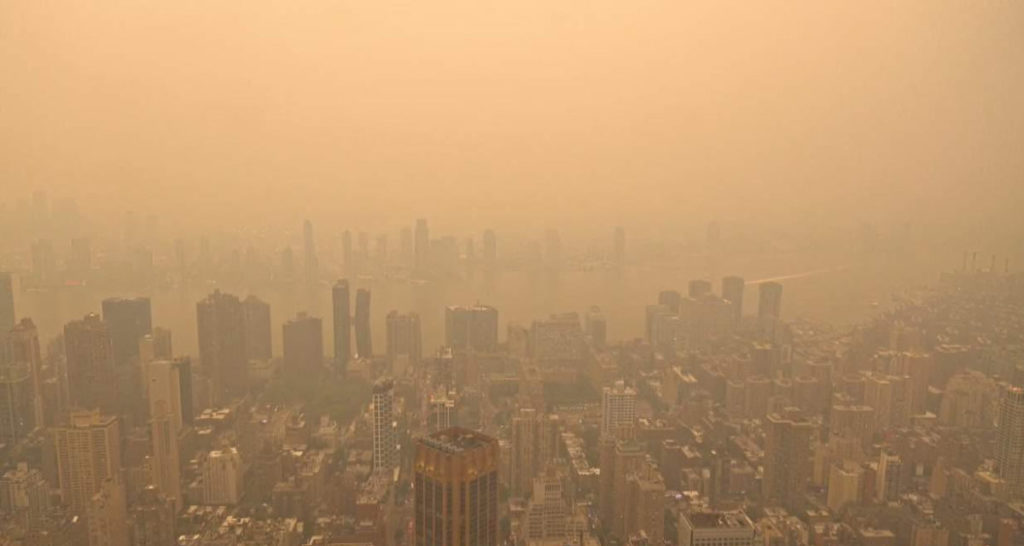 As weekday afternoons go, Tuesday was fairly mundane.
I picked up my 4-year-old son from school and, after a trip to our favorite local cafe and the public library, we logged almost two hours at a nearby playground.
It was during the outdoor portion of our day that things got, well, weird. Kids and parents alike remarked upon the sun's increasingly abnormal hue. On our way home, both my son and I began coughing at what had quickly become smoky air. At one point, he wondered aloud why everything smelled, as he phrased it, like "stinky-poo garbage." (Seems I'm not the only wordsmith in the family.)
The culprit behind these phenomena was wildfires in Quebec and Nova Scotia – hundreds of miles away. Experts say these fires, which occur naturally but now burn with more ferocity than ever, are a "really clear sign of climate change." McGill University researcher Mohammadreza Alizadeh explained to The Guardian that hotter, drier conditions and more frequent lightning strikes created a powder keg of sorts.
And then, it blew.
The unprecedented amount of residual smoke from these fires – several hundred of them are raging at present – spilled down into the U.S., wreaking havoc on the air we breathe. At least 13 states, and over 115 million people, have been impacted. In New York City, where we live, the air quality rapidly became – and this is not hyperbole – among the worst in the world. 
'Climate Apocalypse Childcare'
Tuesday evening, as I scrolled through Twitter to read the latest updates, I came across two posts from writer Jessica Valenti that stopped my thumb in its tracks. "The air in NYC is so bad that my daughter's school is closed tomorrow so that kids don't have to leave the house," she tweeted. "Love this new world where I need to find climate apocalypse childcare!"
On Wednesday, most schools throughout the city were open, but had suspended all outdoor activities. When class let out that day, I picked up my son and brought him to the library so that we could play safely indoors and maintain some semblance of our normal routine. But as we settled into a game together, the librarians announced that the facility would be closing due to the ongoing air pollution situation – immediately – and we were to wrap up and leave the premises as quickly as possible.
We headed home, and ultimately remained there until Friday morning.
Climate change impacting education and childcare isn't new. Caregivers on the West Coast of the U.S. are more accustomed to navigating sudden school and facility closures due to wildfires, aka "smoke days." On the East Coast, worsening hurricane seasons disrupt the school days of over 1 million children per year, and counting. Parents halfway around the world in Beijing and Delhi have managed life around air pollution for years. All over the globe, extreme heat waves have kept families indoors during summer months.
It's usually the women of the family who stay home with the children in these instances – we usually make less, if we've been able to remain in the workforce throughout the pandemic, and affordable childcare alternatives are scant, if available at all. This scramble is one of myriad ways in which climate change disproportionately impacts women. (We are also more likely to bear the brunt of more severe issues like food and water scarcity, and lack of shelter or resources when extreme weather patterns devastate homes.)
Yet it can all still feel abstract. To be sure, some of that is a product of social privilege. Environmental racism sees things like hazardous waste disposal and landfill erection more frequently occurring near predominantly Black and Brown neighborhoods, turning the realities of climate change into clear and present dangers for those individuals. White Americans, meanwhile, have largely been able to avoid these pitfalls (despite, research indicates, being a significant contributing factor to these problems).
There is also a combination of psychological phenomena that can explain the distance one feels between a global problem, and their individual life. Our collective inability to respond effectively to incremental, seemingly slow-moving threats – combined with our tendency to prioritize short-term gains, and the assumptions we make, however irrational, that things will work out – make it difficult for humans to process and respond to climate change appropriately. 
Not a 'New World'
If I may push back gently on Valenti's words, ours is not a "new world." This is the world we've lived in – we've created – over the course of decades, through both our actions and inactions. This is the world that others have already been struggling to navigate, as climate change makes life increasingly difficult to weather. (No pun intended.)
It's just that, now, there's no looking away from it. Not in New York City, where the world was, for days on end, dipped in either haunting burnt-orange, or a bleak smog-gray – no blue skies or yellow sun to be found. You could smell, see and feel smoke the moment you ventured outdoors.
It was my kid who spent time hiding out, watching a shame-inducing amount of "Gabby's Dollhouse," an aggressively cute Netflix offering featuring a child – the titular Gabby – embarking upon adventures with a cast of cartoon cats, while I attempted to stay on top of work and chores.
It was my kid who was homebound, trying to understand why we couldn't go outside and play instead – trying to understand why it's now unsafe to breathe outside, as well as in.