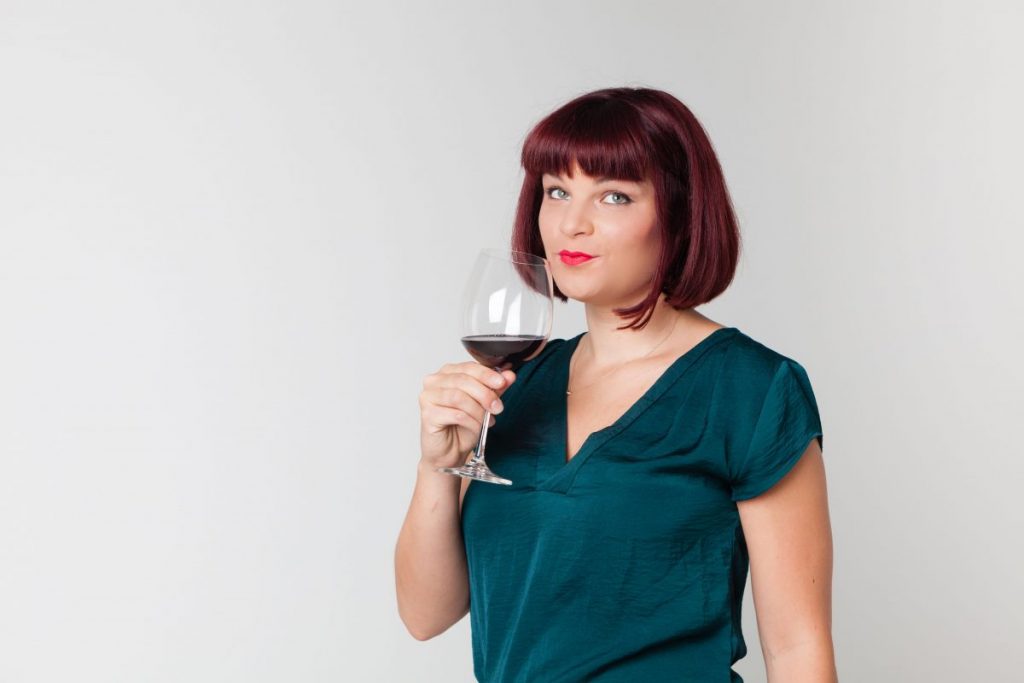 Laurie Millotte worked as a graphics designer creating wine labels for years, when inspiration suddenly struck in the least likely of places: a cinema viewing of Jurassic Park. Entranced by the 3D technology the film had used to make dinosaurs look real she realized the same technology could be used to enhance bottle photography, and thus her business Outshinery was born. The French-born, but now Vancouver-based entrepreneur runs her international team of passionate designers remotely. But she sees their different geographic locations as a strength for her business, saying, "This is essential in a modern, global world." Today Millotte and her team churn out stunning 3D photographs and marketing campaigns for a range of wine and alcohol companies worldwide making Outshinery a one of a kind agency.
Millotte's story, as told to The Story Exchange 1,000+ Stories Project:
What was your reason for starting your business?
Walking home after watching Jurassic World at the cinema in 2015, an idea hit me: "If computers can make dinosaurs look that realistic, surely we can do the same for a wine bottle!" At the time, I was working as a designer, creating beautiful wine labels for my clients. The bottles would be stunning, but when the likeness appeared in marketing efforts, I could see that they were often disappointed by the lackluster visuals. Glare, shadows, reflections — these distractions polluted the images and made the bottles look, well, prehistoric. With the future in mind, Outshinery was born. My team leverages the same 3D artistry that makes Hollywood movies visually dynamic and now this tech has a permanent place in the wine industry.
How do you define success?
I feel that true success is three-fold, in several parts that work together for true satisfaction. When our clients say that Outshinery is a lifesaver, or that they never thought bottle photography could be this stunning (or easy!), I feel that our team has achieved success. When wineries around the world are able to run a thriving business and reach more customers, that's what we are here for.
There's also the pride that comes from running (and working with) a kick-ass team from around the globe. We don't let geographical boundaries or cultural differences slow us down, in fact, a huge element of our success is embracing this unique mix of backgrounds and locations.
I also define success as being in a position to operate a company with integrity. Outshinery helps clients lower their carbon footprint because there is no shipping of samples or products (everything is online). Our team has also helped small entrepreneurs in developing countries with micro-loans and we support WaterAid Canada as well. Outshinery pays a living wage to all of our team members, regardless of where they are located.
Tell us about your biggest success to date
Outshinery has supported over 1,500 wine brands and produced over 20,000 bottle shots, and 2020 was a big deal for our industry. That year [2020], Outshinery helped hundreds of wineries weather the global storm so they could sell more products in one of the most challenging environments of our generation. The wine industry shifted rapidly to basically function entirely online, and thanks to Outshinery's products and virtual model, wineries didn't have to face any issues getting quality assets to support scaled-up e-commerce efforts.
The wine world is very global and we serve clients in all regions. Our team now has employees on several continents and in many time zones. We work mainly in our common language of English, but now have communications for clients and potential customers in multiple languages. This is essential in a modern, global world and Outshinery was adequately positioned to succeed, even in the face of the pandemic.
What is your top challenge and how have you addressed it?
I'm always seeking a balance between the use of technology and human skill. Cutting back on busy work, gaining efficiency, and being consistent are goals, and often tech can step in and free our human artists and professionals to do their best work. However, it's important to understand when a person can do a better job, or when a real mind is needed to guide or manage technological resources. Working with delight is super important to our team — it's an internal motivation, and externally it gives us an edge. I am constantly challenged to find the most delightful mix and keep the team satisfied while making the jobs of our clients easier too.
Have you experienced any significant personal situations that have affected your business decisions?
I'm originally from France, but have lived around the world and have since settled in Canada, where Outshinery was born. Living and working around the world solidified something for me, an ethos that strongly influences my work at Outshinery. There are exceptionally smart and talented people in every corner of the world. If one can find collaborations with people that align in values, who cares where they are physically located? A common language and good communication tools are all that is needed to bring together a wildly cooperative team. More than half of the team has English as a second (or third) language because we are all from different places, but that's been a blessing. There is so much talent out there, and I'm always excited to tap into it. Smart people are everywhere and there is no end in sight!
What is your biggest tip for other startup entrepreneurs?
Be focused on solutions and build a solid team.
How do you find inspiration on your darkest days?
I'm inspired by beauty. I have a wonderful view of Vancouver. Plus, my sweet cat!
Who is your most important role model?
Mathilde Collin is a French woman embracing success in Silicon Valley. She's poised, stands by her values, and cares for her team. She's built an incredible product at Front app, and she's widely respected for who she is as a woman in tech. She is humble and I'd love to have a coffee with her!
Check out our Advice + Tips for entrepreneurs starting-up
Watch our latest videos
Subscribe to our podcast