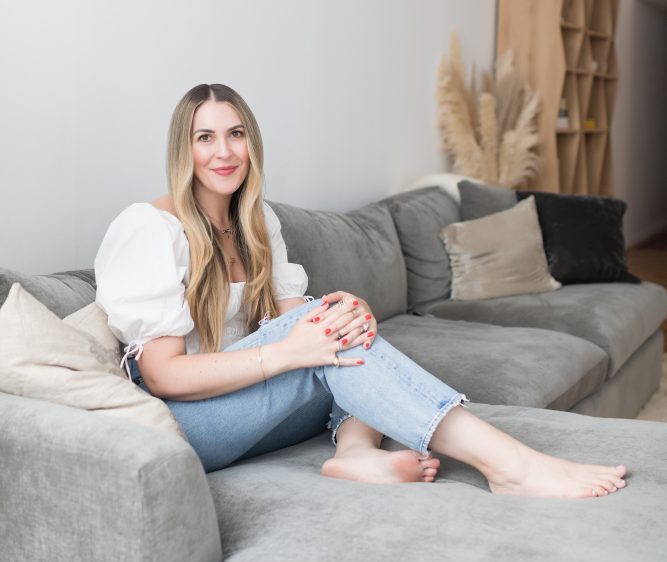 Rachel Liverman comes from a long line of estheticians (her grandmother founded the first accredited esthetics school in the US) who have always promoted simplicity in skincare. A few years back Liverman realized that there was a huge gap in the skincare market – while facials are readily available at spas throughout the country, they are expensive and time consuming. Liverman wanted to create an affordable option with professional-grade results and so Glowbar was born. To date Liverman has three locations, two in Manhattan and one in Connecticut, where customers can become members for $55 per month and drop in for quick, effective, 30-minute facials. The Pandemic posed some huge challenges for the New York City-based entrepreneur, but in spite of it all she has managed to grow her business and plans to open two more locations at the end of this year.

Liverman's story, as told to The Story Exchange 1,000+ Stories Project:
What was your reason for starting your business?
Skincare is in my blood! My grandmother pioneered the skincare industry by founding the Catherine Hinds Institute of Esthetics, the first accredited esthetics school in the U.S., and advocating for simplicity in skincare. She taught me so much about skincare, but watching her as a female founder and entrepreneur gave me the confidence to do it for myself and reinvent the industry she pioneered. Although I always had a deep and personal connection to the skincare industry, Glowbar was a gradual process. Prior to starting Glowbar, despite being a third-generation esthetician, I was not taking care of my skin properly! It came down to two reasons: facials are quite time consuming and expensive. Once I identified this gap in the industry, I had my 'it's time moment.' I knew I had to fill the void with an efficient and effective option that makes taking care of your skin consistently both quick and affordable, and so, the idea for Glowbar was born: a 30-minute customized facial treatment performed by expert estheticians for $65. I had this idea years before starting Glowbar, but timing is just as important as anything else, and it was not until 2018 that it became clear that I wanted to start this business.
How do you define success?
My definition of success is making a positive impact on the community around me. Whether it's through employing others and providing them a safe place to work and ample opportunities or making people feel better about themselves by helping them feel confident in their skin, to me, success is making this positive impact.
Tell us about your biggest success to date
I think the biggest success to date is getting the business through COVID-19. We made our way through all the challenges that came along with owning – and growing – a relatively new business in the middle of a pandemic! Glowbar Upper East Side opened in September 2020 and Westport, Connecticut in April 2021 when COVID-19 was still a very real and very scary unknown in everyone's lives. Despite it all, we thrived and have signed leases to open two new locations at the end of this year!
What is your top challenge and how have you addressed it?
As much as it was a success, Covid was also one of our biggest challenges to date. We were closed for six months and legally not able to operate as a business – and information on when and how we could open again came in very slowly (in fact, it came in so slowly, Glowbar spearheaded the social campaign #ReOpenFacialStudios to help get the ball rolling). Glowbar is a personal service business that relies on human contact and interaction. Pivoting that to an online model was not something we could do and once we did reopen, things did not go back to "normal" right away. We had to work hard to really regain the trust of our previous clients, new clients, and team – it was important to me to make sure everyone felt safe at all times.
Have you experienced any significant personal situations that have affected your business decisions?
When you start a business, you open yourself up to unsolicited feedback and opinions on how to run your business, so the challenge becomes listening to yourself and your instincts to make sure that you're sticking to the original mission and vision of the business.
What is your biggest tip for other startup entrepreneurs?
Just do it – you will find your wings as you go. But, most importantly, ask for help! You have to get really comfortable being vulnerable and admitting that you don't know how to do something and leveraging your network for advice and support.
How do you find inspiration on your darkest days?
On my darkest days, I find inspiration by reminding myself that this feeling is temporary and by finding humor in situations.
Who is your most important role model?
My mom and my grandmother are the people who not only inspired me, but truly helped me get where I am. They paved the way for me – as I previously mentioned, my grandmother pioneered and reinvented skincare, but most importantly she led by example. I grew up watching female entrepreneurs who taught me that when you want something and you believe it can happen, it will – and that sentiment has greatly affected the decisions I've made, particularly in business.
Check out our Advice + Tips for entrepreneurs starting-up
Watch our latest videos
Subscribe to our podcast