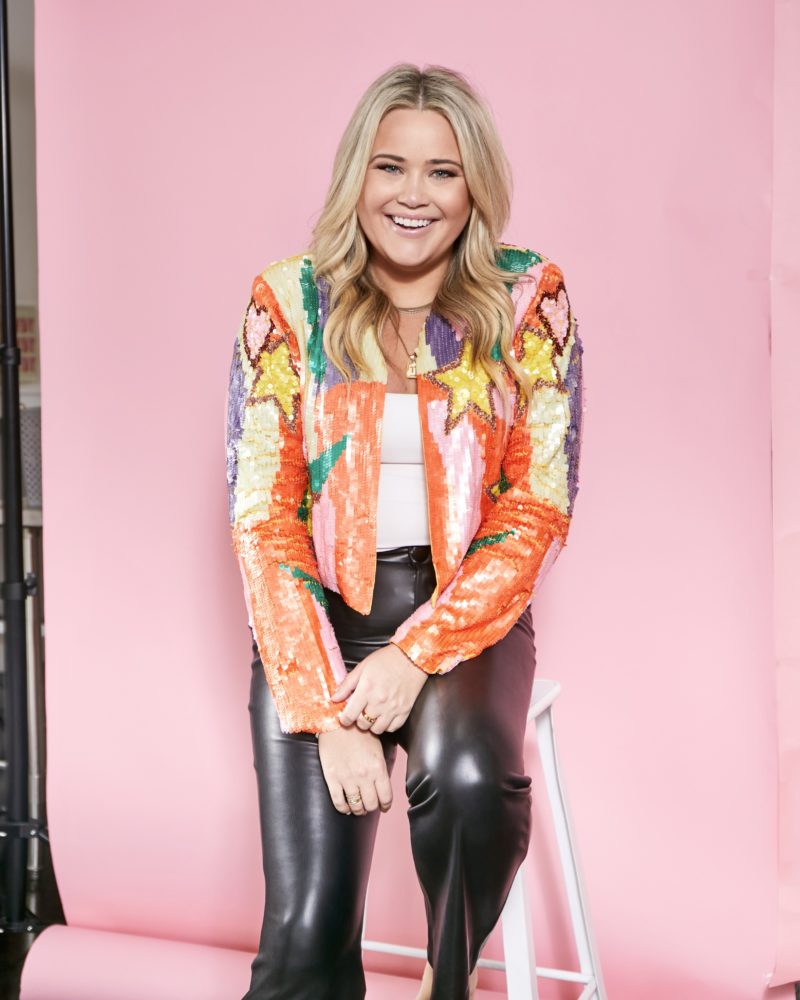 Like many did in the early months of 2020, Taylor Dean started a pandemic crafts project – specifically, making resin coasters in her parents' kitchen. When her first round of "casual" sales – mostly to friends and family – resulted in hundreds of coasters sold, Dean knew she was on to something. She left her job as a stylist and launched Tart By Taylor which sells coasters, trays, champagne flutes and decorative boxes made out of resin and acrylic. In only 3 years, the Dallas, Texas entrepreneur says she has grown her business into a multi-million dollar venture, selling her wares in over 1,000 stores across the United States. Now, she plans to bring her colorful goods to foreign markets.
Here's our lightly edited Q&A, from The Story Exchange 1,000+ Stories Project.
Tell us more about why you started your business.
I was a personal stylist for over 7 years. Once Covid hit, clothes – outside of pajamas and athleisure – were everyone's last priority, so I had to make a pivot. I started making pill coasters as a fun craft (and covered my mom's laundry room with resin in the process). People kept telling me, "You have to sell these," when they saw the finished products. So finally, after a few martinis, I got the courage to post them on my social media – and the rest is history, as they say! I sold over 1,000 coasters before I realized I had a pretty cool thing going, and that I should probably turn this into a business. We've since expanded into several different product lines, numerous different styles and are sold in over 1,000 stores.
That being said, there wasn't much "thought process" behind Tart By Taylor before I launched – but I honestly think it's a big part of what makes us so successful. I don't have the luxury of time on my side, so I make decisions quickly. Growth is what we're going for, so I experiment constantly and am always learning as I go.
How is your business different from others in your industry?
We stand out because of what we've been able to achieve in just a little over 2 years with our small but mighty team. I have the most amazing group of females by my side that help keep this ship afloat. Each one of our team members takes pride in their job, and they are constantly coming up with innovative ideas to make each department as successful as possible.
As the CEO I am responsible for balancing all the moving parts – all while looking cool, calm and collected, of course. I wish I could say every decision I made was a successful one, but that would be far from the truth. However, I've learned not to dwell and to pivot quickly.
Tell us about your biggest success so far.
I am most proud of the reach our brand has been able to achieve. The business started as a business-to-consumer model, but in the past year, we've really refined our business-to-business model. We're currently sold in over 1,110 stores; both mom-and-pop shops and big box retailers. We've been able to build a successful client base, with a 78% reorder rate and 98% customer satisfaction rate, to date.
A goal of ours in 2023 is to double those direct-to-consumer sales. We're exploring innovative ways to partner with influencers, budgeting for SEO marketing and will soon start shipping internationally (Canada, we're comin' for ya!). For our wholesale business, we're now sourcing non-traditional retailers (like gift shops inside of museums, or gourmet food stores) and participating in the New York and Las Vegas trade shows – two markets we've yet to tap.
What is your top challenge and how have you addressed it?
Everyone thought I was crazy when I decided to start a business during Covid. I started out making everything by hand, but with our fast-paced growth we just couldn't keep up with demand. So, I began having our products manufactured in China – but with exorbitant shipping costs and unpredictable shipping times, this wasn't an ideal solution for our business, either. We were trying to ramp up, but didn't have any product to do it with.
Through trial and error and hundreds of samples, we were able to bring all of our manufacturing efforts to our own backyard. I was able to negotiate costs, and we now get to directly oversee all production and quality control. We're also now able to turn products around in less than a week, which has allowed us to offer custom projects to retailers.
What is your biggest tip for other startup entrepreneurs?
Get scrappy, and become an expert in all areas that pertain to your business. There are so many free resources online, and fellow entrepreneurs love to mentor. You don't need to spend a ton of money on things like building a website, marketing, design, etc. Instead, dive into making yourself an expert in those areas and do it yourself. It's much more rewarding, both personally and financially. Read, read, read everything you can and don't be afraid to ask questions!
How do you find inspiration on your darkest days?
The endless pursuit of knowledge. I get so excited knowing that, every day, when I walk into my office, there's an untapped opportunity and something new for me to learn.
What is your go to song to get motivated on tough days?
I'm more of a podcast kind of girl. Currently, I'm loving all episodes of "How I Built This" with Guy Raz.
Who is your most important role model?
I can say with confidence that I would be nowhere without my parents. I am 100% who I am today because of them. They both came from very humble beginnings and provided a wonderful life for our family. The strong foundation of love, trust and compassion they share with one another are all values I constantly try to replicate in my own relationships.
Growing up, I was constantly pushed to be the best version of myself and accept nothing less. My dad owned several different companies while I was growing up and watching him over the years taught me lessons no book or college course ever could. He always says, "If you do not ask, you do not get," a motto I remind myself of almost daily. There isn't a single day that I don't call him with a, "Hey can you talk me through this really quick?" kind of question. I wake up everyday with the goal of creating a life as wonderful as the life they've given me – and to make them proud. ◼
Instagram: @Tart_bytaylor
Facebook: @shoptartbytaylor
TikTok: @tartbytaylor
Pinterest: @TARTbytaylor
Check out our Advice + Tips for entrepreneurs starting-up
Watch our latest videos
Subscribe to our podcast