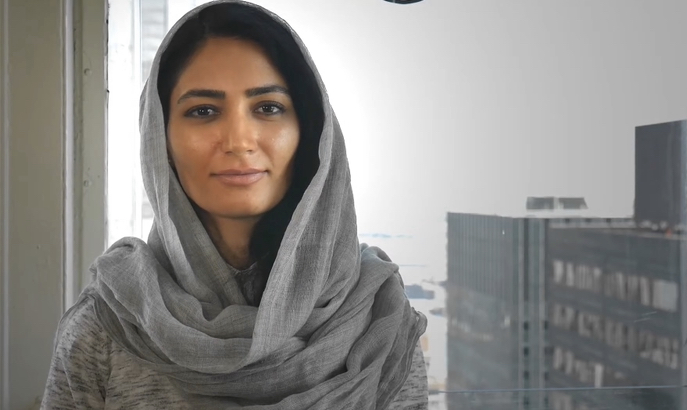 For our Afghan Women project, we spoke with Fereshteh Forough, the Boston-based founder of coding school Code to Inspire. She helped us get in touch with women who are still in Afghanistan, two years since the Taliban takeover.
Forough's parents fled Afghanistan in the early 1980s because of the Soviet invasion. Growing up in Iran as an Afghan refugee, she was privy to discrimination and a sense of "otherness." During tough times, she always looked to her entrepreneur mother – who sold dresses and used the money to invest in her daughters' education – for inspiration.
"Great things can start with empty hands – you don't need to have everything ready for you to do something," Forough's mother taught her. "You can just use the resources that are around you."
Forough and her family moved to Herat in Western Afghanistan in 2002 after the fall of the Taliban – but they still faced a number of challenges due to lack of infrastructure, limited water supply and only a few hours of electricity per day. Forough, who began studying computer science at the university, didn't have a laptop or internet access, so she stayed at the university until late in the evening and went to internet cafés.
"Which wasn't a pleasant experience, because at that time, not a lot of the girls and women went to internet cafés," she said. "So you were very outnumbered and people looked at you, you would face verbal, sexual harassment within education and even doing social activities."
Forough came to the United States in 2012, but still wanted to help Afghan women in STEM. She kept asking herself, "How can I change this environment in a way that would be safe and welcoming for girls and women?" and also, "How can we create an ecosystem that can help them to get into the job market and be financially independent?"
In November 2015, she found her answer and opened up Afghanistan's first coding school for girls and women, Code to Inspire, in Herat. In following her mother's advice she learned at an early age, she started with empty hands. She raised money from an online fundraiser and got 10 laptops in donations, which she shipped to Afghanistan.
It was difficult to recruit students at first, because there was a lack of role models. "They couldn't see anyone that had been [learning to code] and making money."
But once students saw coding as an avenue to financial independence, the school gained more students every year – until the Taliban came in August 2021, and many businesses and schools – including the coding school – shut down. It was able to open again in 2022 under the Taliban's condition that boys be admitted as well, but following the December ban on girls' education, the school had to shut down once more. Currently, students are learning remotely on Google Classroom.
While Forough hopes in-person classes can resume in the future, she said the students' and teachers' safety is the number one priority. "It's just taking one step at a time every day. Because it's absolutely not possible to come up with a solid plan in an environment like Afghanistan, where everything is changing every day."
The Women We Talked To
Danna Harman didn't have any tools or resources, but she knew she had to do something to help the Afghan girls who reached out to her.