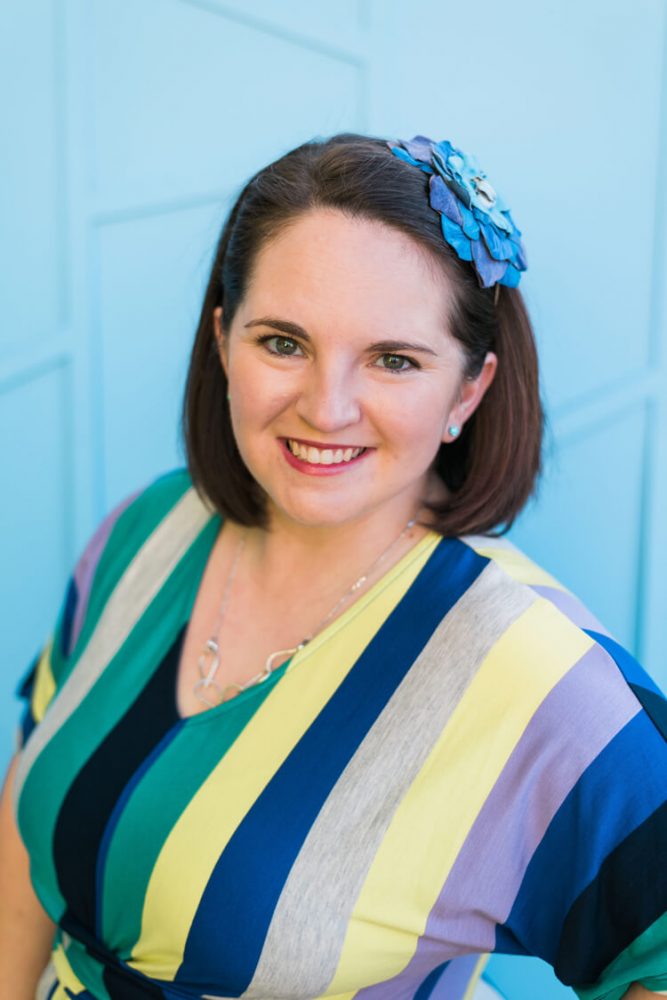 Nicole Lewis was working as an elementary school art teacher when she tentatively started a side project making crayons. At first it was a way to find her own creative outlet and to use up leftover crayon pieces from her classroom, but slowly her entrepreneurial drive kicked in and she began to consider making it her full time job. In 2014, she decided to take the plunge and Art 2 The Extreme took off. As Lewis' business grew out of her home and afforded her more flexibility with her time to stay home with her young children, her husband also left his job in education and joined the family business. Today the Noblesville, Indiana-based entrepreneur is proud to have survived the Pandemic, especially as they were just about to expand into a new space, and continuing to expand her network of sales avenues, while gearing up for what will surely be another busy holiday season.
Lewis' story, as told to The Story Exchange 1,000+ Stories Project:
What was your reason for starting your business?
Art 2 the Extreme began as a side hustle to supplement my income as an elementary art teacher back in 2007. At the time, I was looking for ways to recycle left over crayon bits while creating a fun and functional crayon. I had several students who could not hold a traditional crayon and my adaptive art supplies helped solve several problems I saw in my own classroom. I have always had an entrepreneurial drive. My passion for color and crayons turned into a fun hobby, that later would see huge growth as a business.
How do you define success?
Success for me is being able to get closer to the work/home life balance while growing my brand. Each year, I learn a little more, the business gains more exposure, and our sales see continued growth year after year. When my husband and I decided to start our family, we were looking for ways to avoid driving two hours a day to work and paying for daycare. What started off as a hobby turned into a full-time career for both my husband and I, who left our jobs in education to build and scale Art 2 The Extreme. We have been blessed that our crayon business has allowed for us to work from home with our young children, successfully navigate a pandemic as small business owner, and fill a desire to apply my knowledge of art and color outside of education to create a playful and unique crayon brand that is loved by so many.
Tell us about your biggest success to date
My biggest success to date was being selected as a finalist for the Etsy Design Awards. Out of 4.3 million Etsy shops, I placed in the Top 10 in the Kids Category. I had some big eyes on my personalized crayon designs, including my product being shown live on The Drew Barrymore Show this past winter. That was surreal to watch.
What is your top challenge and how have you addressed it?
My top challenge currently is keeping up with demand, especially during the holidays. We sell thousands of personalized Original Rainbow Crayon® sets a week during the holidays and we always have a longer turnaround and early cut-off for holiday. We are navigating possibilities for manufacturing that are ongoing behind the scenes and continue to make thousands upon thousands of crayon letters each month to stock up ahead of our busy holiday season (that starts mid-September if you can believe it). Being a creative at heart sometimes gets in the way of business practices, but I grow so much with each year that passes and continually build upon my experiences.
Have you experienced any significant personal situations that have affected your business decisions?
There are three huge moments that played a large role in the decision making and growth of Art 2 The Extreme. The first was the birth of my oldest son in 2014. Just after his birth was when I decided to leave teaching after 10 years to focus on the business full time. My sales doubled that year with a newborn on my hip. The best (and most scary) change so far was when my husband left his job in education administration about 3 years later. I had this sick feeling in my stomach about being able to pay the bills, how to find health care that did not cost an arm and a leg, and other worries that one can image goes through a person's head.
But it turned out that having another person home to tag team with the kids (we had another child just before this decision) and head up production was the best decision and lead us to our most successful holiday season we had had to that point. In January 2020, we started looking into purchasing a warehouse and hiring an employee or two. I am so thankful that this process took a long time and never got to that point because the world shut down about a month later. We pivoted our plans a bit and decided to purchase a new house in the summer of 2021 to build on a crayon studio/makery with additional spaces for shipping, storage, and filming projects to "ride out" COVID-19 and plan our next moves in the months to come. We plan on expanding eventually, but for now, I am extremely happy with our new space and the room to spread out!
What is your biggest tip for other startup entrepreneurs?
My biggest tip for other start up entrepreneurs is to invest in relationships and network, network, network. Not necessarily with the intent of pitching and "sales talk," but to offer services to others in a way that is mutually beneficial. Instead of spending money on advertising to raise awareness of the company, I dedicate time to meeting new people, face to face, for the purpose of collaboration and bouncing ideas off one another. I have created partnerships and collaborations that build my brand and company as much as it does theirs. Don't be afraid to ask – ask for help, ask for advice, ask for opportunities. Just go for it! A lot of my success with marketing and publicity has been from simply asking. I ask if any art supplies are needed for an event. I ask if a magazine needs ideas for stocking stuffers. I ask local schools if they need crayons that I am no longer using. I ask artist friends about collaborating on new crayon designs. Each one of these examples opens a connection and expands my reach and the awareness of my business. A simple "How can I help you," turns into a "Here is how you can help me" in the future.
How do you find inspiration on your darkest days?
Who is your most important role model?
The first pair of role models that come to mind are my friends, Kelly Oriard and Callie Christensen, the founders of Slumberkins. They have had a similar path of creating their creatures and educational books by hand to successfully growing and scaling their brand and business that has surpassed well-beyond the stage where I am at. Watching these ladies hire employees, move and purchase larger warehouses and headquarters, all the way to starting production on their own TV show with Jim Henson has been such a fun journey. Kelly and Callie never hesitate to provide resources and mentorship and are so giving in their community they have built. When I think of where I would like to be five years from now, it looks like what they have built.
Check out our Advice + Tips for entrepreneurs starting-up
Watch our latest videos
Subscribe to our podcast