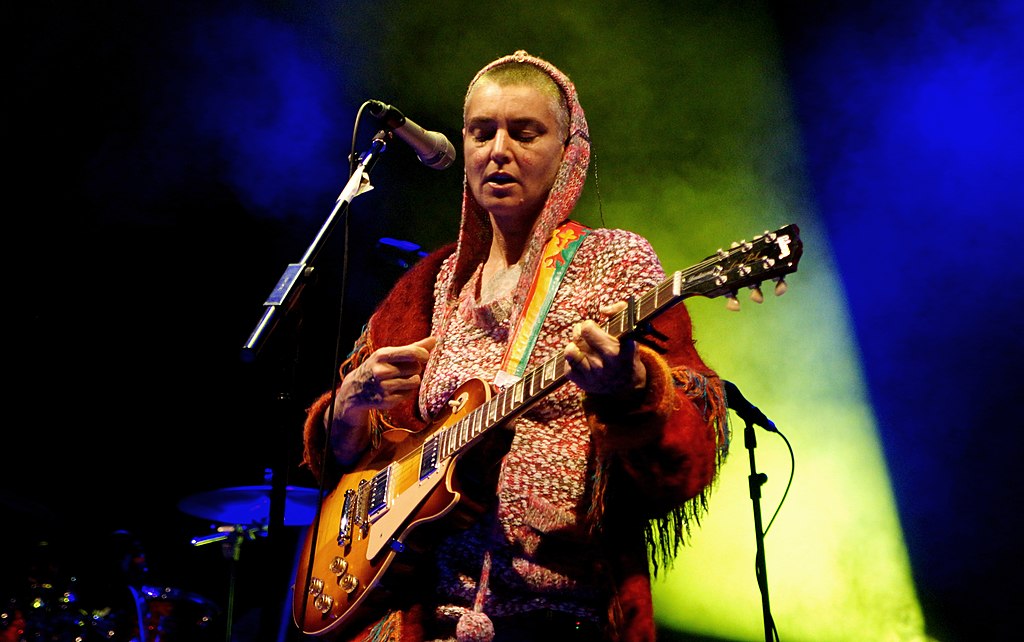 I was just 9 years old when musician and activist Sinéad O'Connor – who died this week at age 56 – gave what would become the defining performance of her lifetime.
While singing a rendition of Bob Marley's 1976 song, "War," on a 1992 episode of "Saturday Night Live," O'Conner tore a photograph of Pope John Paul II – an act of protest against the Catholic Church as an institution for covering up abuse perpetrated from within its ranks. "Fight the real enemy," she memorably concluded, while pieces of the picture fell to the ground.
I may have been young, but I vividly remember that fateful demonstration, and the world's reaction – the conversations between shocked adult family members, and the angry commentary blasting from our living room TV. I remember thinking that if all of the grown-ups are upset, there must be a reason.
There was: People don't like inconvenient, disquieting truths.
Today, there is a general awareness of the abuses committed by priests and officials within the Catholic Church. Throughout the world, tens of thousands of allegations have been made over the past few decades – and a significant portion were covered up. Billions of dollars have been paid in settlements with victims.
But 33 years ago, this wasn't common knowledge – making O'Connor's actions shocking and infuriating to much of the general public. Ultimately, she was "canceled" in the truest sense of the term for her trouble.
Critics derided her in major news publications, while celebrities like singer Madonna and actor Joe Pesci took turns criticizing her. (Pesci even voiced a desire to slap her when he hosted "SNL" the following week.) Copies of her albums were destroyed en masse. Performances she did soon after were awash in jeers from audience members. O'Connor had been a star at the time – her career suffered irrevocably.
And she regretted none of it. In a 2002 interview with Salon, when asked if she would change anything about that "SNL" moment, she directly replied, "Hell, no!"
O'Connor is also, of course, remembered for her haunting, powerhouse voice and stirring music. She released 10 albums between 1987 and 2014, and garnered eight Grammy nominations for her efforts, as well as numerous other awards and nods over the years. She also ascended to the tops of the Billboard music charts.
These weren't critical achievements for O'Connor, though. In fact, she famously rejected her 1991 Grammy nomination, citing criticisms of the music industry as the reason. "They acknowledge mostly the commercial side of art. They respect mostly material gain since that is the main reason for their existence," she stated at the time.
She shaved her head for the same reason. Music industry executives "wanted me to grow my hair long, wear short skirts and high heels and make-up, and write songs that wouldn't challenge anything," O'Connor said back then. "But I come from a country where there used to be riots in the streets over plays. That's what art is for."
The life she lived since her "SNL" moment was similarly charged and brave – while everything changed for her, it's also true that nothing changed at all. For example, O'Connor continued to sing and create until her passing this week. She had even been planning to release a new album next year, before embarking upon a world tour, she announced just this month.
O'Connor also used her voice to speak, loudly, until the end. In 2021, she published a critically acclaimed memoir, "Rememberings." And on top of continuing to denounce abuses of children throughout the world – something she herself suffered through growing up – O'Connor was an outspoken political champion. She was a documented, ardent supporter of LGBTQ and women's rights (especially around abortion access), an AIDS activist (well before it was popular to be one), and an artist who pushed back against racism, both in the music industry and beyond.
This is who she should be recalled as, and what she should be recalled for, fans say.
"Perhaps Sinead O'Connor wasn't a tragic woman. Perhaps this is a tragic world, and she was one of the few sane [people] among us," author Sarah Smarsh tweeted. "Her artistry & bravery is what lasts, not least the moment for which she was most attacked; I was a 12-year-old Catholic girl watching SNL, and I am grateful."
"Ever since I got famous, I've had anxiety about somehow 'saying the wrong thing' online, and having people turn against me," historic trans "Jeopardy!" champion Amy Schneider said in her own tweet. "But Sinead O'Connor will always remind me that, if I truly believe what I say, it can never be wrong to say it, regardless of what everyone else thinks. RIP."
Indeed, O'Connor spoke on numerous occasions about the importance of staying true to oneself and living one's values, even if – especially if – it's uncomfortable to do so. In that same Salon interview, she said, "That's one of the things you learn from people like Jesus, or the Martin Luther Kings, or any of those people – you can't let fear stop you from being honest."
Because telling the truth, her truth, was what she prized most – far more than fame or accolades, anyway. In her memoir, she said: "I feel that having a No. 1 record derailed my career … and my tearing the photo put me back on the right track." ◼